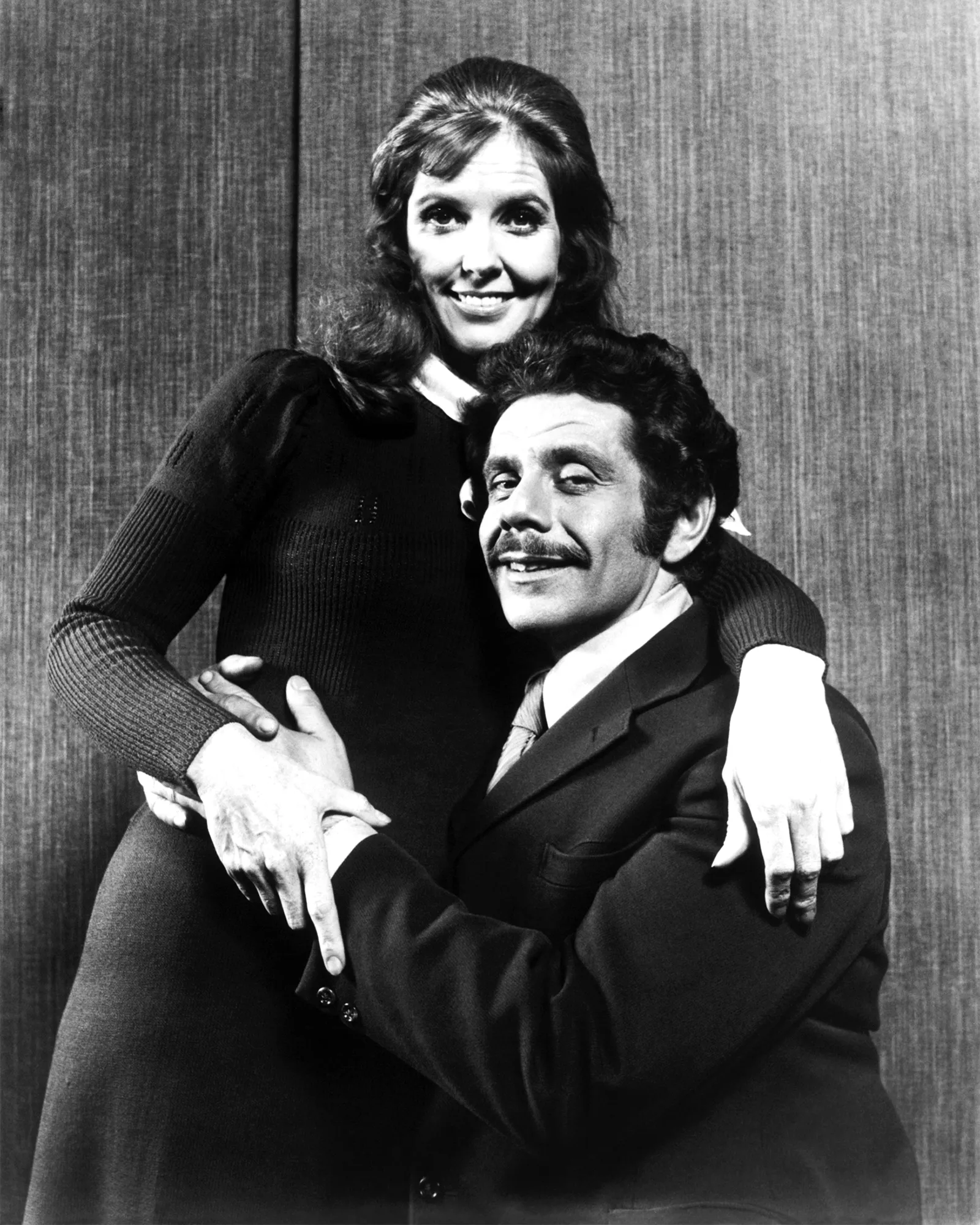 Stiller enlisted in the Army during World War II but wasn't sent overseas until after the fighting was over; as he recalled, he spent most of his stint in Italy playing football. Through the G.I. Bill, he enrolled at Syracuse University, where he was one of the school's first-ever drama majors. After graduation, he returned to New York City and spent years in bit parts on Broadway and TV.
Stiller met Anne Meara in the waiting room of a Manhattan talent agency in 1953, when they were both struggling performers. The pretty redhead left the agent's office in tears after he'd chased her around the room. The chivalrous Stiller comforted her by taking her out for coffee at a nearby cafeteria, where she persuaded him to shoplift some silverware. So was born a comic and romantic partnership that would last six decades, until her death in 2015.
The pair married in 1954, but for the first few years of their union, they worked separately, sometimes in different cities, and the distance put a strain on their marriage. Inspired by Mike Nichols and Elaine May, they joined the improvisational Compass Players after Nichols and May left. Soon, they developed a nightclub sketch comedy act of their own.
Stiller and Meara became famous through their appearances on The Ed Sullivan Show, on which they performed 36 times. Their act thrived on the seemingly mismatched couple's differences—the Irish-Catholic Meara was tall, composed, and wry, while the Jewish Stiller was short, volatile, and slick. (They even came up with alter egos based on those differences, Hershey Horowitz and Mary Elizabeth Doyle.) One routine of theirs, known as the Hate Sketch, had them screaming bitterly at each other. Children Amy (born in 1961) and Ben (born in 1965) often couldn't tell whether their parents were really fighting or merely rehearsing.
The Stiller kids famously followed their parents into showbiz, with Amy becoming an actress and Ben becoming a multiple-threat actor/writer/director. He frequently cast his father in his movies, most memorably the two Zoolander films, where Jerry played paternal garment mogul Maury Ballstein opposite Ben's clueless male model Derek Zoolander.
The elder Stiller's greatest fame came from a role he did without Meara, playing Frank Costanza on Seinfeld from 1993 through 1998. The role of George's dad was written as a meek, quiet man, but on the set, Stiller realized that, in order not to be upstaged by TV wife Estelle Harris, he'd have to be just as shrill and angry as she was. He improvised a shouting match with her, and the character was rewritten accordingly. The rage-aholic Frank earned Stiller an Emmy nomination and became a fan favorite, even helping to inspire a new national holiday: Festivus, the Costanza winter ritual celebrated through feats of strength and the airing of grievances.
As Seinfeld wound down, the 70-year-old Stiller feared he'd be out of work, but Kevin James wooed him to play Arthur Spooner, the cantankerous, live-in father-in-law to James on his new show The King of Queens. The CBS sitcom was another hit, running for nine years (1998-2007).
Stiller wasn't just an expert clown. He earned acclaim in dramatic roles too, from the 1974 thriller The Taking of Pelham One Two Three to the 1986 TV movie adapted from Saul Bellow's Seize the Day. He played several Shakespearean roles on stage; in fact, he and Meara were among the first performers in Shakespeare in the Park when Joseph Papp launched the ongoing summer festival in the mid-1950s.
Asked in 2005 how he wanted to be remembered, Stiller thought back to his father taking him to vaudeville shows, recalling that Willie Stiller would criticize as "a faker" any performer he found inauthentic. "I was never a faker," Stiller said of his art. "Although I faked it many times."
— The Week the Cameras Stopped: TV in the COVID-19 Era
— Why Natalie Wood's Daughter Is Confronting Robert Wagner About Wood's Death
— Inside Rock Hudson's Real-Life Relationship With Agent Henry Wilson
— How The Mandalorian Fought to Keep Baby Yoda From Being Too Cute
— A First Look at Charlize Theron's Immortal Warrior in The Old Guard
— Back to the Future, Uncut Gems, and More New Titles on Netflix This Month
— From the Archive: How Rock Hudson and Doris Day Helped Define the Romantic Comedy
Looking for more? Sign up for our daily Hollywood newsletter and never miss a story.