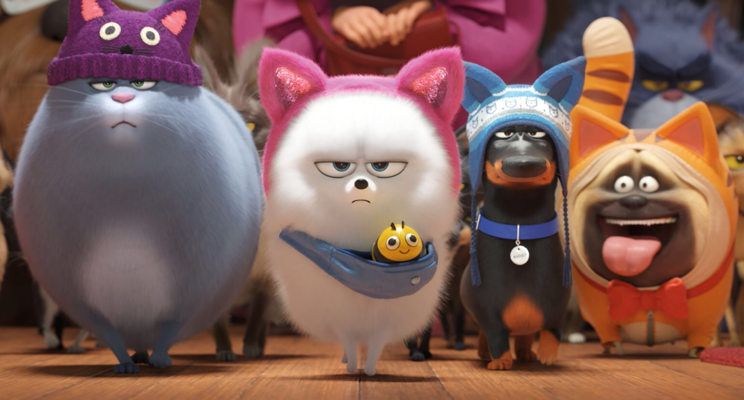 Summer's here, and the time is right, for... a dogpile of sequels no one asked for.
Following the underwhelming premiere of Godzilla: King of the Monsters last week, this weekend saw similarly meh domestic debuts for The Secret Life of Pets 2 and Dark Phoenix, the 12th (!) movie in the 19-year-old X-Men franchise.
Pets 2 opened with an estimated $47.1 million, which sounds like a lot until you consider three things: First, with 4,561 screens, that's the second-widest American release of all time (only Avengers: Endgame premiered on more screens). Second, the 2016 Secret Life of Pets premiered with $104.3 million, the most lucrative opening ever for a movie with an original screenplay. Third, while no one expected Pets 2 to do as well as its predecessor, analysts still predicted an opening of at least $50 million, with some guesses as high as $65 million. Well, sorry, but this dog didn't hunt.
As for Dark Phoenix, some predicted it might even beat Pets 2, since projections were in the range of $40 to $52 million. All the other X-Men films have opened with at least $50 million. But this time, the mutants mustered only a meager $33.0 million, according to estimates, making this the lowest-grossing debut by far in the franchise's history.
These underwhelming debuts follow the similar underperformance last week of Godzilla: King of the Monsters, which premiered with just over half of what the 2014 Godzilla reboot opened with, and which fell from first to fourth place this weekend with an estimated $15.5 million (a loss of two thirds of last weekend's business), for a total of $78.6 million. (It's earned in 10 days well under the $93.2 million that Godzilla earned in its first weekend at 2014 ticket prices.) Over at Deadline, where they're predicting a similar underperformance for the reboot Men in Black: International when it opens next weekend, they've decided that these four movies mark a full-blown epidemic of sequelitis -- the audience fatigue that sets in, usually during the summer, when Hollywood bombards ticket buyers with one unwanted franchise follow-up after another.
Such fears conjure up the ghosts of summers past, especially 2016, when the studios were in full panic mode over the failures of several expensive sequels and reboots, including Ghostbusters, Alice Through the Looking Glass, Independence Day: Resurgence, Teenage Mutant Ninja Turtles: Out of the Shadows, Pete's Dragon, The Legend of Tarzan, and (not coincidentally) X-Men: Apocalypse. Meanwhile, some original scripts were surprise hits that summer, especially the first Secret Life of Pets, as well as Central Intelligence, Bad Moms, Sausage Party, and Don't Breathe. That should have been good news, but for an industry built on milking the last drop out of existing intellectual property instead of figuring out how to market new and unfamiliar material, that summer felt like a disaster.
Of course, there were still several sequels that did well that summer, including Finding Dory, Captain America: Civil War, Suicide Squad, Jason Bourne, The Conjuring 2, and The Purge: Election Year. And the sequel business did fine in the summers of 2017 and 2018. Still, it doesn't take much -- say, three mediocre premieres in two weeks -- to make Hollywood wonder if its whole franchise-blockbuster-driven business model is in trouble.
Did Pets 2 and Dark Phoenix underwhelm because audiences craving original material are being offered only retreads? Could be, but there are five other likely culprits here. Such as:
The superfluous factor. The first Secret Life seemed to tell a complete story. There was no need for a sequel, and indeed, it doesn't seem like Pets 2 adds enough to justify its existence. It's just more antics by the same pets when their owners are away, but without enough plot to justify a big-screen event movie (or the ticket price for one). Rather, it's just a series of vignettes that may seem more like paying to watch episodic Saturday morning cartoons on TV.
As for Dark Phoenix, it's a retelling of a classic story arc from the X-Men comic books, a plot so beloved by fans that it was already the focus of the third X-Men movie, 2006's The Last Stand. So why tell it again? Is retelling it with the younger cast of the X-Men prequels justification enough? Well, one reason would be that neither hardcore fans nor general audiences were especially satisfied with the 2006 film's handling of the story. But fans don't seem to think the new version handles it any better, judging by the weak B- grade they gave it at CinemaScore.
There's also the sense that 2016's X-Men: Apocalypse, while disappointing, felt like the conclusion of a trilogy. The only reason to make a fourth movie with this cast, then, was either to make up for Apocalypse (an impulse that apparently didn't work), or just to wring the last bit of profitability out of this group of mutant heroes. Neither rationale offers much of a compelling reason for viewers to buy tickets.
Bad buzz. Dark Phoenix also suffered from some bad luck. There were difficulties in production that resulted in reshoots. Also, while principal production wrapped back in 2017, the release date was postponed at least twice, in part because of the purchase of X-Men studio Fox by Disney. That left Dark Phoenix something of an orphan; it's the last release for these Marvel heroes under the old regime, now handled by a parent company that would rather start from scratch when it integrates the X-Men into the Disney-owned Marvel universe at some point in the future.
So, none of this is Dark Phoenix's fault, and it's not always the case that a troubled production history discourages ticket buyers. But in this case, the fact that the movie sat on the shelf for two years while two successive teams of studio management tried to figure out what to do with it -- that was the type of past-the-sell-by-date odor that potential viewers could smell.
Also not Dark Phoenix's fault, but having Sophie Turner as its star didn't turn out to be a cross-promotional blessing, even though the movie's release comes on the heels of the much-awaited final season of Turner's HBO series Game of Thrones. Fox and Disney couldn't have anticipated that fans would find the final season so disappointing, even enraging. Fans who are still muttering, "WTF?" a month later over how the final GoT season played out just aren't in the mood to go see Sansa Stark on the big screen.
Pets 2 had some unfortunate luck as well, with franchise star Louis C.K.'s career imploding over his #MeToo-worthy behavior. He's been replaced in the sequel by Patton Oswalt. And while kid viewers won't know or care about the behind-the-scenes scandal, they'll still notice that Max the terrier has a different voice. Adults may not want to be reminded that C.K. created the role.
Not that many adults were buying tickets to Pets 2 for themselves; unlike the first movie, which had some grown-up jokes that sailed over the heads of kids, the sequel seems aimed pretty solidly at pre-teens, with little to hold the interest of their parents. Reviews reflected that (Pets 2 got a middling 54 percent fresh rating at Rotten Tomatoes), and to the extent that older viewers still care about what critics say, those reviews can't have helped sell too many tickets to grown-ups.
Bad timing. The GoT misfortune isn't the only instance of bad timing to befall these movies. There's also the competition. Aladdin is still going strong in its third week; it earned another estimated $24.5 million, good for third place and a three-week total of $232.4 million. (Here's a sequel/reboot that puts the lie to the sequelitis complaint.) A lot of kids and adults would rather see that than Pets 2 or Dark Phoenix. For genre-movie fans, Dark Phoenix is contending against Godzilla, Ma, John Wick: Chapter 3 - Parabellum, and even the fellow Marvel heroes of Avengers: Endgame, which was still strong enough in its seventh week to earn antlers estimated $4.8 million. Adults are also seeing Rocketman; the Elton John biopic rounded out the top five with an estimated $14.0 million, for a two-week total of $50.5 million. Finally, it's possible that many family-animation fans are saving their money for Pixar's long-awaited Toy Story 4, which opens in two weeks.
Execution. As I argued three summers ago, audiences aren't suffering from sequel fatigue, they're suffering from bad movie fatigue. With a dismal 22 percent fresh rating at Rotten Tomatoes, Dark Phoenix is not only the worst-reviewed of all 12 X-Men movies, but it also joins King of the Monsters and Pets 2 among the lowest rated current releases at RT. Weak reviews don't automatically condemn a movie to poor box office results (Aladdin has just a 56 rating, only two percentage points higher than Pets 2), but no one should be surprised when a movie critics feel isn't made well strikes audiences the same way.
They're not for you. Of course, how American critics and audiences feel about a movie is largely irrelevant now. Pets 2 has earned more overseas (an estimated $49.0 million) than it has here, and that's with the movie still awaiting release in China and other major markets. Dark Phoenix has earned an estimated $107.0 million abroad, including $45.6 million in China, for an overseas total that's more than three times what it grossed here. That's not an unusual ratio these days for a Hollywood franchise movie. It's now expected that overseas revenue will keep these films and franchises afloat, no matter how underwhelmed American reviewers and moviegoers are. If you're looking for a reason why these uninspired sequels keep getting made, there it is.