Robotics is a supercharged international team competition like no other, writes Fran Molloy.
Thousands of spectators packed the stands of the George R Brown Convention Centre in Houston, Texas, for a four-day knockout world championship in April.
Despite the attention, competitors barely raised a sweat, or even an eyebrow, for this was the FIRST Robotics Championships and the stars of the show were purpose-built machines constructed by dedicated teams of high school students, all hoping to make the playoffs.
For Max Hanley and Jeslyn Tan, co-captains of Sydney's Barker College robotics team the Redbacks, competing was equal parts pressure and fun.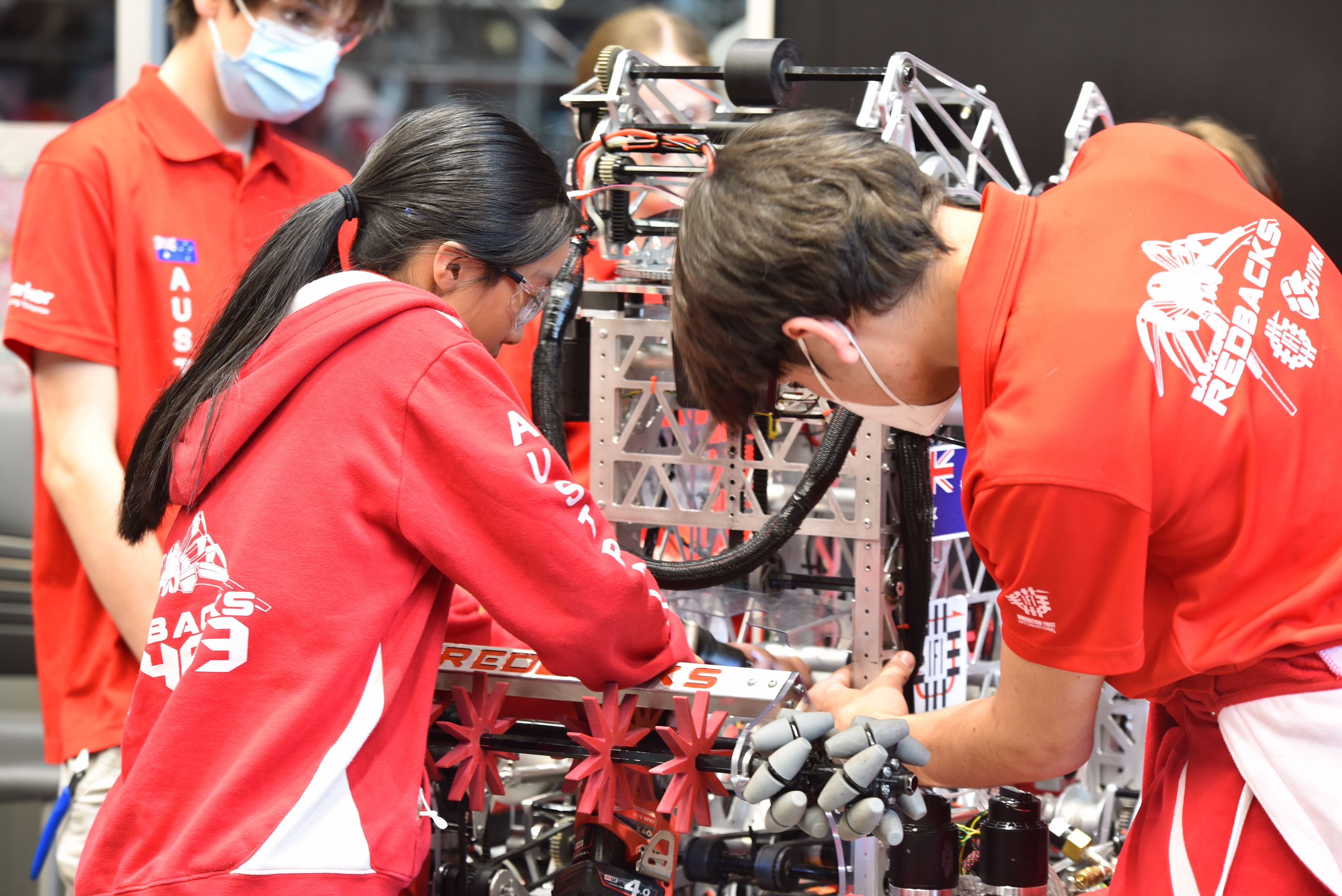 It was a big effort to get to Houston after winning rounds of robotics competition in Australia – and there was plenty of work still to be done for the year 11 students and their fellow team members.
"We got through 10 qualification matches and then made it through to the third round of the playoffs – there were lots of lights, music, smoke machines – it was really intense and fun to watch," says Hanley.
Not that he was much of a spectator. As the Redbacks' driver, he operated the team's robot via remote control during each 2.5-minute competition round.
Meantime, the Redbacks' pit crew were problem-solving and undertaking repairs on the fly, especially when part of the robot's drive train was damaged and bearings broken during competition.
"A couple of our wheels got smashed in the defence part of the competition, where another team's robots might hit you in trying to stop you from scoring," says Tan.
The team was under additional pressure as it was, having lost luggage including spare parts in a theft from one of their hire cars soon after arriving in the US. Fortunately, most of the stolen goods were recovered.
ROBOT CHALLENGE
It is 31 years since the FIRST Robotics Competition began in an American high school gym. This year, 3225 teams from 26 countries registered to take part.
FIRST is an acronym of the phrase ''For Inspiration and Recognition of Science and Technology'', so named by inventor Dean Kamen.
He's the engineer behind the ground-breaking iBot Wheelchair, and the Segway, and he co-founded FIRST as an exciting sports-like competition to encourage children to consider careers in science and technology.
High school teams must design, build and program a robot capable of completing an annual challenge issued at the beginning of each year – and complete it within six weeks.
This year's task: your robot must be autonomous for the first 15 seconds, then your driver can direct your robot swiftly around a small arena (about eight metres x 16 metres in size), scoop up tennis balls, shoot the balls into goals of different heights, then climb a series of parallel bars before returning to ''home base''.
Barker coach Jeser Becker is a mechanical engineer who began working with FIRST Robotics teams in Brazil in 2005. His role at the Sydney school includes coaching the students in engineering processes and techniques and sharing his industry experience to help them solve problems.
"The entire competition was built to create the next generation of problem solvers," he says.
"Students have just six weeks to decipher the challenge and build a highly capable industrial robot to perform these tasks, and they do this using teamwork and communication skills which will be useful for any profession."
The Redbacks' robot, Be Like Mike, was named in memory of Australian engineer, robotics educator and cofounder of FIRST Australia, Professor Mike Heimlich.
At 1.5 metres high, Be Like Mike uses cameras and sensors to track its location on the field and can shoot a tennis ball into a basket, with around 90 per cent accuracy, from any place on the field.
THREE-TEAM EFFORT
Making it to Houston was a three-team effort, with robotics teams from Pymble Ladies College and Abbotsleigh School forming an alliance with Barker to compete in Australia's national rounds in a process the FIRST Robotics organisers call ''co-oper-tition''. Barker and Pymble were then invited to compete in Houston.
Pymble's robotics manager, Daniel Brown, oversees teams from years 3 to 12.
Students start with play, he says, then participate in competitions designed for different age groups such as the FIRST Lego League (in which robots are made with Lego) and Vex EDR, where students assemble robots from prefabricated parts.
Senior students use CAD software to design their own components and cut them with a metalfabricating CNC machine.
Year 10 student Sabrina Rolinek says although she was an ''artsy'' girl when she took up robotics in year 7 at Pymble, she's now firmly drawn to STEM and plans to study chemistry, physics, design and technology in her senior school years.
"I love the competitions,'' she says. ''I enjoy the process of making the robot – I'm hooked on it."
Her role at Houston was driving a robot named Simba. "It was exciting; a very high stress situation, but it was all worth it. It was something you learn from and never forget."
Year 12 student and robotics captain Jenhui Lau built one of the robot subsystems at the beginning of the year. She's been part of Pymble's robotics program since year 7 and says that her role in Houston included mentoring the team.
Lau counts physics, chemistry and advanced mathematics among her HSC subjects, along with Japanese.
"The weird thing is that robotics has taught me how to better balance my life and include more nonSTEM related things, like sport and Japanese," she says.
"Robotics is not just about robotics, it's also about learning different things, getting more life experiences and bringing those back to improve the team."