New programs are designed to improve the financial skills of girls, who have been missing out.
BY FRAN MOLLOY
Financial fundamentals are an increasing focus for many educators, with around one in six Australian kids falling below a baseline level of financial literacy, according to the OECD's 2018 Vol IV Programme for International Student Assessment financial literacy assessment.
The problem is not felt equally, with girls reporting lower exposure than boys to financial education in school, and activities outside school, according to findings from the Australian Centre for Educational Research.
To help set students up for their future financial wellbeing, schools are turning to a variety of programs to teach financial literacy.
The Australian Securities and Investment Commission (ASIC) Moneysmart program supplies free teaching resources and funds financial literacy projects in Australian secondary schools.
The Ecstra Foundation's Talk Money Program involves a mix of face to-face and digital workshops in Australian schools teaching financial literacy to students in years 5 to 10 and supplies free curriculum-based financial literacy resources to maths and business teachers in NSW, Queensland and Victorian schools.
Learning financial literacy skills in school is crucial for young women, says Amanda Rose, chief executive of Western Sydney Women.
Rose cites research from the Household, Income and Labour Dynamics in Australia survey showing that women with a year 12 and lower education level, have a financial literacy rate over a third less (38.3 per cent) than that of tertiary-educated women, rated at 65.2 per cent.
In March, Rose launched Future Not Followers, a new 12-week school-based financial literacy program for girls in years 9-12 at Our Lady of Mercy College (OLMC) Parramatta.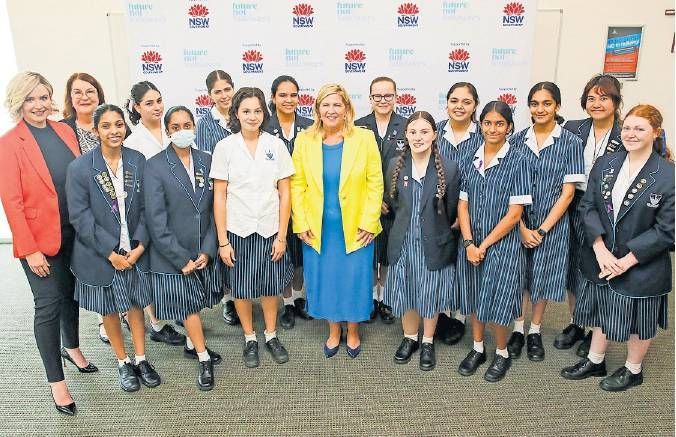 "This program isn't just giving students information about finance, we're linking it to goal setting and ambition.".
Following sessions where students learn about goal setting or budgeting personal finances, they meet with mentors who talk with them about their hopes and ambitions.
"Girls tell us what they want to achieve when they leave school – then we set goals and talk about how money relates to that," Rose says.
Buying a car is a common goal, and Rose uses this to explore how to earn and save money to buy a car, but also to maintain and run it.
"We discuss negotiation skills – how to research the price range and agree on a fair price, what are the agreements and processes when you buy a car?"
Career goals are another key topic. "We look at where you might study, how much you can expect to earn in the first year, and we look at pay equity – do women in this career earn the same as men?"
The program shows girls the importance of valuing themselves and negotiating for themselves from the start of their work life, and links each girl with mentors to answer questions and offer support down the track.
The pilot program includes a school holiday bootcamp notes Matt Esterman, director of Innovation and Partnerships at OLMC Parramatta.
"The feedback has been very positive – not just from the girls, who overwhelmingly think it's beneficial, but from parents and teachers, who all say the same thing: I wish I had this program when I was in school," he says.
Esterman says the program hinges on helping young women achieve financial freedom.
"The program has a greater purpose, beyond just delivering some content it is building skills and engaging with girls to help them imagine their future."