Competitions can inspire students to come up with brilliant solutions to real-world problems, writes Fran Molloy.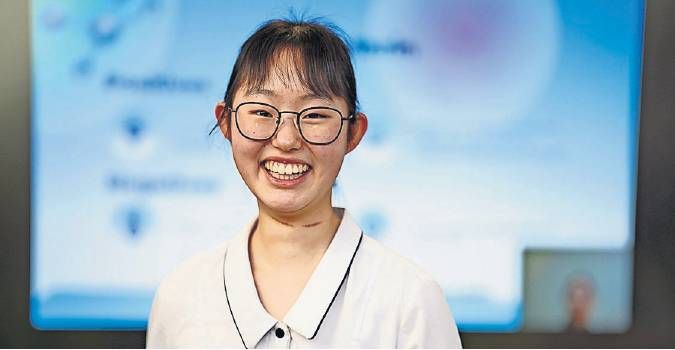 Mosquitoes just love Stephanie Cui so when this year 12 student from Sydney's Meriden School was asked to think of an innovative idea for a new textile, she decided to create a mozzie-proof fabric that would let her enjoy the outdoors in summer.
The genius idea saw Stephanie pick up both first place and the people's choice award at the CSIRO's Circular Fibres Pitch-a-thon, a student competition forming part of a national symposium on sustainable textiles and fibres.
High-school and undergraduate university students submitted short video-pitches outlining their idea for sustainable fibre and textile innovations, ranging from design, production and/or manufacture to waste-reduction, recycling or synthetic biology.
"My idea was to engineer textile materials to take on new properties to solve my own practical problem, being a target of mosquitoes," Stephanie says.
"Researching the issue, I realised that mosquito-repelling fabric would be useful in places where mosquitoes are vectors for infectious diseases like malaria and dengue fever, which are leading causes of infant deaths in some countries."
Searching for natural substances that would deter mosquitoes without irritating children's sensitive skin, Stephanie settled on lemon eucalyptus oil, which has been used by Australian First Nations people for millennia.
She drew on her science studies to design a steam-distillation process to extract oil from leaves, stems and twigs harvested from the tree.
The next step involved infusing the mosquito-repelling ingredients from the oil into the fibres of the fabric; here, Stephanie proposed using microencapsulation of the key repellent compound in a gelatin solution that interlaces with fabric fibres.
Stephanie's biology teacher is Meriden's head of science, Alexandra Phillips, who alerted the student to the CSIRO competition, knowing her keen interest in biochemistry.
While teachers made a few suggestions, all the ideas and work came from Stephanie.
"She really ran with it and we were blown away by the results, it was great to see Stephanie get such recognition," says Phillips. "External science competitions encourage students, helping build their confidence and they often come up with great ideas and do really good science."
Quite a few Meriden students enter the Australian Science Institute's annual Science Olympiad, with some making it into the Olympiad summer camps for finalists.
Students from years 7-11 also enter the Science Teachers Association of NSW Young Scientist Awards, with some going on to represent Australia at the International Science Fair in the United States.
Last year, Meriden student Annabelle Strachan won the Australian Stockholm Junior Water Prize based on an experiment she'd prepared for a school assessment and which she then developed further in a competition, Phillips says.
Teachers will recommend certain students to different competitions depending on their skills and interests, she explains.
"We encourage good writers to enter the UNSW Bragg Student Prize for Science Writing, others might enter the Royal Australian Chemical Institute's crystal growing competition, or the Aurecon Bridge Building Competition."
For Stephanie, competition success has reinforced a long-held ambition to study biochemistry and molecular bioengineering. "I really relish the challenge to merge concepts from each field to build something new," she says.