AFR Fast Lists 2022 - Advertising Feature
Tales of economic slowdown don't usually faze fast-rising companies – and slowing down isn't on the agenda for consulting firm Adaptovate, which promises to help firms thrive and grow, whatever the market throws at them.
"Like most businesses, we faced massive disruption over the past three years and we practiced what we preach, because we help organisations adapt to market change and embed business agility at scale," says managing director Douglas Ross.
Ross set up Adaptovate with co-founders Alex Rebkowski and Paul McNamara in 2017 (the three having worked together at the Boston Consulting Group), with the aim of tackling business transformation differently.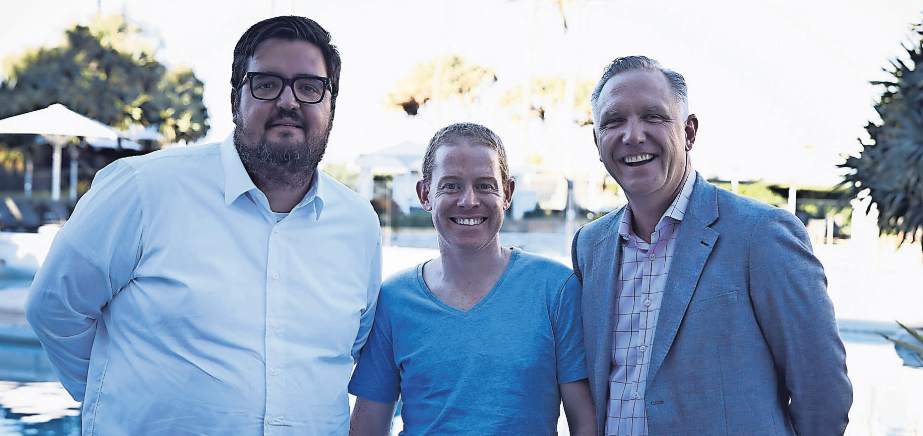 They clearly made the right call: Adaptovate now has 10 offices across eight countries, pulled in around $34 million in 2021-22, doubled its revenue through the pandemic – and grew from 56 employees in 2020 to more than 140 staff today.
The three founders self-funded the enterprise and the company's compound annual growth rate, averaging over 50 per cent since 2017, comes on the back of re-invested profits.
It hasn't always been easy. "In April 2020, we had zero new clients and, faced with the pandemic, our revenue dropped hugely, so we did what we tell our clients to do: we were completely transparent with our employees, told them how much was in the bank and how long we could last," Ross recalls.
A few were spooked and left, but those who stayed helped the company through its own agile transformation, and turned lessons from adapting to remote work and being forced into different ways of working, into solutions they could share with their clients.
Ross says that Adaptovate's approach is more coach than consultant (though the firm does both), and while high-level strategy is on the menu, their main game lies in building capabilities within their client's teams – so training is another key service.
"We help people to transform and change the way they work and change what they do, so we don't just come in as a consultant to answer a problem for them, because then we don't leave our clients with the skills they need to fix things themselves in future," Ross says.
"Our mantra is: success, sustained – and to do that, we build capability, we coach people when they need to be coached, we train, we change habits – and we get some really cool outcomes."
The company's fast international expansion was part of the plan from day one, with Melbourne- and Sydney-based founders tapping into long-term international business alliances to establish offices in Singapore, LA and Warsaw in 2019.
These were followed by Toronto and London, and, more recently Munich, Auckland and Dallas.
Adaptovate now boasts more than 200 clients across 50 countries, in sectors as disparate as banking, pharmaceuticals, insurance, retail, transport, energy and government.
"Our team needs to reflect diverse thinking," says chief operating officer Caitilin Studdert, adding that the firm employs people with diverse business backgrounds representing over 20 nationalities.
''In five years, we have learnt from our Polish colleagues, met as a team in Bali and Montreal and followed COVID-19's impact from Los Angeles to London, watching companies transform to meet the market at every global turn," Studdert says.
Co-founder Alex Rebkowski says that Adaptovate has made a point of living by the principles that they are helping their clients to implement.
Rather than hiring consultants, many of their employees come from leadership and mentoring positions within industry, he says.
"Our people are true practitioners that can share business agility knowledge in such industries as retail, pharma, financial services, airlines and many more," Rebkowski says.
"This means that our clients can expect our consultants to be hands-on and helping them with real life challenges that unlock true business value rather than only producing PowerPoints and talking about hypothetical examples.''
The Adaptovate team are keen advocates of agile, the management model emerging from mid-1990s software development teams that has become a force for implementing fast-paced, cross-disciplinary and low-hierarchy teams across marketing and business units in companies small and large.
Ross says that in today's global market, disruption is the norm, anything from worldwide pandemic to climate change to the supply-chain challenges emerging from the war in Ukraine.
"The challenge for every company is to be able to adapt to market conditions rapidly and successfully, by innovating their products and services to meet those market adaptations.''
Adaptovate's solutions typically focus on improving culture by building people's skills and changing the way they work. That, according to Ross, distinguishes the firm from most global consultancies, which start out with digital and technology delivery first.
"We find that a business's ability to improve its speed to output is limited more by their people than by their technology," he says.
"Growing the business is all about supporting your employees to change the way they do things – it's about helping your people to grow."