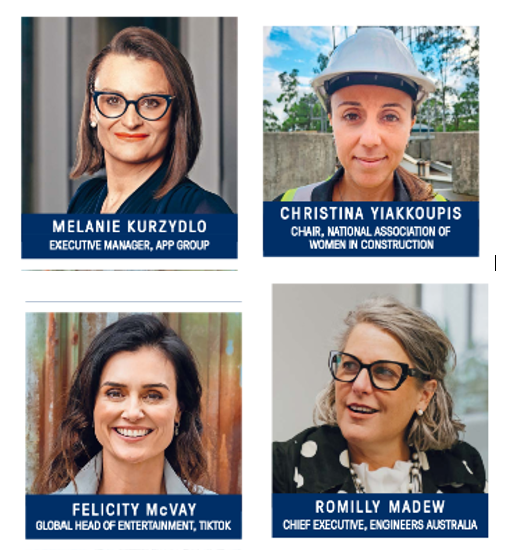 Many of the best-paid jobs are in industries and occupations with low ratios of women, such as construction, mining, engineering and technology – and improving gender balance in these industries could put a real dent in the gender pay gap.
The Workplace Gender Equality Agency (WGEA) points out that longheld gender-based stereotypes not only hold people back from following careers that align with their interests, but also limit innovation.
"Construction is the third-largest industry in Australia, but only around 13 per cent of the workforce is female," says Christina Yiakkoupis, who chairs the National Association of Women in Construction (NAWIC), boasting around 10,000 members.
Yiakkoupis says that site-based roles are even more male-dominated, with women making up just over 2 per cent of trade-qualified workers in the construction industry.
"There's potential to earn high pay rates from quite early in your career in construction; for example, certificate qualified electricians and carpenters typically earn more two years out of qualifying than people doing nursing or hairdressing."
WGEA's 2022 Gender Equality Scorecard found that only eight of Australia's 19 main industries have a gender-balanced workforce with at least 40 per cent male and 40 per cent female.
That's despite a 2017 Senate inquiry into gender segregation in the workplace and a subsequent strategy to boost women's workforce participation, particularly in fast-growth high-pay industries such as technology and engineering.
But it's not all bad news; shifts towards more equitable workplaces are slowly under way, in part due to rolemodelling by high-profile women leaders, and to the persistence of industry groups like NAWIC.
Embracing equity in industries that are traditionally dominated by men involves supporting women pioneers, while also encouraging organisations to adopt more innovative work practices that can improve conditions for everyone.
Yiakkoupis says that NAWIC offers opportunities for mentoring and training for women – and works closely with men who support and sponsor various initiatives such as a male ally program.
"We try to tackle the 'leaky pipeline' at all career stages, because many women who join the industry, don't stay; so, we roll out trade days and work experience for girls in high schools, we work with TAFE and universities and we have networking, training and support, plus we promote female role models."
Can't be what you can't see
Role-modelling was the impetus for construction industry executive Fiona Doherty to become a quantity surveyor, after seeing a BBC program profiling a woman working in that job.
"I was thinking of doing accountancy, but this job looked technical and professional while also being hands-on going out to building sites; but if that documentary had shown a lad doing that job, I probably wouldn't have remembered it."
Doherty's cadetship at a workplace where two of the eight quantity surveyors were female was a fortunate beginning to a career she loves and one in which she is well paid, has plenty of job opportunities and the potential to travel the world.
"There weren't a lot of women in the industry at the time," she says, adding that even now, women make up just 17 per cent of the profession's workforce in Australia.
Doherty thinks the construction industry has slowly become more accessible to women thanks to hard-won anti-discrimination legislation and programs to improve retention.
Construction is still widely
perceived as blokey, but at the big sites
run by large companies, we now see a
lot more women coming through on
site," she says.
"Change is slow, and it starts with policy changes and a shift at the top."
Role models and champions
According to Romilly Madew, the chief executive of Engineers Australia, "just 14 per cent of working engineers across Australia are women – and this statistic has not budged much in decades".
Research commissioned in 2021 showed that the sector's gender gap starts at school; only one in four girls even consider engineering as a career, with lack of familiarity with the profession the most-cited reason.
Only 16 per cent of engineering graduates are women, and their numbers drop off over time. "We lose engineers, specifically women, as their experience grows, and they are ready to move into senior roles," Madew says.
This low retention is likely part of the reason that the gender pay gap in engineering is around 22 per cent.
However, changed priorities in the sector could shift this over time.
"Female graduates are slightly out-earning male graduates on average now, due to increasing demand for female engineers," says Madew.
Amid a nationwide skills shortage, the past year has seen an alarming 41 per cent increase in engineering vacancies, Madew adds, and the industry is now focused on programs to bring qualified engineers back into the profession after a break (often to raise children) through mentoring and paid internships.
She argues that shifting the dial on diversity in engineering will need a holistic, co-ordinated approach from government, industry and educators – and is a big fan of mentoring and networking opportunities to help women advance their careers.
Madew's own career saw her move from studying agricultural economics into a marketing role at a large law firm. She later joined the Property Council before heading up the Green Building Council for 13 years. Last year, she was appointed to the top role at Engineers Australia.
"I've had a really interesting career, building a great network through always participating and being on boards and committees – for sports, community and work – through which I developed mentors and champions," she says.
Mentoring is only part of the solution though, and Madew lists numerous practices that the industry can introduce to improve diversity and inclusion such as sponsorship, and career planning and development.
Another strategy is "opt-out promotions," where organisations identify candidates for promotion, rather than asking them to apply. This tackles a known issue where women with the required skills are less likely than men to apply for a promotion.
Other strategies include introducing flexible work, gender-neutral parental leave and putting a gender diversity lens on practices such as hiring, talent retention and succession planning.
Diversity is a strength
"Australian business serves a diverse, beautiful society made up of a whole range of people with differences in gender, race, sexuality, neurodiversity and so on," says Melanie Kurzydlo, who is the executive manager of project management at multibillion-dollar property and infrastructure firm APP Group.
"Improving diversity and inclusion isn't just the right thing to do; research shows companies with a diverse workforce and management will lift profits by 20 per cent or more."
Kurzydlo says that construction has actually experienced a downwards shift in gender diversity, with women now accounting for just 14 per cent of construction industry employees compared to 17 per cent in 2006.
She says the industry needs to improve its flexibility and role-modelling if it is to attract more women and turn that trend around.
"People have changed their expectations about work, but much of the construction industry still holds onto inflexible traditional work patterns, expecting everyone on site from 7am til late, when there's no reason that we can't do things differently and better – get project managers to job-share a morning and afternoon shift, for example."
Kurzydlo says that organisations need to put different solutions on the table, rather than expecting women to "speak up" and ask for change.
Retaining women is another big challenge faced by the industry – and Kurzydlo believes that's partly because so few women make it into management.
"The industry has more visibility with girls, who then choose subjects at school and degrees at university that get them into the junior roles – but then we lose them, because they see fewer and fewer women in senior leadership positions."
Pushing for gender balance in technology
Technology companies rank among the world's top revenue earners, and senior roles can attract big salaries – but, in 2016, women made up just 12 per cent of IT executives in Australia.
That's no surprise to Felicity McVay, now global head of entertainment at social media giant TikTok, which she says is the most diverse workplace she's ever experienced. However, that's not reflected across the wider industry.
"At TikTok, I work with a mix of people from different cultural and socio-economic backgrounds, different gender identities, with plenty of female representation, including the heads of legal, marketing, communications, HR," she says.
McVay trained as a lawyer then shifted to television at Fremantle Media nearly 20 years ago – "a very blokey culture back then" – and moving to their US offices.
Returning to Australia in 2010 as an early local employee of Google's YouTube and its director of content partnerships, McVay then moved to TikTok three years ago.
"Senior leadership, in both media and technology, remains male-dominated – but both industries are aware and trying to address it," she says, adding that achieving gender balance is most challenging in technical roles like software engineering.
McVay applauds company-wide strategies to reduce the gender pay gap and improve retention; for example, Google ran "pay transparency" exercises comparing salaries across job grades and continues to offer promotions for people on parental leave.
But she believes there is more to do at a government level; for example, she says, "support for universal access to affordable childcare will directly impact on women's participation".
Mining's workforce evolution
Around 20 per cent of the 280,000 or so people working in mining in Australia are female – a proportion that has more than doubled over the past 20 years, according to Nicole Brook, the president of the resources sector's 14,000-member peak body Australasian Institute of Mining and Metallurgy (AusIMM).
"The resources sector has grown 28 per cent over the
last five years, and that will grow even more as the world undergoes a massive energy transition – we will need 10 times as much lithium in 2030 as we used in 2020, for example," says Brook.
She says this drastic change demands plenty of innovation and will open up opportunities for a broader range of people, work types and skill sets. Traditional roles like geologists and mining engineers are expected to be supplemented by data analysts, machine learning specialists and robotics experts, among many others.
"Mining is becoming far more automated, increasing opportunities for women as it removes barriers and challenges that women faced in the past," Brook says.
Her own career began several decades ago when, as a fresh-faced mining engineering graduate, she was the only woman working hundreds of metres underground at Tahmoor Colliery in the Southern Highlands region of NSW.
That's unusual these days, she says. Rio Tinto reports that 58 per cent of its new graduate hires are female, while BHP reports that women make up 47 per cent of all new hirings.
"The industry has been working for many years to address the gender pay gap in the mining industry," she says. However, there remain few women in senior roles, and a large percentage of women leave the industry after a few years – leaving fewer role models for those coming through the ranks.
AusIMM runs an extensive women's mentoring program, from which sponsorship often emerges.
The difference? "Mentorship involves someone talking to you – sponsorship is someone talking about you," says Brook, who says she's personally benefited from such opportunity.
"Sponsors recognise high potential individuals and endorse them to other people. It's not something formal, and it's susceptible to affinity bias, where people recommend others who look, think and act like them."
But Brook says that diversity and inclusion training can raise awareness of, and challenge, these inherent biases.

*. *. *.

LEADING BY EXAMPLE
Pymble Ladies' College principal Dr Kate Hadwen cites three simple steps that schools, organisations, industry groups and individuals can take to embrace workplace diversity.
Update procurement policies

Pymble has changed its procurement policy to only partner with businesses that have women in their senior leadership teams. "It sends a clear message to potential partners, the business world and our community: we are serious about continuing to support our students – indeed all women – beyond the school years and in the workplace," Hadwen says.
Focus on the first point of promotion
"Research indicates that it's the first promotion from employee to manager where the greatest gender disparity can occur," says Hadwen, who suggests that organisations who focus on developing this pool of women, will support a bigger pool of female CEOs, CFOs and board chairs in years to come.
Support girls in the workplace
Studies show that boys are more likely than girls to know what their parents do for work, with the gap greatest in families where fathers work in male-dominated fields such as technology, finance and construction. "Parents are the single greatest influencers in their children's careers – imagine the impact if all organisations set aside one day or even one morning to 'bring your daughter to work'."