Neurodiverse students and inclusivity are front and centre for this newly-appointed dean, writes Fran Molloy.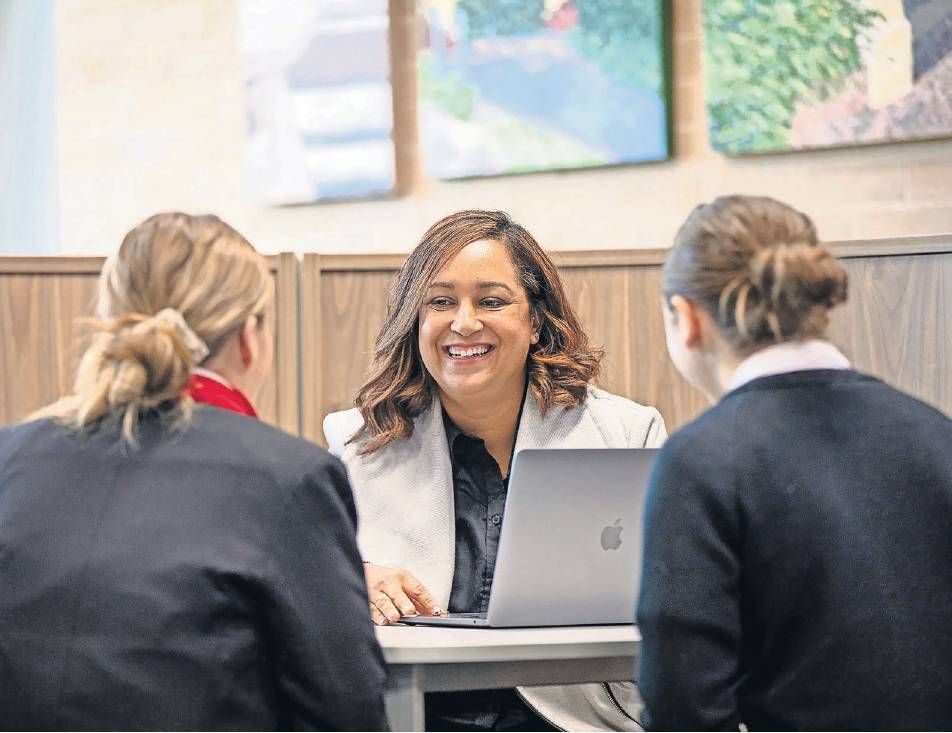 Inclusive education is serious stuff at Santa Sabina College, with the school's newly appointed dean of inclusive education, Janine Barr, tasked with supporting children who don't fit narrow academic norms.
Her remit covers more than 1300 students at the multi-campus Strathfield school, from prep through primary and secondary to year 12.
Barr is backed by a team of ''inclusive educators'' comprising teachers, teacher's aides and support people, and says a lot of her work involves helping teachers build on strategies to meet the learning needs of all students.
"Working with teachers across the different campuses gives us a streamlined approach and continuity of care of all our kids from the day they start school here," she says.
Inclusive education is about unlocking the potential of all students rather than focusing on disability, she says, although it certainly caters for neurodiverse children who may have sensory concerns or diagnoses of ADHD or autism.
EXTENDING LEARNING
"Teachers who understand neurodiversity know that it looks different in every student, so inclusive education involves getting to know each and every student and how you can extend their learning," Barr says.
She says that thinking inclusively encourages educators to find different ways to teach the curriculum – something that the best teachers do naturally.
"We all think differently, some of us are visual learners and some are auditory learners," says Barr, who estimates that between 15 and 20 per cent of students may need her help.
The Australian Institute of Health and Welfare estimates about 10 per cent of students aged 5-18 have a disability, with about 89 per cent of those students attending mainstream schools.
"Not all of the children we help have a diagnosed disability," Barr says, adding that she's seeing a slight increase in the proportion of students needing extra assistance because they were impacted by COVID.
"Some students found the isolation period very difficult and fell behind, while others found it hard to maintain focus when coming back to school and the disruption has also led to some anxiety in a number of students."
TWICE-EXCEPTIONAL
Barr says students who have the chance to shine can surprise everyone. She cites a former student, now a successful lawyer, whose perfectionism and self-esteem issues kept him from handing in his work at school, leading teachers to think he was struggling with literacy.
Trialling new strategies and tools that catered for this student's learning style and personality traits helped overcome barriers to learning – and he finished school with grades in the top six of his year.
"Many neurodiverse students are also gifted – we call them 'twice exceptional'," she says.
Community group GLD Australia was established to support such children, with its website noting that while many parents and teachers assume that all clever children will "enjoy school, learn effortlessly and succeed academically", many gifted children may succeed academically but still cope with an unidentified disability.
Others experience chronic underachievement due to disability, with many not identified until late primary or early high-school years.
"We get to know the students by working with them in the classroom, collaborating with parents and then creating an individual learner profile to highlight areas where they are doing well and areas where they need some help," says Barr.
Networking and communication between teachers across different schools is helpful, too, she says. "After all, we all want the best for all our students."
Outside the box: support for neurodiverse students
Santa Sabina College's Janine Barr says that while there are quality resources online for educators, parents and students, there are also plenty of sites that don't have an evidence base.
"Inclusive education often involves working with students who are both gifted and have an additional diagnosis that impacts learning; neurodiverse students may have cognitive, sensory and emotional differences which will impact their learning," she says.
Education isn't one size fits all; parents and teachers can benefit by tapping into different ideas to extend children with a variety of ways to learn and expose them to challenging, enriching and interesting content and activities. Here are some resources that come highly recommended.
Australian Association for the Education of the Gifted and Talented (AAEGT) Advocacy and networking group for parents and teachers of gifted children. The resources and FAQ sections of this group's site are informative and useful. See aaegt.net.au
Centre for Applied Special Technology (CAST) A non-profit inclusive research group based in the United States, CAST created the Universal Design for Learning (UDL) framework. UDL seeks to be a lever of change to help make learning inclusive and transformative for everyone. See cast.org
Gifted Learners with a Disability (GLD) An online learning community and support group helping intellectually gifted children and adults with specific learning disability. See gldaustralia.org
GERRIC, a University of NSW initiative GERRIC is dedicated to gifted education research, professional development of educators, programs for gifted students and courses for parents. It hosts school holiday programs for students, workshops and masterclasses for educators and the annual Ignite the Spark conference. See unsw.edu.au/arts-design-architecture/ourschools/education/professional-learning/gerric-gifted-education
Gifted and Talented Secondary Teachers Association (GATSTA) A teacher network in Sydney and NSW, GATSTA has advice on the steps to identifying a gifted child, responding to their needs and the steps of assessment, as well as professional development and knowledge-sharing. See gatsta.com.au
Inclusion Ed Professional learning for teachers with research-informed teaching practices and tools to support diverse learners in inclusive classrooms. See inclusioned.edu.au
Inclusive Practice Hub Hosted by NSW Education in partnership with Deakin University, the hub has more than 140 evidence-based resources to help students with additional needs. See education.nsw.gov.au/campaigns/ inclusive-practice-hub
Yellow Ladybugs A community group that hosts social events – in person in Melbourne and online across Australia – connecting autistic girls and gender diverse young people aged 5-16. See yellowladybugs.com.au