Students at Queenwood school learned a whole lot of 21st Century skills - highly valuable for tomorrow's circular economy - as they converted an old ute into an electric vehicle.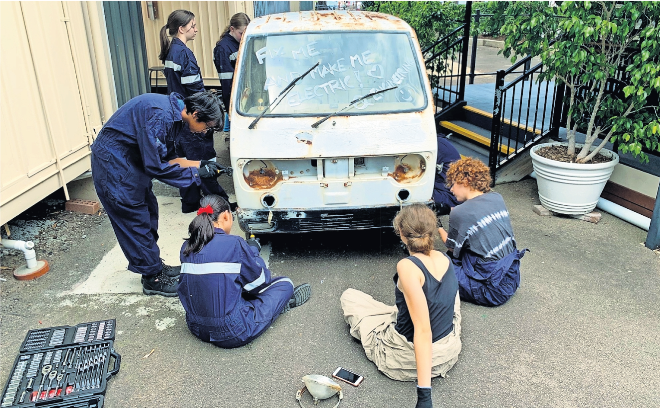 In the low-emission, circular economy world we're all working towards to ensure a better future for children currently in school, the ability to creatively repurpose and improve redundant items will become essential life and career skills.
Girls at Sydney's Queenwood school will be ahead of the game on this score, thanks to practical and innovative real-world engineering projects such as the current QUTE (Queenwood Ute) conversion.
Building the QUTE is a hands-on, environmentally-friendly exercise where students are supported in turning a vintage 40-year old ute into a solar-powered electric vehicle which will be used for school deliveries, using reclaimed parts and applying newly-learned skills as they go.
Earlier this year, Queenwood science and technology teacher Andrew Draper assembled a group of students from Years 8-12 who volunteered to work on the transition of the donor vehicle: a 1975 Suzuki Carry missing its engine, its gearbox and even its seats.
Meeting after school over many weeks, the girls removed various redundant parts such as the radiator, making room for an electric motor with batteries (repurposed from a wrecked Nissan Leaf electric car), and re-using parts donated from various vehicles to build the QUTE, which will be charged by solar panels.
The project is the latest in a range of opportunities for Queenwood girls offered through the school's Advanced Technologies and Engineering (ATE) program, which has been running for more than five years.
These include building various electronics devices, joining solar racing and robotics challenges, and even building their own guitars – projects that teach both practical skills, and involve personal growth that has both academic and social benefits.
"Each of these projects involves many hours of toil towards a goal which can seem, at times, very distant," says Mr Draper, adding that along with learning engineering skills, students learn the rewards of delayed gratification, as they commit to a task, triumph over failure and patiently persevere, to take pride in the outcome of their work.
Queenwood Principal Ms Elizabeth Stone says that the QUTE project is a great example of the school's mission to inspire students to work towards a higher goal, and tapping into support and connection with community and industry to do so.
"We've had experts in EVs (electric vehicles) come out to talk to the students in our QUTE crew about the industry, its opportunities and challenges and carbon-zero solutions - and they have been so supportive," she says.
"It helps the students to see the impact that this can have on our future as a nation."
Ms Stone says that engineering, coding and other STEM activities are popular at the school, because they are fun and interesting.
"There is a subliminal message if you are constantly reassuring girls that they too can be engineers; implicit in that message is, someone thinks you can't," she says.
"We believe that much of the barrier to women's participation in technology and engineering is imagined – it's created by our own perceptions, and once that barrier is in place, you have to work to undo those perceptions," she says.
"Instead, as a girls' school, Queenwood has an environment where those perceptions don't arise, because it's normal that everybody in the physics class and the coding club and doing engineering is a girl."