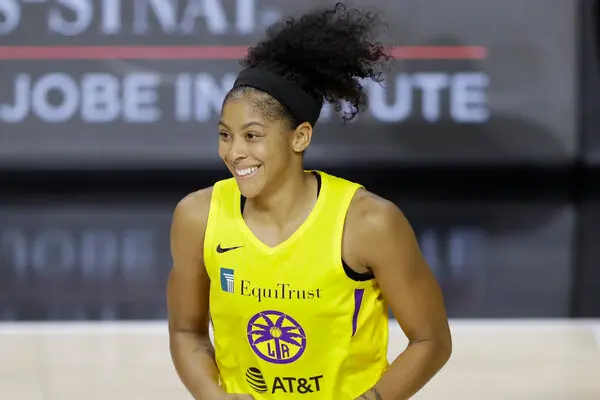 A landmark collective bargaining agreement before last season increased top-tier W.N.B.A. salaries to $215,000 from about $117,500. But though the new pay scale was in effect ahead of the 2020 season in Florida, it's only this year that a number of the league's biggest stars are unrestricted free agents and in a position to cash in.
Free agents were officially able to sign new contracts on Monday, and many did. Here is a breakdown of some of the biggest free-agency moves so far:
Parker, who won the league's Defensive Player of the Year Award with the Los Angeles Sparks last season, is moving on to be closer to her roots. A Naperville, Ill., native, she signed with the Chicago Sky on Monday.
"This was a very difficult decision for Candace to make as Los Angeles is her home now," Boris Lelchitski, Parker's agent, said in an email on Monday.
Although Parker and her 11-year-old daughter, Lailaa, have made Los Angeles home, Illinois is where Parker got her start. "It was just a decision based on where she thought she could most enjoy writing the last few chapters of her amazing career," Lelchitski said.
Parker had been with the Sparks since she was drafted No. 1 over all out of Tennessee in 2008.
This is big get for James Wade, the head coach and general manager of the Sky, who has made two postseason appearances in two seasons with Chicago.
"It's an incredible story of a homecoming between a team striving to become a championship organization and one of the best players in basketball," Wade said in a statement announcing the signing.
Chicago immediately becomes a contender with Parker, a two-time Most Valuable Player Award winner, alongside young, athletic players like guard Diamond DeShields and forward Gabby Williams. Adding Parker as an option for the assist machine Courtney Vandersloot could mean trouble for post defenders.
Clark was a key factor for the Seattle Storm in their 2018 and 2020 runs to a W.N.B.A. championship. A nine-year veteran, she shot 55.8 percent from the field on the way to a career-high 10 points per game last season.
Mike Thibault, Washington's head coach and general manager, had sought Clark through free agency and trades with Seattle in the past. "We've offered them a trade at one point," Thibault told reporters during a video conference call on Monday. "They were smart and didn't do it."
With the Mystics, Clark looks forward to being challenged to become a more complete player before calling it a career. "It's not that I have to be fancy in anything that I'm doing," Clark told reporters on Monday. "I just want to be as well rounded and reach my full potential before I decide to hang them up."
Clark's biggest asset is her ability to guard every position. It has been a staple of her game that has caught the attention of her peers.
"She's strong. She's physical. It's like having a little bodyguard wherever I go," Phoenix guard Diana Taurasi said of Clark last season.
Taurasi, who has missed significant time over the past three seasons because of a lingering back injury, has re-signed with Phoenix.
"Diana has given her entire career to our organization and community, and we don't take for granted her unrivaled impact on basketball," Mercury General Manager Jim Pitman said in a statement on Monday. He added that the team was confident that she had "more All-W.N.B.A. days ahead of her."
Taurasi has been with the Mercury since they took her with the top pick in 2004.
Taurasi's return, keeping her alongside the 2020 free-agent acquisition Skylar Diggins-Smith, bodes well for the future of the Mercury. Diggins-Smith electrified fans with a game-winning buzzer beater against the Connecticut Sun last season after Phoenix had blown a double-digit lead.
"When they play well, we play well, and that's what you need from your best players" Mercury Coach Sandy Brondello said of her backcourt duo of Taurasi and Diggins-Smith during a postgame media session in September.
But the chemistry is still building, as was evident during the 2020 playoffs when Phoenix lost to the Minnesota Lynx, 80-79, despite having possession in the waning seconds of the game.
Chelsea Gray to the Las Vegas Aces
Gray's move to Las Vegas from the Sparks began last off-season. As a restricted free agent then, Gray wanted to test the waters. A California native, she knew being close to family was one of her priorities, so if she wasn't going to remain in Los Angeles for the long term, Las Vegas was the next best option. The media company Uninterrupted posted a video on Monday documenting Gray's trip to Vegas last off-season. The 25-minute video showed how Gray and the Sparks worked out a one-year deal for the 2020 season so she'd be eligible for the maximum contract in 2021, per the new collective bargaining agreement.
The video concluded with the announcement that Gray had signed a deal with the Las Vegas Aces this time around. Despite making deep playoff runs in 2019 and 2020, the Aces lacked experience at the guard position. Gray has proved to be more than capable as a floor general for a team with frontcourt talent.
Instead of Parker and Nneka Ogwumike, who had been central players for the Sparks, Gray will now facilitate an offense with A'ja Wilson, the reigning M.V.P., and Liz Cambage, who is expected to be back this season after receiving a medical exemption last year because of the pandemic.