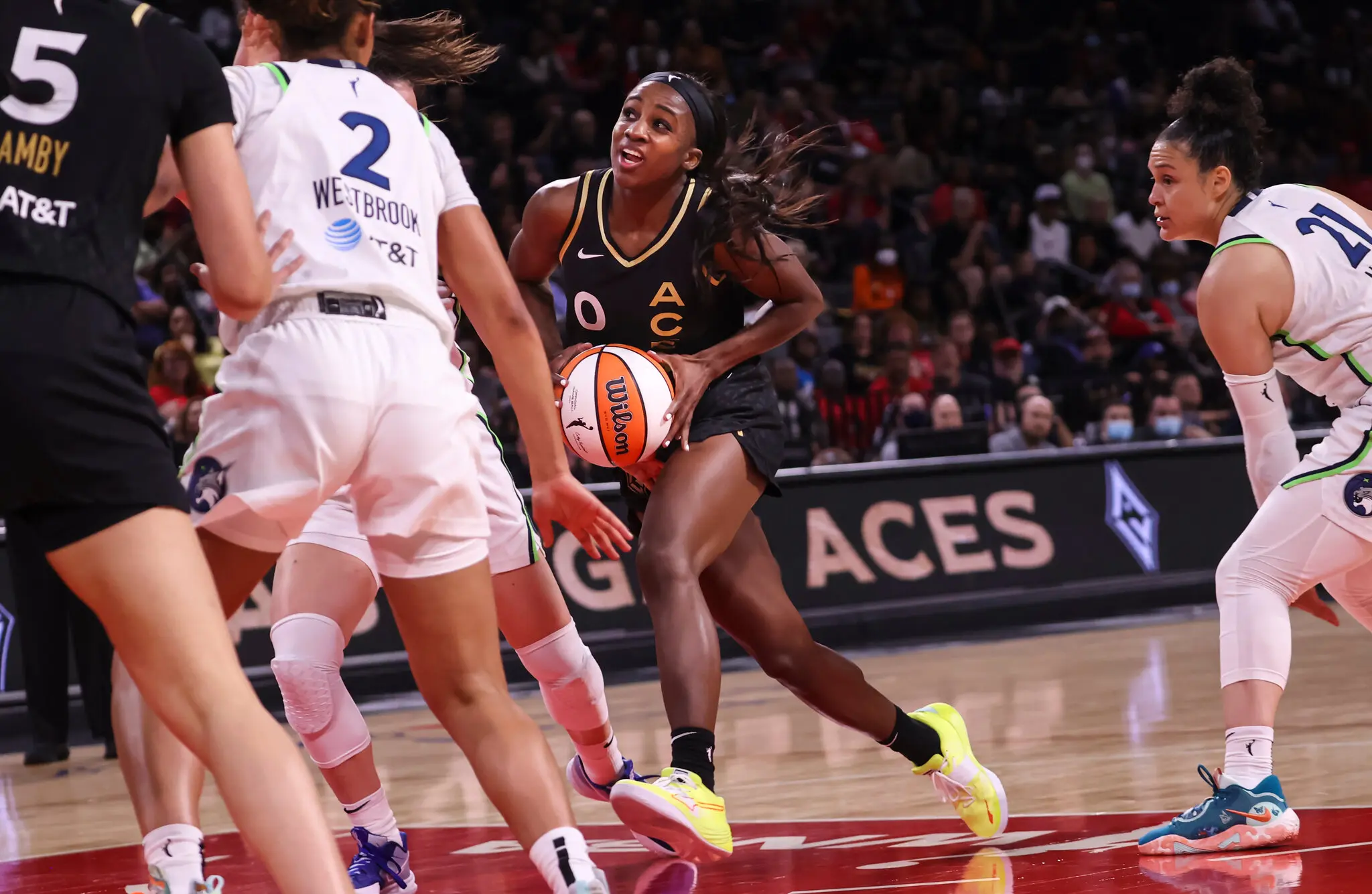 Las Vegas Aces guard Jackie Young has met success at every level of basketball. She has a high school championship, an N.C.A.A. Division I title at Notre Dame, and last summer, she claimed Olympic gold in the first 3x3 competition. Now, as a first-time W.N.B.A. All-Star, Young, an Indiana native, has added another accolade en route to her ultimate goal.
"Everyone wants a ring. I definitely want a ring," Young said, adding, "We've been close each year."
Young is in her fourth W.N.B.A. season with Las Vegas and has made the playoffs each year, including a trip to the finals in 2020. The Aces selected her No. 1 overall in the 2019 draft.
Young is one of the top defensive weapons on the Aces and is posting the best offensive numbers of her career, which helped her earn a place as a starter in her All-Star debut this weekend. The All-Star Game is Sunday in Chicago.
When Young came to Las Vegas in 2019, it was her first major move away from Indiana. She was the middle child, and both her older brother, Terrence, and younger sister, Kiare, played basketball, too.
Jackie attended Princeton Community High School where she tallied 3,268 career points for the girls' basketball team, a record for the girls' and boys' teams. From Princeton, Young traveled about 300 miles northeast to play for Notre Dame.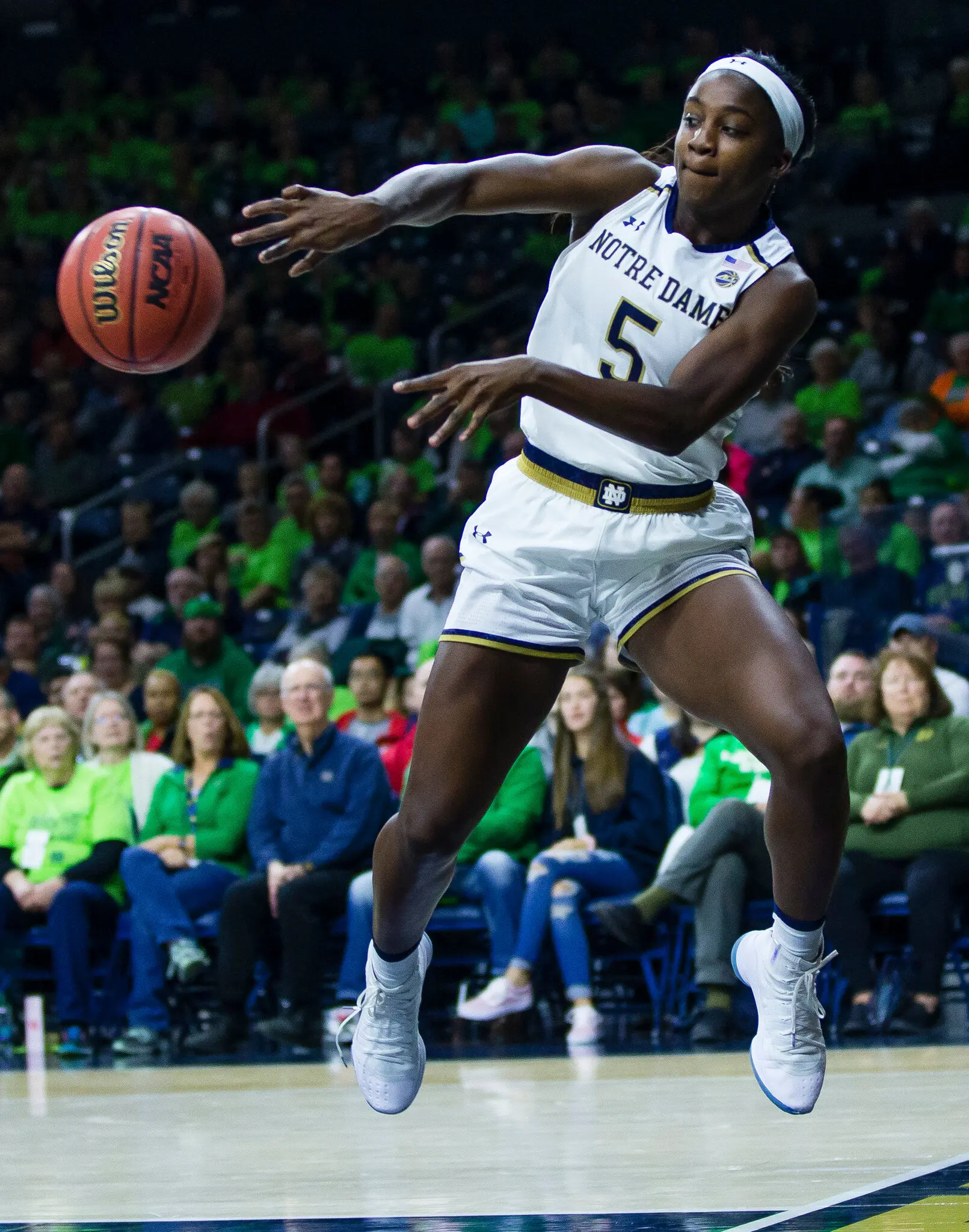 As a sophomore, she dropped a game-high 32 points in the 2018 Final Four semifinal game against Connecticut. In the championship game against Mississippi State, Young hit the game-tying shot and came up with the steal that led to her teammate Arike Ogunbowale's game-winning basket. Young played one more season with Notre Dame before entering the 2019 W.N.B.A. draft.
"It was always a dream of mine to play in the W.N.B.A., and it came down to making a decision for my family. I knew I needed to help my family, and that's what I've worked for my whole life," Young said.
She described her family as "close-knit" and said she had uncles and aunts around to help her mother, Linda Young. Her extended family shared housing sometimes to stay afloat financially. Jackie Young's decision to leave Notre Dame meant less financial burden for her family.
"​​My mom, a single mother, made a lot of sacrifices for me and my siblings," Young said. "She definitely went without to make sure we have food on the table, clothes on our backs, and so I knew if I had the chance to leave early I was going to."
Young will make about $72,000 this season and more than $165,000 in each of the next two seasons until she is an unrestricted free agent in 2025, according to Her Hoop Stats.
Her transition from college to the W.N.B.A. was swift.
Notre Dame narrowly lost to Baylor by 1 point in the 2019 N.C.A.A. women's basketball championship in Tampa, Fla. Three days later, Young was in New York City being announced as the first overall pick in the W.N.B.A. draft.
Aces forward A'ja Wilson had a similar transition to the W.N.B.A. the year before, but with an added twist: The Aces transitioned, too, from being the San Antonio Stars. The franchise spent 15 seasons in Texas, then moved to Las Vegas as the Aces for Wilson's first season.
Sign up for the Sports Newsletter Get our most ambitious projects, stories and analysis delivered to your inbox every week.
"When I got drafted, we were such a new franchise," Wilson said. "I didn't have a quote-unquote vet that kind of knew the ropes."
Wilson decided to embrace the chance to be a big sister to Young.
"Jackie was kind of like our first rookie that we had," she said. "We already were pretty much established, in a sense, so I wanted to make sure that I could be that vet that I didn't have for her and answer all the questions that she needed, making sure that she was comfortable."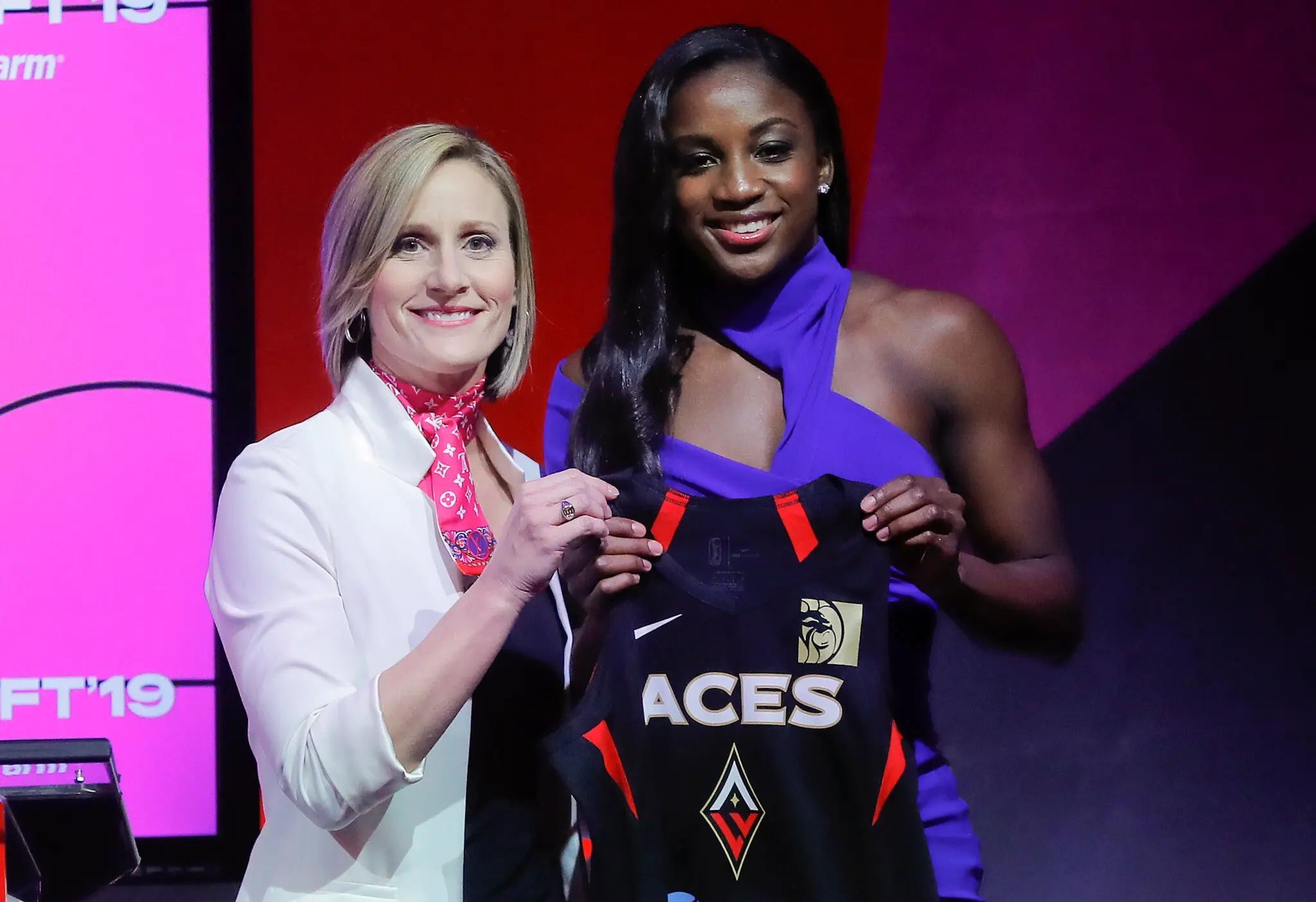 Now Young is a veteran, and she is held accountable when she's asked to assert herself by other players or Aces Coach Becky Hammon.
"I talked with Becky about this earlier in the season, just talking about my court awareness and seeing things before it happens," Young said. She added: "I think that would help us along the way, too, me just being more vocal. I'm just working on that every day."
The work hasn't gone unnoticed by Wilson, who won the league's Most Valuable Player Award in 2020.
"Jackie is someone where she understands her assignment, 100 percent. She is a pro at what she does and watching that growth, it's been incredible, honestly, to watch," Wilson told reporters recently. She added: "She's locked in no matter what, and she makes sure that others around her are doing the same."
Another challenge for Young is to also know when to shut off her competitive edge.
"She's someone who's in the gym all the time. I've got to kick her out," Hammon told reporters before a recent win over the Minnesota Lynx.
"I literally tell her to go home and take the ball and put it on the rack," she added.
Hammon, who retired as a guard for the San Antonio Stars, said she believed Young was en route to being considered for the M.V.P. Award this season. She trusts Young with defending the best perimeter shooters every night.
"I really take pride in that," Young said. "I know how to get stops, and I have a big assignment each night. So I think everyone knows that on this team."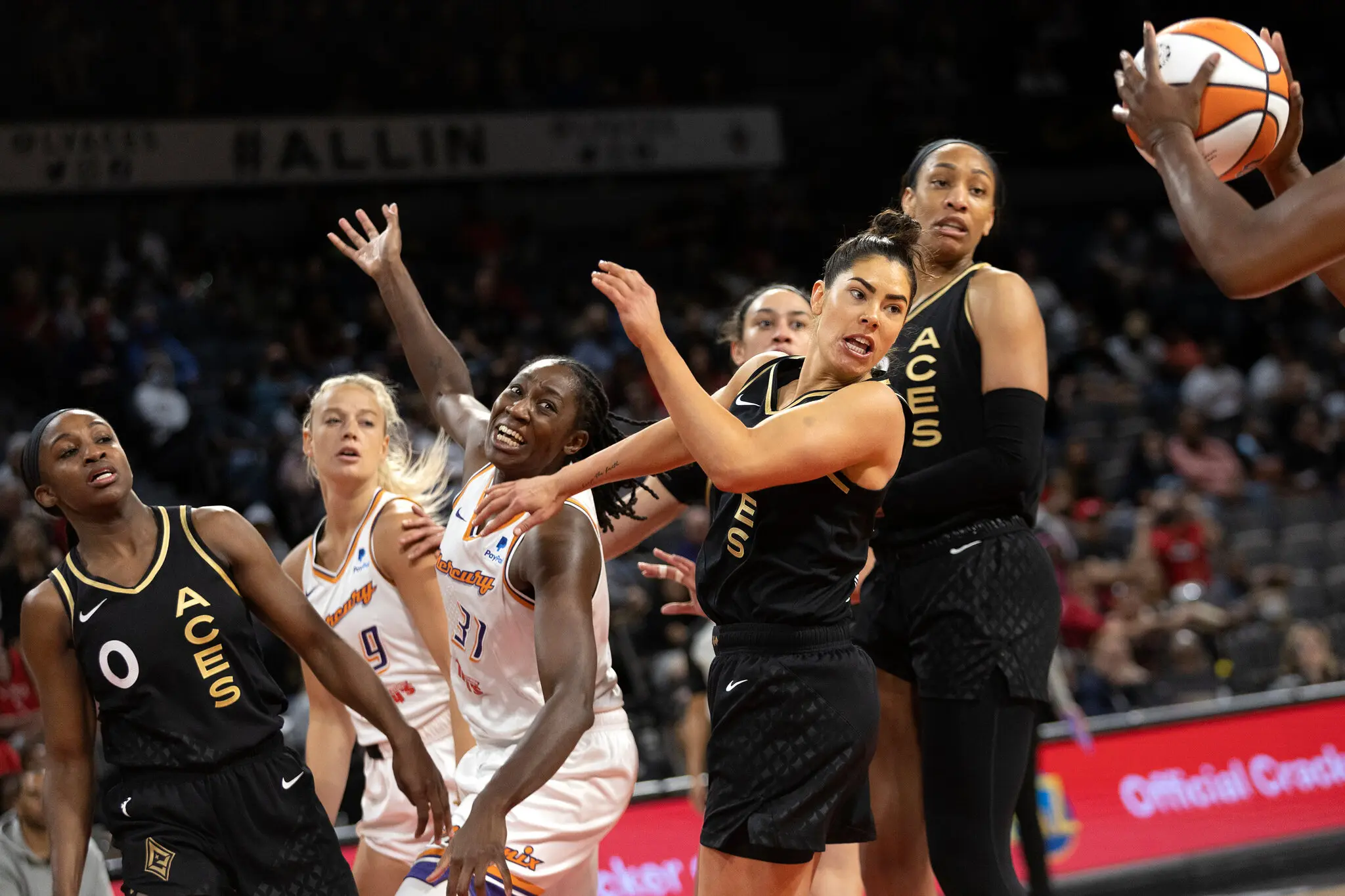 The next level of Young's game, as Hammon sees it, is to be more demanding on offense. That goes hand in hand with her growing into a confident communicator on the court — a floor general.
"I want her to be an animal. That's what I want," Hammon said, adding, "I want her to understand that she can impact a game like that and demand that kind of attention offensively."
Offensively, Young is posting career numbers in points and steals per game while continuing her reliable defense. She averages about 17 points per game, more than 10 points per game above her average in her rookie season. Her 46.9 percent accuracy from 3-point range is among the best in the league entering the All-Star break.
On Sunday, Young will not only appear in her first W.N.B.A. All-Star Game, but she will also start opposite her Las Vegas Aces teammates Wilson and Kelsey Plum.
Will the fun festivities in Chicago be a chance for the hard-working Young to shift into a lower gear? Not likely.
"I don't think there's such thing as less competitive for Jackie," Plum said. "I think she's going to do what she does."
This will also be Plum's first All-Star appearance, and she is ready to take on Young. They were both set to compete in the skills competition on Saturday.
"I know she's going to try to beat everyone including me, you know," Plum said. "That's just who she is. She wants to win everything. And if she doesn't win, someone cheated."