Cleveland Clinic's Critical Care Transport team carries immediate, ICU level treatment to its patients.
Paramedics interact often with patients and their families in times of crisis, and some encounters truly leave an impression. Take Cleveland Clinic flight medic JR Sesock's experience during a mission to Charleston, West Virginia, to transport a young cardiac patient by helicopter for urgent treatment following complications during childbirth. The woman's father met Sesock in her hospital room after they'd landed.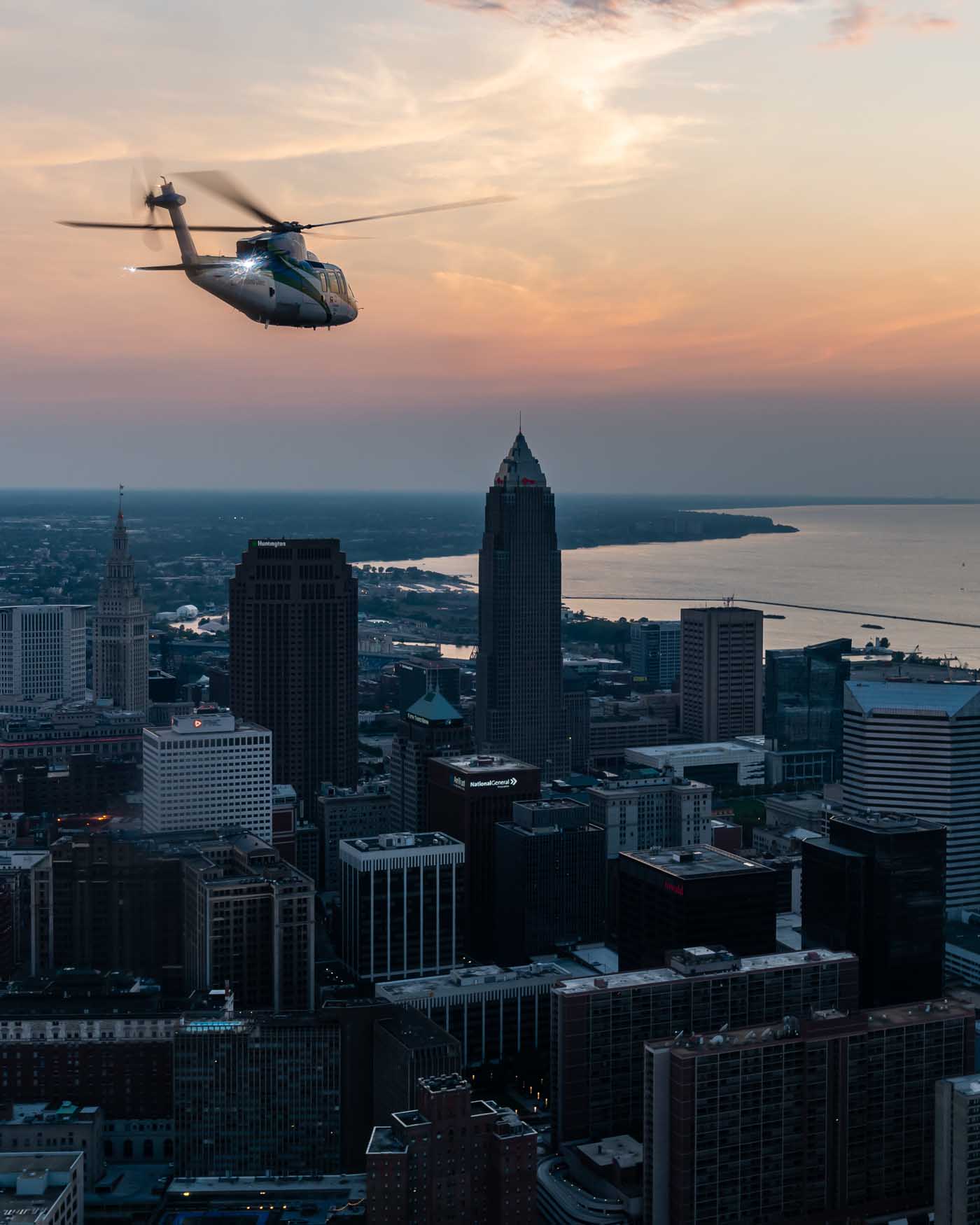 "He was crying, and holding his older grandson, a three-year-old," Sesock remembered. "He shook my hand and said, 'Please take care of her. This is her son, and I don't know if he's ever going to see her again. But I'd like for him to be in here to watch while you folks are working on her.' That was so impactful. We have a lot of experiences like this, but that one really hit home."
The patient had lost a tremendous amount of blood during delivery, and her heart was failing fast. But the team began treatment and successfully stabilized her well enough for her flight to the Clinic, which has been ranked the top cardiac hospital in the U.S. for the last 26 years. There, she was placed on an ECMO heart-bypass machine — one of the most radical life-saving measures heart-specialists can deploy. After several up-and-down weeks, she recovered. Sesock met with her at the hospital when she was well enough, and about a year later he received a message from her on social media thanking him and the Clinic for what they'd done for her and her family.
It's the kind of experience that gives EMS personnel of all types incredible boosts amid so many encounters that often don't end nearly as well — but it also billboards the Clinic's ultimate goal with its aviation department.
"The whole purpose of our Critical Care Transport program is access to care," said Dr. Damon Kralovic, the transport team's medical director. "We have the resources and expertise to deal with certain conditions that not every hospital might be able to manage, and being able to place our team into a helicopter and get them to that patient in a timely manner — to stabilize them and begin our own treatment immediately — is really like moving the front door to the start of health care."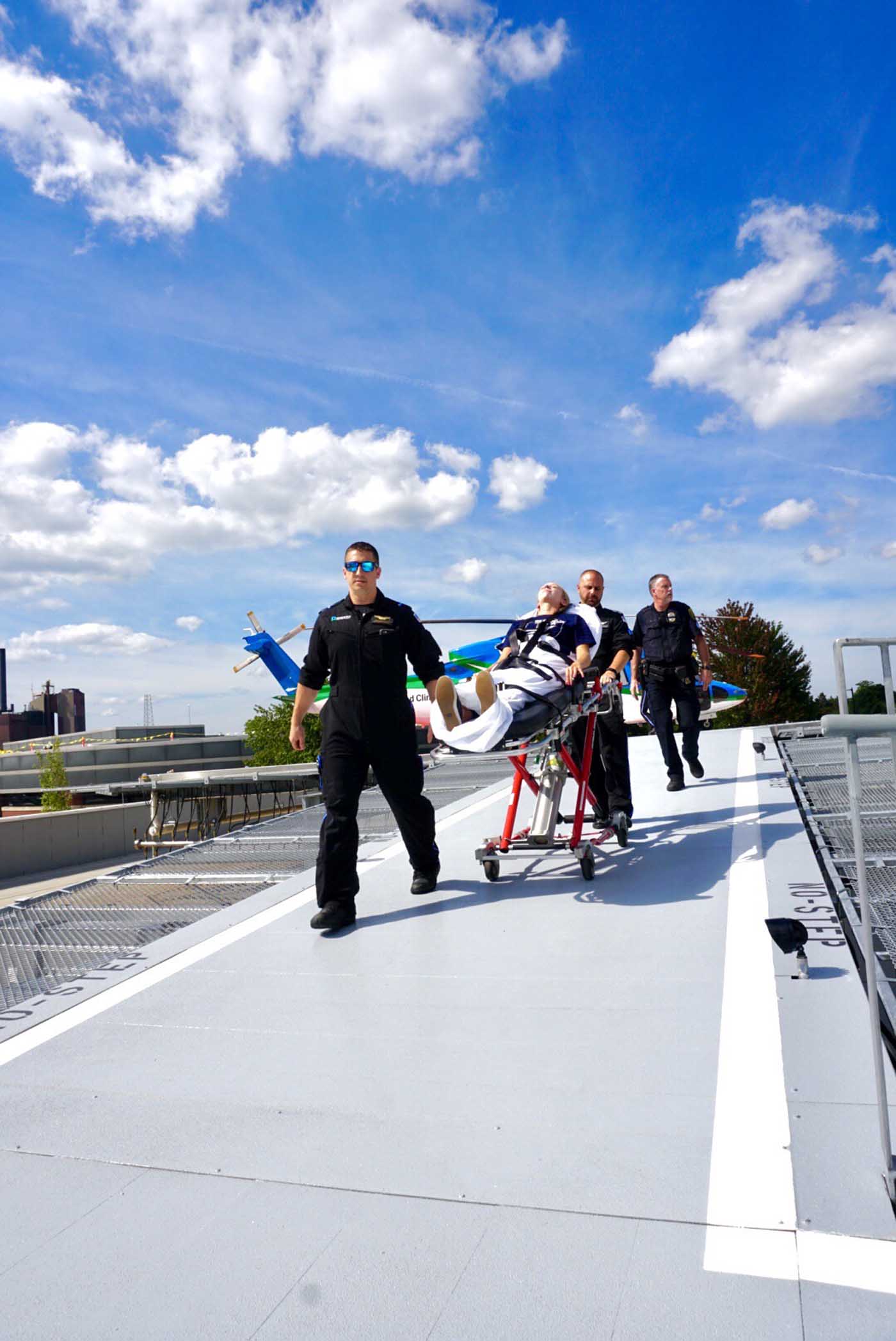 The CCT is a far-reaching program within the world-renowned Clinic, one that enables patients seeking the highest level of treatment to come from virtually anywhere in the world — no matter their condition. (The hospital's mantra is "No patient is too sick for us to transport.") It includes specially equipped ground vehicles for shorter trips and equally well-outfitted fixed-wing jets for long-distance transport, including multiple international missions each year.
But the heart of the program is the Clinic's fleet of three Sikorsky S-76 medium-duty helicopters, all in distinctive blue, green and white livery. Though the aircraft bear Cleveland Clinic branding, they're owned and operated by PHI Group, the longtime helicopter service provider based in Lafayette, Louisiana. The Clinic initiated the contract in 2012.
"We're good at medical care, not aviation," Kralovic joked. "We already have a lot of regulations to worry about, so the last thing we want to deal with is the FAA."
Overall, the CCT averages about 5,600 transports each year, across all modes. The S-76s typically fly five or six missions per aircraft per day. The helicopters and ground ambulances perform anywhere from 10 to 15 missions per 12-hour shift. The aircraft were chosen for their high 140-knot (161 mile-per-hour) cruising speed, their twin-engine lifting power and redundancy, their IFR capability — all missions are dual-pilot, as well — and their ability to accommodate nurses and paramedics in the back along with a wide variety of specialized equipment that all helps "move the front door," as Kralovic said.
Equipment options include mechanical ventilators, intra-aortic balloon pumps, LUCAS automatic CPR machines, ventricular assist devises, diagnostic imaging systems, ECMO hardware, and lab analysis tools, among others. In other words, not the typical medevac load — but all easily accommodated, leaving plenty of room for medical crews to access the patients comfortably. The aircraft are also equipped for conventional emergency response, for accidents, falls, and other injuries and illnesses, which actually represent about 70 to 80 percent of the group's calls.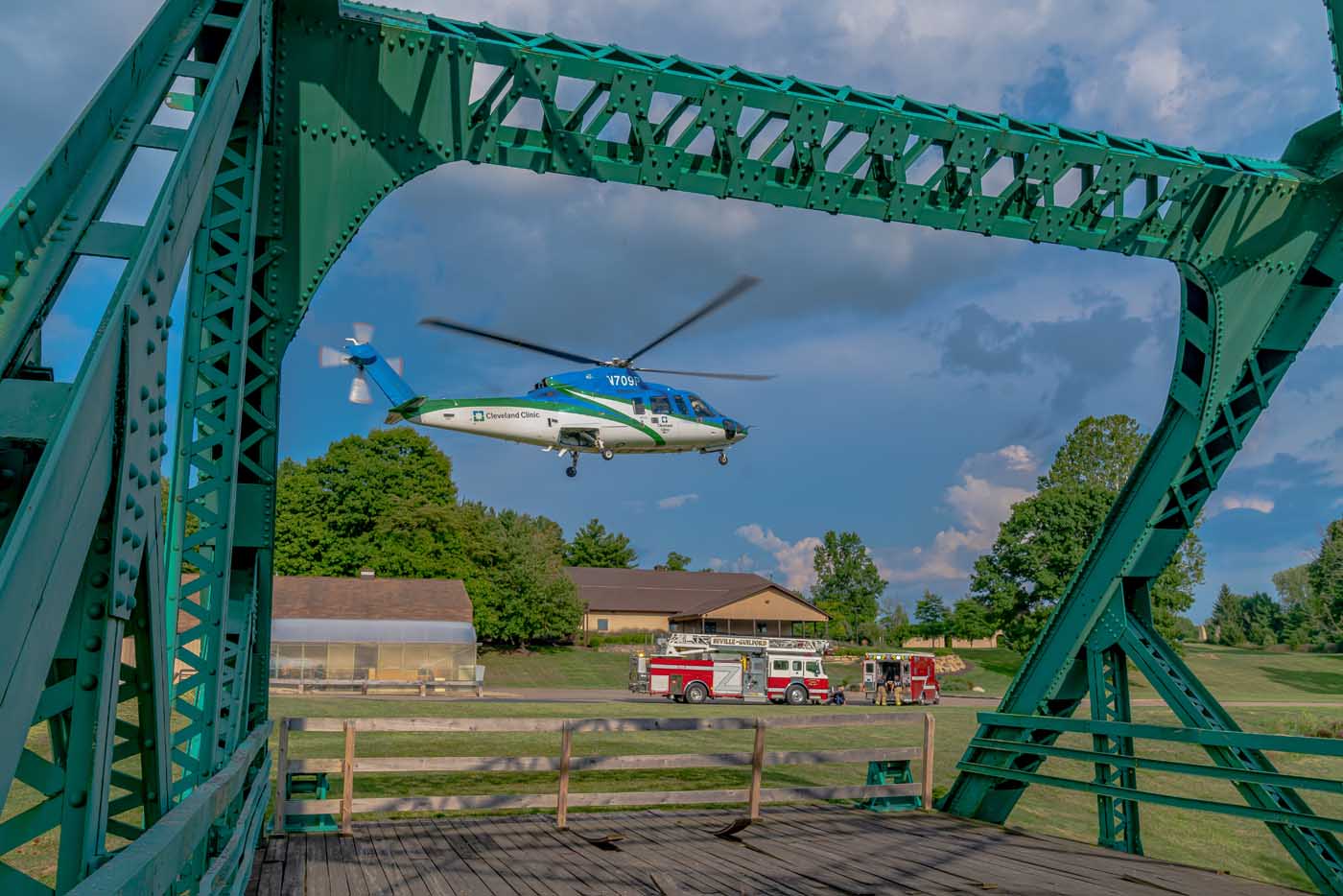 All aircraft are identically equipped so crews in either the front or back can execute a mission without needing to recalibrate themselves for each aircraft, and they're maintained in a constant state of readiness, given the immediate nature of medical departures and the overall tempo of the Clinic's missions. Two helicopters always remain in service at Burke Lakefront Airport, a general aviation facility right on Lake Erie in downtown Cleveland, and at Wadsworth Municipal Airport, while the third undergoes maintenance and serves as a backup. The Clinic, which has helipads set up at 17 different facilities, maintains an Acute Transfer Line, a direct phone connection that enables personnel to immediately connect with the flight department the moment a transport need arises.
The intense cadence of missions, of course, generates significant time on each of the three helicopters, necessitating stringent, almost militaristic attention to maintenance schedules on the part of the team in Cleveland and corporate parent PHI, which helps coordinate parts deliveries, inspections, service calls, and more. In the Clinic's case, however, it's not necessarily the hours that pose the greatest maintenance challenges for the aircraft, but the number of daily cycles, which add increased wear and tear on the starter motors, landing gear, and other components, noted lead managing mechanic Dave Martinez.
As a result, he works to stay well ahead of maintenance needs for each of the large and complex S-76s, and to balance out the time each one accumulates so they progress at an equal pace.
"When it comes to changing parts and doing inspections, we normally try to get those done early, without waiting until the last minute," said Martinez, who oversees a team of six mechanics, plus himself, who maintain on-call status 24 hours a day when not present at one of the two bases. "If we have weather moving in and the aircraft can't fly, we'll use that time for inspections. This is one of the busiest EMS programs in the country — we set mission records in July, August and June — and the helicopters have to be available for the Clinic when they need them."
He also carefully coordinates upgrades to aircraft systems, avionics, and medical equipment without disrupting aircraft availability. Current efforts include new radios that will enhance communications with ground crews and new cots to accommodate larger and heavier patients. Mike Schilling, PHI's regional operations manager, said this attention to detail in maintenance isn't just about aircraft readiness, but it speaks to the company's overall safety culture.
Pilot Stacy Holland inspects one of the Clinic's S-76s, which are maintained in a constant state of readiness

Pilot Dan Cukryznski and paramedic JR Sesock load supplies into the Sikorsky.

Thanks to the size of the Sikorsky S-76, Cleveland Clinic transport crews can carry a wider range of specialized lifesaving equipment, including imaging, diagnostics, and life-support devices.

Medical and flight crews mingle on the tarmac between missions.

Pilots Stacy Holland (left) and Dan Cukryznski at Burke Lakefront Airport, Cleveland.

An NVG-equipped crew departs on a mission after sunset.
"PHI has set very high standards for our people and our equipment," he said. "It's reflected in the way we maintain the aircraft — not every operation has a managing lead mechanic who oversees everything, for instance — and anything less than the absolute best we can do is not acceptable, from the company's perspective."
That thinking permeates the entire Cleveland operation. It's mostly codified in PHI's highly regarded Safety Management System, which includes five "pillars" that it groups operating guidelines into: safety policy, safety risk management, safety assurance, safety promotion and the human dimension of safety. The latter is the most recent addition, incorporating such qualities as fatigue management, fear mitigation, and "life-saving" thinking and behaviors.
Practically, just one of the ways this manifests is in how the crews interact. Though there's a necessary separation between personnel — pilots and mechanics are PHI employees, and the 20 to 30 nurse practitioners and critical care RNs on the medical teams are employed by the Clinic — they function as if there actually isn't a corporate firewall between them. Schilling said that there's essentially no difference.
"We work with the medical teams in the same manner we work with our own crews. They go through the same training, the same daily briefings, and the same resource management courses, which focus on communication," he said. "They're heavily embedded. They view our pilots and mechanics as their own and we view the medical partners as our own, as well."
Ultimately, PHI's goal is "Destination Zero" — a complete elimination of avoidable accidents in its fleet. So it fosters an environment where not only is there no rushing of safety-critical processes and decision-making, especially during mission launches, but in which all crew members can feel comfortable objecting to any aspect of a mission.
"This includes decision-making capability in terms of go/no-go for each mission," said lead pilot Tim Murphy. "It doesn't happen very often, and sometimes it could be as straightforward as a landing zone looking too small for the S-76, but we give everybody on the aircraft that same capability."
In short, there's no pressure to fly, and no repercussions if a crew member waves off a mission for any reason. This philosophy is embraced by the Clinic, as well, said CCT Senior Director Joelle Lofaso, also a registered nurse. "We're very lucky that we're able to keep the aviation decision 100 percent separate from the medical decision about whether to go get a patient," she said. "The pilots are not aware of the urgency of care needed, but rather are simply given the destination and they will then decide if it's safe to fly or not."
Training begets confidence
With that foundation of safety and open communication in place, the CCT is able to lean hard into the capabilities the S-76s provide.
"Obviously we have a pretty strict safety policy, but we'll fly whatever the Clinic wants us to fly, within a 200-mile radius," Murphy said. "We'll take devices that nobody else will take, and we'll do flights for other hospitals that they may not be able to do. The Cleveland Clinic medical crews are some of the most highly trained and most professional medical crews in the United States, as far as I'm concerned, and the aircraft allows us to move them around with incredible flexibility."
Giving crews the proper, rigorous training further allows them to wield the S-76 with the utmost effectiveness. Because Murphy's team of pilots frequently come from military backgrounds, they also come proficient in night vision goggle use, which the CCT mandates for all night missions. Regardless, training and retraining are part of the fabric of PHI's methodology, so the crews become and remain proficient with those, the S-76 in general, and all the collateral technologies, regardless of the pilots' backgrounds. They need to have 2,000 flight hours and 100 hours of flying under instrument flight rules (IFR) to even be considered, and career stability is also a consideration — i.e., not hopping around too much.
That experience and the continued training, along with PHI's dedication to safety and reliability, have meshed to generate a service that the Cleveland Clinic sees as invaluable to its mission, Kralovic said. The metrics the clinic uses to gauge transport effectiveness — most prominently the speed with which heart attack and stroke patients can receive their initial life-saving treatments, such as catheterization or arterial balloon insertion — validate this.
"The national standard for emergency heart attack treatment includes a door-to-balloon time of 90 minutes," Kralovic said. "Only about 70 percent of hospitals can achieve that, and to have that in 60 minutes is practically unheard of. But our program has been able to do it in 63 minutes in one recent case, and a huge part of that was absolutely the speed with which we're able to reach that patient, stabilize him, and start the treatment."
In the future, both Cleveland Clinic and PHI expect the relationship to expand with more aircraft and more crews, as populations move and age, and as healthcare needs increase — whether organically or spurred by such things as the Covid-19 pandemic, which produced a notable uptick in transport activity for the clinic. It's a good bet, however, that the quality of the care and the speed at which it's initiated will not suffer at all as a result.