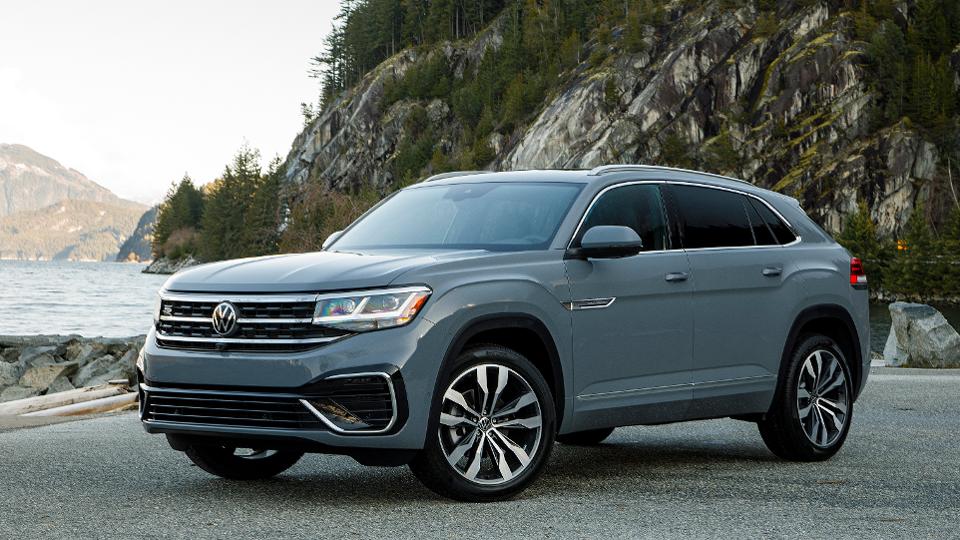 There are two kinds of SUV folk: Those who need them, and those who want them. For the former, every millimeter of cargo space counts, every third-row seat represents one extra kid they can tote. For the latter, it's all about convenience, comfort, and presence. These folks like slightly larger cars that have good visibility and match their personalities a bit—i.e., no econobox will do. They want cars to look good and be good, but they don't sweat the dimensional details, and don't really care about a third row.
The lifestyle SUV buyers are definitely quite a bit more chill than the family haulers, as consumers go, but they fussy in their own way. They want a bit of class, not brutalist design and engineering. If that's the buyer Volkswagen has targeted with the Atlas Cross Sport—a smaller, better-proportioned variant of its popular top-line SUV—then it's hit the nail on the head. The Cross Sport is a looker, especially with its more interesting paint schemes, such as the flat, nonmetallic Nardo Gray, and its more trim descending roofline and more steeply raked rear glass gives it a sophisticated, urbane profile. This also goes a long way to helping boost the proportions. The Cross Sport's back end appears to sit a bit lower, reducing the space between the rear wheel and the roof, thus giving the wheel more presence. It's a design trick, but a good one that lends big cars sportier auras.
There are compromises, in that you lose some interior volume in the cargo compartment. But like I said, people interested in the Cross Sport won't mind. Throw in the fact that the back seat is a bit more roomier thanks to the deleted third row, and you have an even better proposition for those looking to not make adults feel like kids.
The five-seater, which I took on a shoreline drive before the world locked itself down, handles with reasonable agility in the arcing curves and tighter twisties. It's not quite as sporty as, say, Audi's equivalent, the Q8, but that's to be expected since the suspension doesn't receive any meaningful enhancements. That doesn't mean it's bad at all—it's perfectly stable and comfortable across a wide variety of terrains, and its all-wheel-drive system has clearly been dialed to within an inch of its life to smoothly distribute torque—but there is enough body roll going on in spirited driving to remind you that you aren't in an Audi.
Otherwise, the difference can be hard to grok. The two available engines are plenty sporty enough for the car, with the 235-horsepower 2-liter inline-four being barely less responsive than the 276-horsepower, 3.6-liter V6, and both generating adequate grunt. Also, the Cross Sport's interior is clean, tight, and smart, with sharp design details, excellent accessibility to the controls, and a firm touch without feeling plasticy. There's definitely Audi influence going on here, and the car is generally an outstandingly crisp option in the higher end of the value-brand lineups.
Speaking of lineups, there are no fewer than 8 trim levels in the Cross Sport, with perilously thin lines between them given that the spread is only $10,000 or so—starting at $30,545 for the base 2-liter and topping out just about $40,000 for the V6 models. But that also means you have lots of directions you can go in when picking out your options—and they are plentiful, particularly in the realm of connectivity and driver assistance.
The Atlas Cross Sport is the first to offer Traffic Jam Assist and Dynamic Road Sign Display in its U.S. models, and its Car-Net telematics and remote-access system is standard now, with five years of free service. This newly enhanced system allows owners to access the vehicle through a mobile app to lock and unlock it, find its location, summon roadside assistance, and start the engine—if equipped with the right hardware. If the car has built-in navigation, users can send destinations directly to the car after sorting them on their phone, which saves the bother of having to re-do your inputs in the car itself. Later this year, owners will also be able to access some of these functions through connected smart-home devices.
Elsewhere, the MIB II infotainment system gets its own enhancements, with a capacitive touchscreen, dynamic graphics, and multiple input options for smartphones and such. (Apple CarPlay and Android Auto are included in certain trim levels, and the display interfaces are truly top-notch.) The SEL Premium trip introduces the Fender Premium Audio, which provides 12 speakers and a 480-watt amp to produce commendably good sound even at highway speeds.
There are plenty of other features in a long list of categories—the nuances of the different traction and terrain modes, all the safety features, including a novel post-collision braking system that minimizes the chance of secondary collisions, and all the driver-assistance tech and obstacle-detection options. Indeed, for a $40,000 car, there's a lot going on. That's to Volkswagen's credit as much as it reflects an industry-wide trickling down of tech from premium models, as few cars at this level—not Blazer, not Passport, not Edge—offer quite so many perks.
On the other hand, the Atlas Cross Sport is absolutely a premium product for discerning customers. It's just not priced like one.