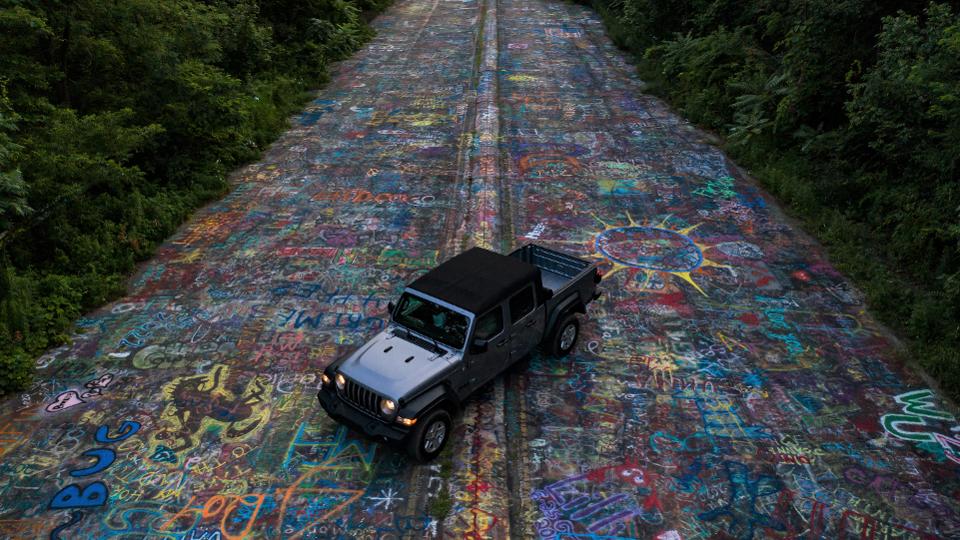 An abandoned, mile-long stretch of rural highway that ran through the ghost town of Centralia, Pa.—a site that had become a popular tourist attraction in recent years thanks to its relentless tagging by graffiti artists—has been closed permanently. The decision comes as a direct result of the spread of coronavirus, according to The Daily Item, a Susquehanna Valley newspaper. Local authorities, unable to keep increasingly large groups of visitors from congregating as local businesses closed, felt the site posed a significant public-health threat, as a potential spreading-ground for the virus.
Centralia was a coal mining town in the north-central part of the state that has been steadily abandoned since an underground coal fire broke out in 1962, a fire that continues to burn today. Largely ignored since then—all that remains of the town itself is the grid of roads, housing foundations, and a handful of holdouts—Centralia grew in fame in recent years thanks to this stretch of Pennsylvania Route 61. The mile-long section was sealed off decades ago thanks to a fissure that opened up in the roadway, spewing toxic fumes. That venting has diminished to essentially nothing as the fire has shifted elsewhere in intensity, and though the stretch of roadway is now on private property, it had been easily accessed and it became a popular hangout and blank canvas for graffiti.
This morning, property owner Pagnotti Enterprises sent dump trucks filled with dirt to the highway and work crews began covering it up—a process documented by independent news site Ho Bott News and expected to take three days. The crowds that had been gathering there in recent weeks were especially voluminous and rowdy, with dirt bikes and all-terrain vehicles speeding up and down the pavement, groups tailgating, and plenty of people hanging out in close proximity, usually wielding spray-cans. Litter and assorted (non-graffiti) damage had become rampant, and liability concerns also likely contributed to the decision to close up the road, media reported.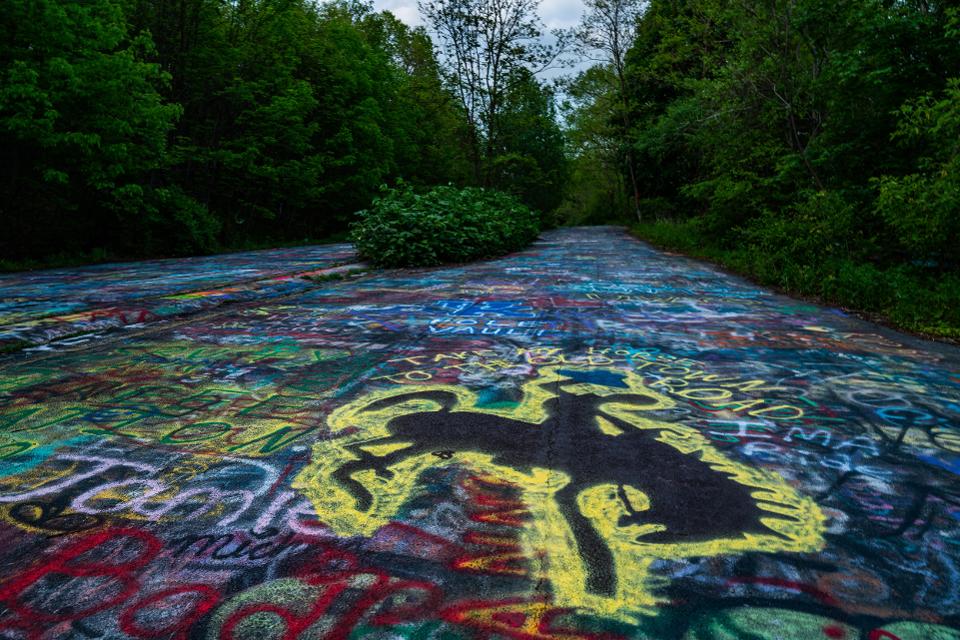 This is a sad end to what had been a perfectly awesome, thoroughly spontaneous form of legitimate public art. Yes, the property was private, but until coronavirus hit, the crowds had been manageable and generally well-behaved, so the tagging and low-level carousing had been tolerated. When I spoke to Pennsylvania State Police a few months ago prior to one of my own visits—it had become a personal favorite photography destination, including serving as a backdrop for my Jeep Gladiator review—the officer indicated that they'd only made visits to the highway as necessary, and that was fairly uncommon. So this closure was, unfortunately, a direct result of people being disrespectful and thoughtless.
The appeal of Graffiti Highway wasn't just the Centralia backstory and the uniqueness of an abandoned highway, but rather the public artwork that accumulated with nearly perfect uniformity along its entire stretch. For the most part, the graffiti was clean and creative, and its collective impression colorful and surprisingly appealing. Sure, when the road first began being covered, the little spray-painted flourishes were mostly ugly additions to a gritty, neglected road, but over time the sheer scale of the tagging allowed it to become a thing of its own. Yes, it was an attractive nuisance—there are worse things—but it was also a brilliantly executed cover-up, one in a constant state of change. For once, the whole truly was greater than the sum of its parts.
Now, it's gone. It appears that Pagnotti Enterprises had been developing plans to close the highway for a while, but it's also possible that with some public input and a few measures to ensure security and safety—perhaps designation as an actual county park?—it might have remained open, its unique allure preserved. We'll never know.