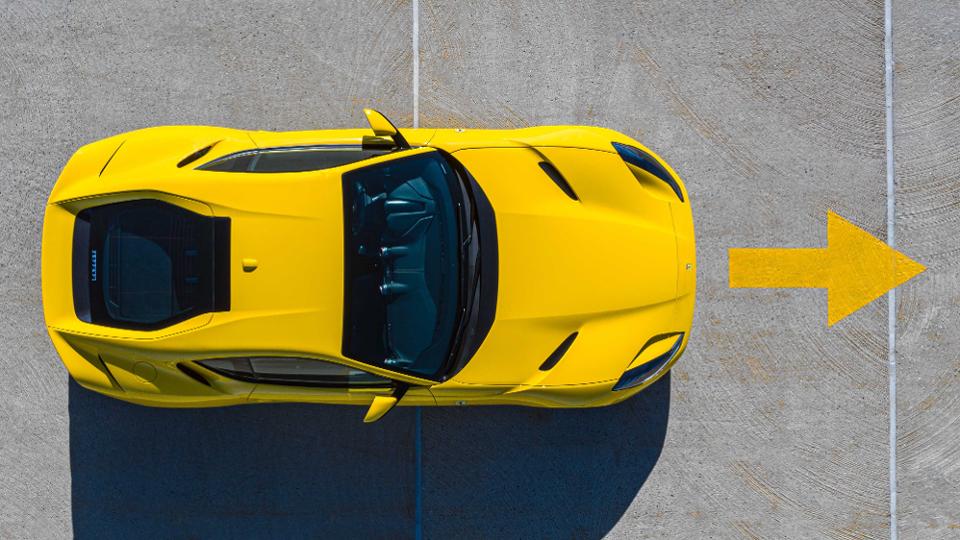 Driving the Ferrari 812 Superfast with a colleague recently—fast, of course—the topic of the Corvette came up. How could it not. It was very much in the news due to the imminent arrival (tonight) of the new version, and if you squint your eyes, this gorgeous yellow Ferrari we were powering through rural corners deep in Pennsylvania could easily be mistaken for a current-generation Vette, primarily due to the acres of hood up front and their general postures echoing each other.
The question: With the thinking behind Corvette switching from front-engine, rear-drive to mid-engine, possibly all-wheel-drive—the go-to configuration for truly track-ready performance-cars—somehow mean something, anything, for other front-engine masterpieces, even stratospheric examples like this? The 812 Superfast, a $400,000 beast, is a fiercely capable, magnificently tuned supercar with the most horsepower of any non-special-edition Ferrari. Is there some writing on some wall somewhere that says that all future supercars will be in every conceivable way … optimized? That this sort of option is going to fade into the sunset that so beautifully bathed the car while I photographed it?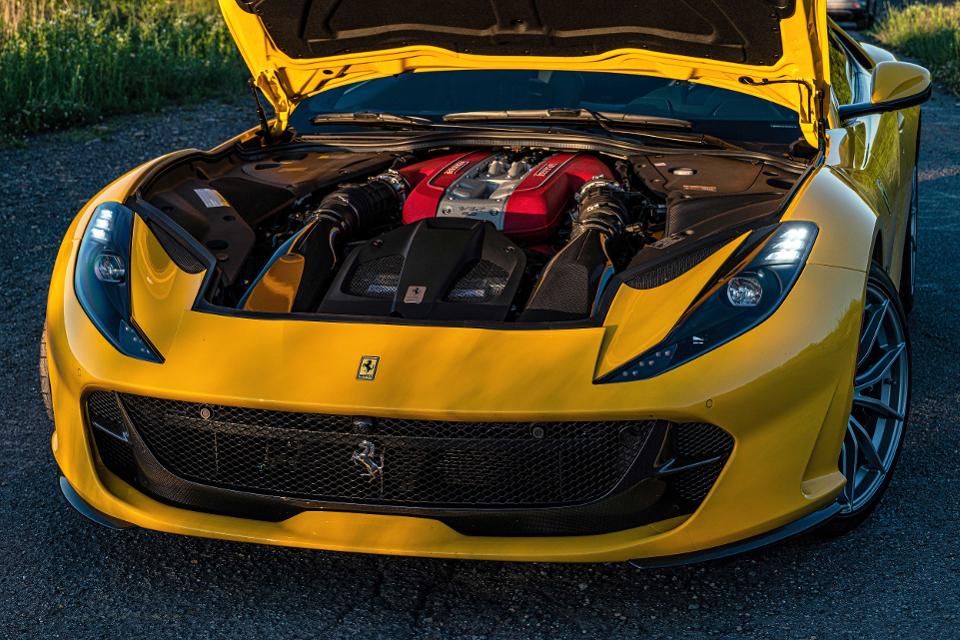 I found it hard to seriously argue that the days of front-engine sports cars and supercars are in any way numbered. After all, there we were in a machine that has a reputation for being a "challenge" once you unleash all 780 horses through just the rear wheels, and it was fine. It's wonderfully fast and controllable as long as you don't be stupid about anything, and the layout makes lots more sense than mid- and rear-engined machines do in terms of daily life. They're more comfortable over long distances—what with the roaring engines being not inches behind your back—and they can carry actual luggage, not a single overnight bag.
Furthermore, the Corvette threat hits different notes than most top-tier performance-car makers. Ferrari has been in the mid-engine game for decades, so aficionados already have that option. Yet enthusiasm for its front-engine touring cars persists. On the other hand, we argued while relishing the throaty rumble emanating from the V12 behind us on a long, arcing uphill that seemed designed just for this machine, something is unmistakably in the air. First, Chevrolet is turning its back 70-odd years of affordable supercar performance mixed with the comfortable and familiar configuration of a whopping-big engine out front, seats hanging on for dear life in the back. Now, enthusiast will have to ask themselves if the character of the car remains to their liking.
YOU MAY ALSO LIKE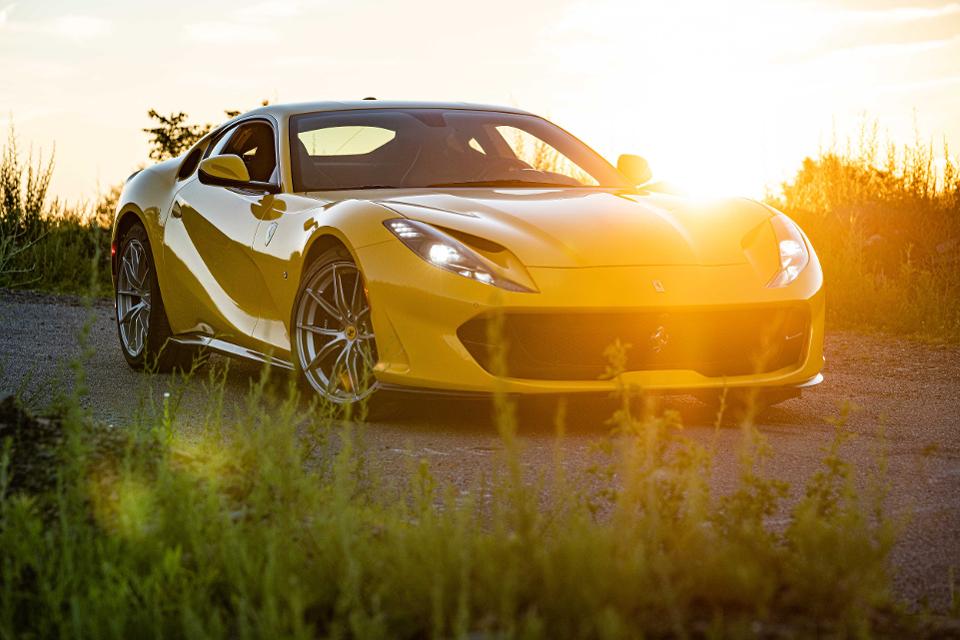 We haven't seen all the qualities of the new 'Vette yet—and we may not even have them all tonight—but it's likely going to be more expensive, more challenging to drive, and probably quite a bit less comfortable and usable on a daily basis. The brand has decided to offer an entry-level European supercar instead of sticking with being the working-man's sports car. It may pay off spectacularly for them, or it could alienate their base.
The stakes are high for Chevrolet—Corvette is its only premium exotic—in a way they just aren't for Ferrari. It easily sells every car it makes. Nor should the Italian marque be particularly alarmed by Aston Martin's feints in the direction of mid-engine madness. It's merely a supplement to its own line of muscular, front-engine grand-tourers. No, manufacturers dedicated to driving will always value the front-engine option, for all the reasons that reality demands.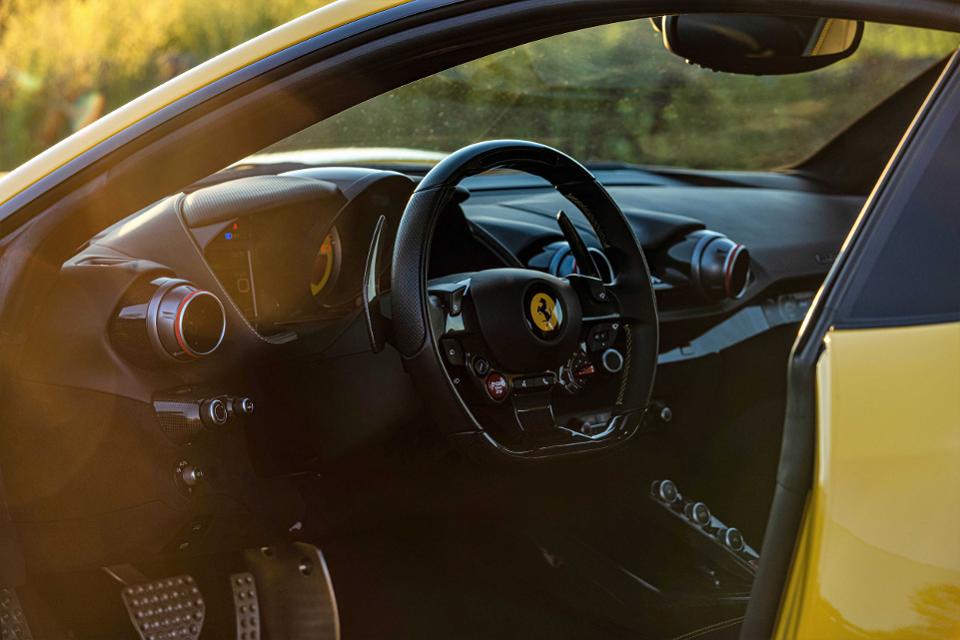 Which brings us to the other vibe hanging in the air: Electrification. Ferrari is launching its first seriously electrified supercar soon—the SF90 Stradale, with a mid-mounted V8 and three electric motors—and the need for this shift weighs heavily on the minds of all manufacturers. They'll fight to retain the sound and fury of the internal combustion engine, but sticking compact and powerful electric motors wherever you want them means you can design the cars however you like. Space becomes an ally, and vehicle shapes and dynamics will be optimized for all considerations—performance, comfort, space, and, yes, golf bags in the back. In the future, then, front-engine may mean nothing at all—and Corvette's change might merely be a brief diversion followed by full-throttle acceleration into whatever the future of both of these cars, and all others, might be.