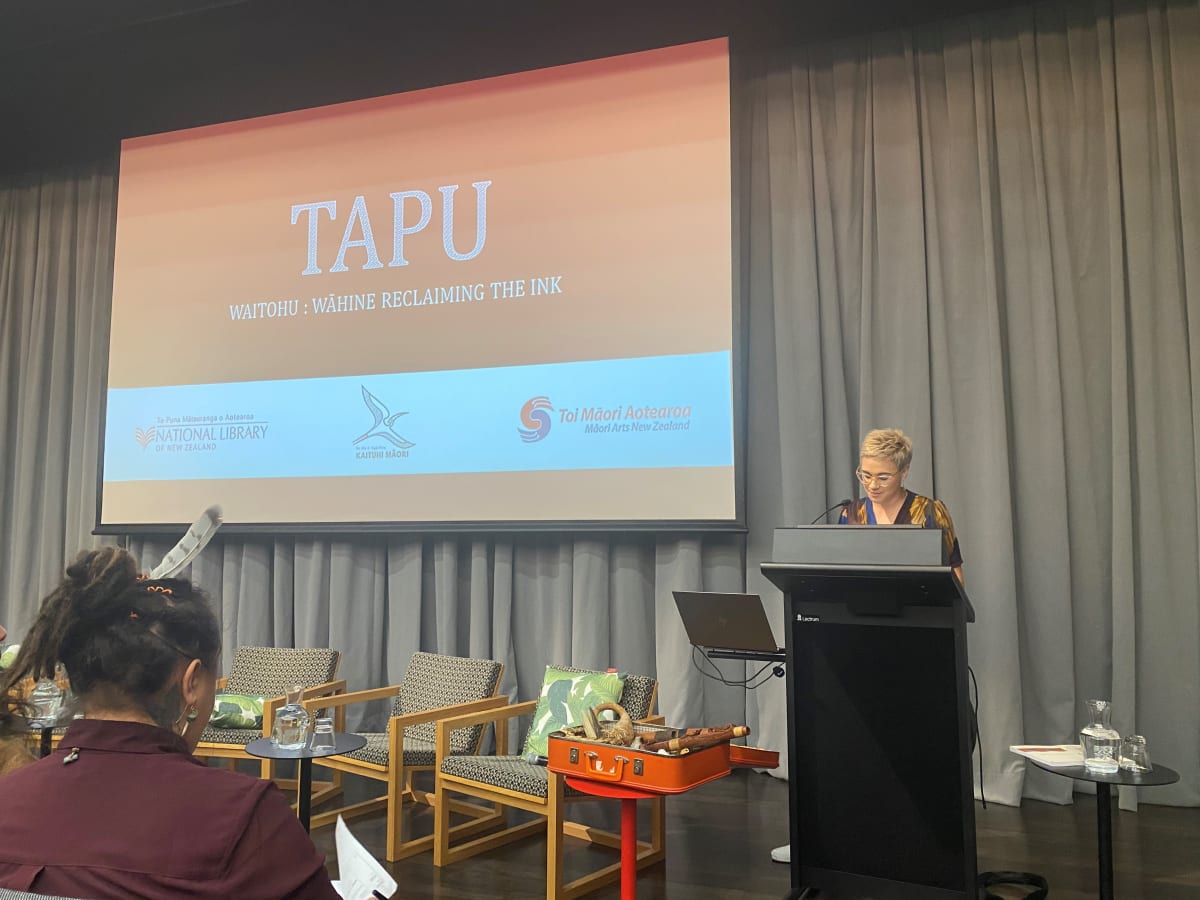 ReadingRoom
Newsroom columnist Emma Espiner delivered the following speech at Waitohu: Women Reclaiming The Ink, a celebration of mana wāhine hosted by the National Library
He kārakia tēnei nā Stacey Morrison
Karanga karanga te rangi e tū nei
Karanga karanga te papa e takoto nei
Rārangahia mai te ira atua
Rārangahia mai tuawāhine
Ko Hine-ahu-one
Ko Hine-tītama
Ko Hine-rauwharangi
Ko Hine-te-iwaiwa
Ko au e tū nei
Ko Hine i te ata
Tau mai te mauri
Hui ē, Tāiki ē
Nau mai e te whānau kua huihui mai nei mō te kaupapa o te rā, ko Waitohu. E rere ana ngā mihi ki ngā kaikōrero o te ahiahi. Tēna koutou, tēna koutou, tēna koutou katoa.
As the deadline for this talk was bearing down on me, I found a sudden enthusiasm for all my other deadlines. I finished the things that are due in two months' time, the things due next week and I took on other projects. I enjoy the threatening heat of many deadlines and I like to work backwards, from the one that's furthest away, then the next furthest away, and closer and closer with an increasing sense of panic, arriving at the one that's due right now.
The context of right now is important for this event. The telling of stories is always a political act for Indigenous peoples and as such it's not static, it infiltrates and is infiltrated by current events. We don't have to write political work, as Steph Matuku's essay from 2017 states - we should be able to write anything we want - but our existence is political and contentious in most spaces, and so, therefore, is everything that we produce. I picked up a copy of Pounamu Pounamu a couple of weeks ago - as I was hiding from another deadline in a secondhand bookshop - and I read Witi's words in the introduction about why he'd revised his stories for this edition - he said it was because "Stories live, change and are enriched by the dynamic of changing times."
This kōrero is about Māori women taking ownership of the written word and what's our context for this discussion in te ao hurihuri - the changing world - today? Well, what's happening right now is Linda Tuhiwai Smith - our most cited Indigenous academic - no longer has a job at Waikato University. A curious coincidence given she has been outspoken about systemic racism at that institution. Could these things be related?
Last week our Raukawa ki te Tonga whanaunga lost a historian - Nigel Te Hiko - the youngest person in New Zealand to die from COVID-19, following only two weeks after his brother Alan passed. The ink was still wet on the columns from commentators who gaslit us and said Māori were at no greater risk from COVID-19 than anybody else - when we know we've been put at risk by decades of inaction from successive governments who have failed in their responsibility under Te Tiriti to ensure equal access to the social determinants of wellbeing. Most of our political parties are offering policies right now for us to vote on that won't make a demonstrable difference to Māori, but it doesn't matter because the big parties are aiming for the centre - to keep this waka on course to do what it's always done. He waka eke noa?
Our context is also that we celebrated a million pledges to speak Te Reo Māori last week during Te Wiki o Te Reo Māori. We have more children in Māori medium education than ever before, and our Māori children are faring better in these environments than in English-medium education reflecting what we've always known about the importance of nourishing the wellbeing of our tamariki by recognising who they are as Māori. We're translating a hundred bestselling books from around the world into Te Reo. We're graduating record numbers of Māori doctors (too many, for some).
Recently I had a multimedia project pitch turned down because the platform we approached had already done "a Māori thing" in this reporting period. They'd met their Māori KPI, so better not do more than we absolutely must for the maowrees eh. We brushed this off and approached a wahine Māori boss who understood immediately what we wanted to do, and who was in a leadership role, enabled to support us. The end product was a podcast that has been successful by any metric you'd care to use, widely listened to by Māori and non-Māori alike. We're infiltrating the academy, the media, the institutions and we're creating new paradigms for ourselves so that we can now tell them to get fucked when they say there's only room for one Māori writer, one Māori story, one Māori perspective in this whare.
Today I'm going to talk about three things. The gift of sight, the importance of story sovereignty and conversations with ink. The tūpuna on the pou tokomanawa at Tukorehe, my marae, see and hear everything in our whare and that is also the pou of this kōrero.
When I think of a Māori writer I don't just think about our novelists, poets and essayists - I think of the Māori writers hidden in the pages of scientific journals, in policy documents, in submissions to the Waitangi Tribunal
I've been taught to see - not by the collection of photoreceptors, neurons and cells that make up my ocular structures - but predominantly by wāhine Māori, putting ink on paper in as many different forms as we can imagine. Our writers are teachers and teachers can gift us the ability to see because you have to learn to perceive what's in front of you. Looking is not neutral. Everyone has felt the satisfying clunk of a massive mental key as it turns a deadbolt in your imagination after a really profound lesson from a piece of writing, and you see the world differently.
Not everything we read has to be profound, of course, but when it is I love the way that it lifts you out of your physical body. I love the moments when I'm so floored by a piece of writing that I have to put it down, try it again, underline it in pen, fold the corner of the page over, not forget it. My husband thinks it's disrespectful that I write all over my books but I feel like I'm paying homage to the writers: YES Patricia, YES Renée, YES Linda.
When I think of a Māori writer I don't just think about our novelists, poets and essayists - I think of the Māori writers hidden in the pages of scientific journals, in policy documents, in submissions to the Waitangi Tribunal. More often than not, I'm confined to reading these slightly dry documents when I'd rather be splashing out on Tayi Tibble's lush prose, the latest biting essay by Talia Marshall or the most recent excursion by Nadine Hura's hilarious alter-ego Lois.
But, as Māori, when we find a Māori author - no matter where - we karanga to each other. No matter what you write, someone will connect with it, and for that person it will become an important tohu in their life. All that matters is that you do write somewhere and tell your own story.
When I was little I would periodically start a diary, diligently fill it with banal observances about my boring life for several days and then I'd lose interest and discard it. The interesting thing to notice in retrospect is that I was always writing for an audience. I knew that people found diaries and often published them, and so I never told the complete truth to my diary - I framed my experiences and behaviour in a way that put me in the best possible light. For example, it wasn't that I stole that little girl's tiny Barbie telephone, which my covetous heart refused to leave behind after our playdate; it made its way into my bag by accident, you understand how these things can happen.
It wasn't that I wanted to be a famous person or even that I expected to become someone important that people might like to read about - as a kid I didn't really want to do anything other than read books all day, forever, for the rest of my life - but I believe the imperative to tell our own stories is ingrained in all of us who have seen what happens when we are silenced. When we're silenced, someone else tells our story.
Māori women can't be too pretty, too proud, too confident lest we threaten tender mainstream sensibilities
Anyone who has been interviewed - no matter how skilled the interviewer - knows what it is to be interpreted by someone else. At best it's awkwardly flattering, at worst it's the emotional equivalent of being flayed alive - all your tender bits exposed and found wanting. Dr Hinemoa Elder, one of our most respected psychiatrists, wahine toa, mareikura, was noted by a journalist who was given permission to write a profile about her, that she sent the paper "unsolicited details for her 'go-to' hair and make-up artist for the cover shoot – an extravagance almost unheard of for a newspaper magazine."
Thinking back on this, I remembered a line from a poem by Linda Tuhiwai Smith highlighting the scope of acceptable behaviour for Māori women. We can't be too pretty, too proud, too confident lest we threaten tender mainstream sensibilities. Linda says "… and her daring to act all proud and beautiful, He raised his hands to rip her clothes, To smash her smile, Destroy her beauty."
I ugly cried watching Origins on TVNZ last week when Scotty Morrison arrived at one of the sites proposed to be our original homeland, Hawaiki. The kaumatua who met him at Taputapuātea in Tahiti said nau mai, welcome home. The reo was so similar that they were able to communicate in two apparently different tongues and understand each other. But when Scotty went to recite the stories of our ancestors, to see if they matched up with the oral histories he assumed this Tahitian kaumatua would have, the old man looked sad and said kua ngaro, they were lost. They weren't actually lost; they were eradicated like vermin. In the 1800s the missionaries, who had previously made little headway in Tahiti against the thriving sovereign Indigenous culture, exploited the weakening of traditional social structures. They had been weakened by the colonial plagues of imported disease and alcohol, and the Church gained ascendancy. Once they had enough control to begin asserting their authority, the missionaries banned the sharing of oral histories and now those histories are gone. Our stories have always been political.
One of the few good things about being the world's oldest medical student, is that any pretensions and ego I might have started to develop as I entered my thirties were quickly squashed. Humility doesn't even begin to cover it when - in the first year of the degree - I was competing with seventeen-year-olds as a 30-year-old mother of one who had forgotten what a good night's sleep feels like. Their problems were grades and frenemies, mine were whether I could finish my assignments before the inevitable daycare sickness lottery rolled my way again. But I have been lucky with mentors and the good thing about being an eternal student, eternally humbled by how much I don't know, is being teachable - capable of learning, which I think is the only way to grow.
Some of my mentors don't even realise they're mentoring me. I think of authors who I've never met as mentors, Beyonce is conceivably also a mentor, see also: random dead people.
Written out of our lands and our stories, we're now writing ourselves back
I recently read about a young Māori doctor who ended his life when he was my age. The fifth Māori to graduate as a doctor, Dr Potaka went to Takaka, where my mum is from, and got caught up in local politics, was maybe pursued by some of his own demons, and he lies there today after being the recipient of "the biggest funeral the district had ever seen." I read a biographical essay about Dr Potaka after seeing an article by Gerard Hindmarsh about Takaka's "forgotten Māori doctor." The biographer did what he could with the limited source material available but you could drive a tank through the gaps in the narrative. Dr Potaka couldn't know that a Māori medical student in 2020 would want to know about his life and his experience, and that she would want to hear it in his own words.
When I read Jacquie Sturm's extraordinary short stories in The House of the Talking Cat I can see the shadows cast by her context - writing her way out of boredom during convalescence from rheumatic fever as a child (a Third World disease that you'll note, still ravages our Māori communities) - how she was frequently the only Māori in Pākehā spaces, denied entry to medical school in 1946 despite earning good grades, married to James K Baxter, publishing poetry with and in spite of him, being mother and grandmother in Aotearoa. Te Ara's entry for Jacquie Sturm by Paul Millar notes "in 2003 she was awarded an honorary Doctor of Literature by Victoria University of Wellington. The citation described her experiences as 'emblematic of the difficulties Maori writers of the period faced in their efforts to be taken seriously'; the successes of her later years represented 'an extraordinary record of achievement and perseverance in the face of considerable odds'".
My Nanny, Kura Wehipeihana, wrote children's stories in te reo Māori. They are taonga for us because they are our stories in her words. To mark the Māori language moment during Te Wiki o Te Reo Māori I read one of her stories about my Dad and his brother Kevin selling papers to Wellington office workers just down the road from here when they were boys. Nanny was deliberate about her children's education, and that they would be skilled with the tools of the Pākehā, at the same time that she held fast to te reo Māori me ōna tikanga, weaving a legacy for her mokopuna to be nourished by once she was gone.
Like my grandmother, I also believe in subtly or not so subtly influencing one's children because I've seen it work - my mum used to strategically leave books around the house to "direct" my learning. When I became an adolescent it was period books and "Where do Babies Come From." Ms magazine, the Listener and Broadsheet were always lying around. Mum also taught me that it matters what you say no to. She wouldn't allow the Women's Weekly through the door for instance, and refused to have scales in the house, worried I would fall victim to harmful notions of weight and beauty.
We had a copy of the original print run of Wāhine Toa - the beautiful illustrated book of stories of Māori deities by Patricia Grace and Robyn Kahukiwa. Last year at Te Hā ki Porirua Nadine Hura gave me a copy of the new edition as a gift/apology for taking over a year to reply to a letter. This groundbreaking book has been revised with a new subheading, so it now reads "Wāhine Toa: omniscient Māori women" For starters it's a real flex putting a word like omniscient onto a title page, you know, really sets the scene.
In the foreword to the republished edition, Ani Mikaere - another one of my virtual mentors who doesn't realise she's mentoring me - she says that the messages from the original book are timeless, but that the world is changing - the language revitalisation resulting from initiatives in the 80s like kohanga reo, kura kaupapa and wānanga meant our reo is available to more people and so, the new edition is reo rua. Ani Mikaere reflects on how the name Wāhine Toa itself was a controversial title. It's widely used these days but at the time there was a debate about whether it was appropriate. There were many unwelcome intrusions from our colonial encounters and one of the most enduringly troublesome has been the perversion of women's roles due to the influence of patriarchal, often religious norms. So it was in this context that women were not seen as compatible with toa - with strength, by some.
Finally they talk of how the reference list - those hidden wāhine Māori scholars, are uncovered in the new edition. In the first published book, there were predominantly Pākehā men - reflecting the dominance in the scholarship of our history and culture. By 2018, the new publication could offer a reference list with a majority of Māori women, with a small number of Māori men in support. I commend this foreword to you, and the book itself, because it articulates all the things we're talking about today - the deliberate reclamation of story sovereignty, the acknowledgement of wāhine Māori doing transformational work in all forms of writing, the price we pay when our stories are told by others.
Recently a young activist asked to talk to me about health equity for a project she was doing for a population health paper at university. She invited me to talanoa, and I was like - I don't know what that is but it sounds cool. I looked it up and talked to some mates and I discovered that talanoa is a reciprocal form of conversation informed by aroha, warmth, humour and respect. This teenager wanted advice but she knew that our conversation would enrich both of us and that made sense within the structure of talanoa from her culture. We see that in our own whakaaro around tuakana/teina relationships. We're always learning from each other.
This week we launched a Māori literature journal at home, at Tukorehe. Called Te Whē, the tikanga of the journal recognises that we are in a perpetual state of conversation when we write. The stories and poems in the journal mihi to each other, to the past, and to the haukainga ki Tukorehe. Our iwi talks about land confiscation as pene raupatu - confiscation by the pen. Written out of our lands and our stories, we're now writing ourselves back. This action is a karanga to the future, to the mokopuna who will look back and see us standing here today and know that we did our best for them.
All my stories are just love letters to other writers and thinkers, to my sisters, and to the future. I look forward to the talanoa - the conversation - continuing.
Help us create a sustainable future for independent local journalism
As New Zealand moves from crisis to recovery mode the need to support local industry has been brought into sharp relief.
As our journalists work to ask the hard questions about our recovery, we also look to you, our readers for support. Reader donations are critical to what we do. If you can help us, please click the button to ensure we can continue to provide quality independent journalism you can trust.
JOIN THE CONVERSATION
Read and post comments with a Newsroom Pro subscription.
Subscribe now to start a free 28-day trial.