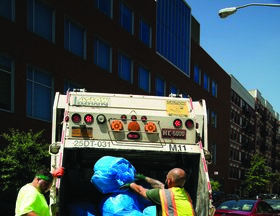 New York City's trash problems across the city are mounting. Black bags piled higher than most pedestrians line sidewalks daily, occasionally overflowing onto streets or sidewalks for passersby to hurdle. Leaking waste permeates the air with putrid smells, welcoming tourists with a distinctly New York pungency.
This has been the city experience for generations of New Yorkers as far back into its history as a colony without paved roads and well into the era of tenements on the Lower East Side. It has affected the quality of life, health, livability, and mobility. But it doesn't have to be like this.
There are smart solutions for the city's trash problems that cities around the world have adopted that innovate on design, urban planning, and technology. These cities have optimized trash collection and hidden waste discretely in tech-tethered containers underground and in beaconing bins on streets.
From Buenos Aires to Barcelona, trash is collected in large color-coded bins on streets where trash can be sorted and where collection can be automated and made easier. The Catalan coastal city has pioneered the smart city model, an approach to urban planning where technology and embedded hardware in the environment can provide precise data and automate services like trash pick-up. Combine this with their ambitious zero waste strategy which provides incentives for individuals and businesses to separate trash and makes it easier by design, and Barcelona's urban innovation becomes a model for how New York can address waste issues.
In Milan, underground bins free up sidewalks for pedestrians. This, too, has also made it another one of the highest-ranking cities in the world for its recycling––nearly 54% of all waste collected. Add to the list other European cities that offer underground dumpsters like Zagreb and Belgrade, and it's clear there are solutions out there that are breaking new ground. Even India, which has faced waste challenges from its explosive population and economic growth, has laid the under-groundwork for a cleaner, trash-free future. Stroll along sidewalks in Surat and you'll see smart subterranean bins that ping trash collectors to let them know the containers are full.
Underground waste management, though, isn't new to New York. Roosevelt Island's 40-year-old automated vacuum waste collection system, runs a network of pneumatic tubes that suck trash and the stink out of urban living and into a centralized collection facility. However, while the trash technology on the island is said to be the largest in the U.S., the serpentine underground pipes may be too much for New York's infrastructure, and as a result, its planning and construction processes.
So how can New York implement a smart trash solution?
Underground dumpsters can be placed within designated sidewalks or on streets. These underground wastebins can be custom-built––as one Swiss company is already doing––for the infrastructure of New York's streets and underground. The containers can sit at street level, allowing normal traffic flow or for pedestrians to walk over them, barely perceptible among passersby. When bins are full, sensors will alert trash collectors. Elevator lifts will then allow the platforms or individual bins to rise and to be collected by trash collectors or trucks fitted with automated cranes.
One immediate step that elected officials can take is to plan and pilot smart underground bins in the next major street redesign such as the 14th street redesign. From there, a citywide, multi-borough study to assess pedestrian traffic and waste should be conducted to identify and prioritize areas of highest need where trash obstructs and offends.
Our current ways of handling waste are nothing less than an unsanitary medieval practice. The city has allowed entire sidewalks to be overtaken by refuse that consumes a precious, limited public resource: shared urban space on valuable New York real estate. We have lived as denizens among detritus for too long, and now it's time for us to take back our streets and get the stains off of our sidewalks.
Emil Skandul is a technologist and opinion writer on technology policy. He is the founder of a digital innovation firm, Capitol Foundry.