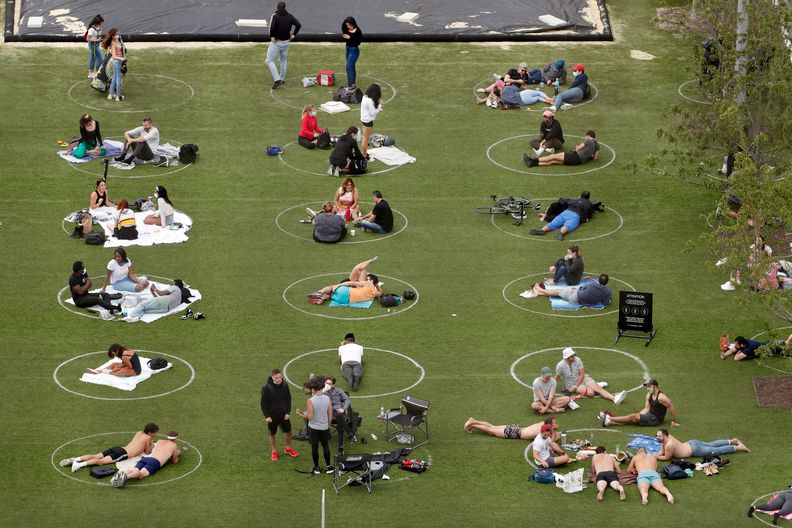 With hurricane-like force, the pandemic arrived in the city in March, shuttering schools, businesses and offices. For the first time in living memory, the city came to an abrupt halt.
Many residents––nearly 420,000 of them––fled, hoping to avoid the worst of epidemiological forecasts.
Whether the city is in the eye of the storm––a temporary calm––or past the worst of the pandemic, the weather vanes are pointing to what could be headed in the city's direction in the next couple of years.
The flight of the urban masses may have been triggered by the coronavirus, but the flexibility of remote work enabled it. The pandemic has impelled information workers to perform their jobs in the confines of their homes. So in their fight-or-flight response, they chose temporary homes in suburbia, on farms or in less affected cities. They have retreated from superstar cities, such as New York and San Francisco.
A decade ago, the urbanist Richard Florida wrote about the "flight of the creative class" in a highly globalized world that is competing for this class of workers––from marketers to financiers. Now, these workers are globally unpinned and location agnostic, and they are fanning out across the United States.
Typically there is a stickiness to urban economies when it comes to the mobility of workers and which cities they move to. Remote work has unstuck well-paid working professionals of all industries––not just tech. Major tech companies have defaulted to remote work in the short term, and many, such as Twitter, have pledged permanent policies. The tech industry made cubicles old-fashioned remnants of the office, and its culture will push offices to become optional. If small firms compete with larger ones for talent with perks, surely other industries, including finance, will contend with the tech industry for skilled workers.
Eventually remote work will pay off for firms. Four months into this national experiment, more than half the entire American workforce is working remotely, according to a recent study by professor Erik Brynjolfsson of the Massachusetts Institute of Technology. It may only be a matter of time until cost savings and productivity are realized, a process Brynjolfsson identifies as the "productivity J-curve." Financial firms already are requesting that employees track their time out of state to reduce tax burdens.
For the companies that choose to continue to have physical workspaces in the future, perhaps in corporate coworking and "flex" spaces, their workweek will likely be split––two days in and three days out––allowing employees to live farther from the office.
But if any permanent relocation occurs, it will be a result of remote work and a calculated decision based on two main factors: costs of living and quality of life. Why continue paying for a cramped two-bedroom apartment at $4,000 a month in New York when you can rent a home in the suburbs of a second-tier city, such as Nashville, with a backyard for your kids to play? Why continue to live where transit options are limited, biking is dangerous and trains runs less frequently? Why live and work in the United States when you could live and work abroad and build up your savings?
The same reasons for why retirees choose to live outside of New York may encourage millennials and Generation Z to do the same, especially if job opportunities, for now, are limited in the five boroughs.
Historically the young and the educated flock to big cities, but the appeal for the generation that idealized the freedom-of-travel lifestyles may be compounded by the lack of opportunity. New York's unemployment rate stands at 18.3%, well above the national rate of 11.1% and behind only two other states as the highest in the nation. While New York's economy boasts industries, such as finance, fashion, media and tech, an exodus of educated workers from the city could be a leading indicator that an economic reshuffling of these economies is possible.
Even before the pandemic, the population of New York had begun to stall, and a small trickle of residents had begun leaving the city. The convergence of a number of unfavorable considerations––able to multiply in effect––impugns those who point to just one factor in the decision to depart. This mass departure has happened before, but it stretched out from 1970 to 1980, when the city lost more than 820,000 residents. Nearly 1 in 8 residents fled the city. It was New York City's lost decade.
A budget shortfall in the billions that is expected to last two years will likely mean fewer government services, decreased attention to quality-of- life issues and an unforgiving snowball effect that reinforces this negative cycle. Residents who relocate may take with them an essential tax base––personal income taxes, which account for 13% of the city's revenue––while negatively affecting other tax categories from general sales, real estate transactions and business income.
Most critically a budget crisis could be just the tip of the iceberg in a prolonged economic crisis, one that will affect the indigent, jobless and underemployed the most as essential government and community services are reduced.
We may not be in the same peril as we were in the 1970s crisis, but the gathering clouds are by no means a tempest in a teapot––the storm warning flags need to be raised to avert outcomes that, together, are magnified.
Our present reckoning should acknowledge New York's desirability may be dropping––if only temporarily. The city's appeal has always been the drive and diversity of everyone who sets foot here––the intangible and irreplaceable features of New York.
That which makes this city exceptional, though, may not be enough to safeguard it against setbacks. The long-term trajectory will continue to be growth, but for now we are faced with an unforeseen pullback.
These unprecedented headwinds––a budget and economic crisis, high unemployment, the flight of high-skilled remote workers and a decreased quality of life––can be navigated. Robust economies within strong communities are what stabilizes urban areas. Job opportunities and culture lure people to the city, and social bonds keep them there.
Cities such as New York will need to double down on providing an economic future for all their residents while prioritizing livability and preserving neighborhoods. New York will need to be more than a postcard––it will need to be a place where people can continue to imagine opportunity.
Emil Skandul, who runs the technology firm Capitol Foundry, is an opinion writer on technology and economic development policy.