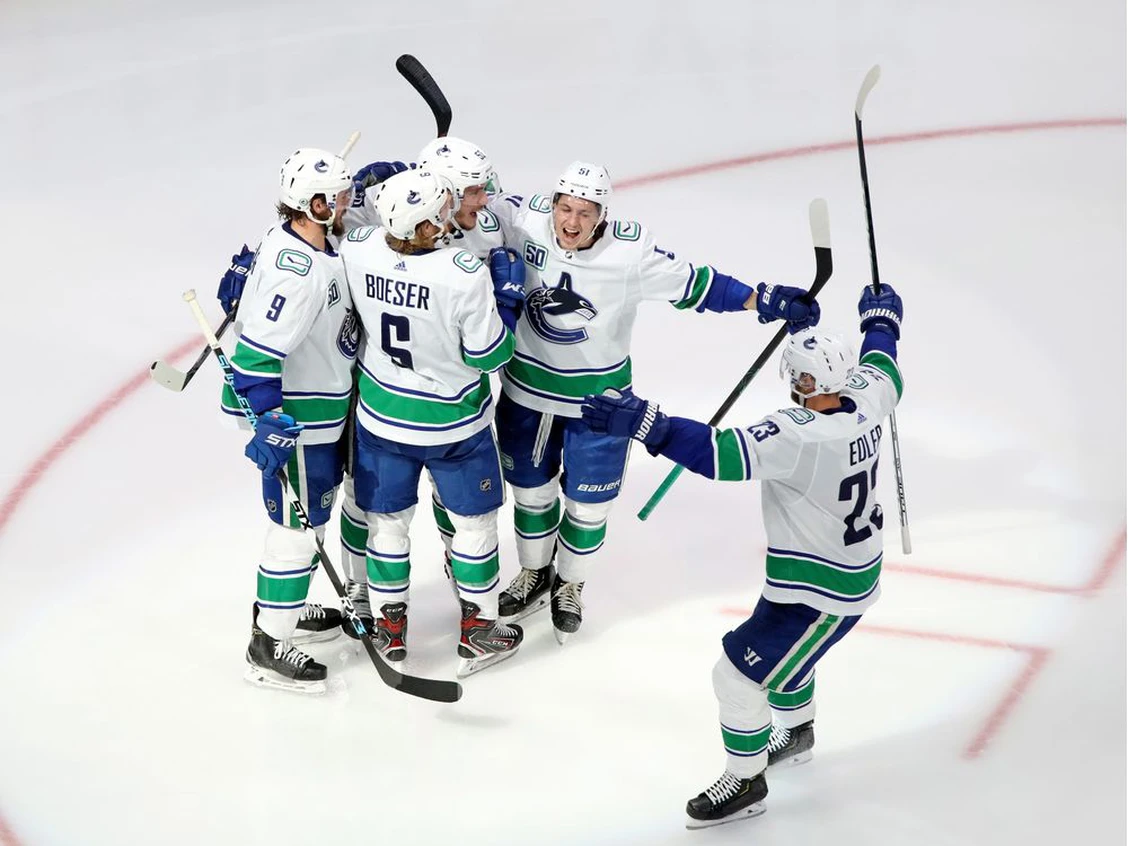 Article content
Here's The Last Waltz, my final Monday morning musings and meditations on the world of sports.
Article content
• No matter what happens between the Vancouver Canucks and Vegas Golden Knights, there is every reason to think the Canucks have arrived in this postseason and, in a couple of more years, they will be a force in the NHL.
That's a lovely thought, especially considering everything the faithful have endured over the previous four seasons. But there are two things I've come to know about Vancouver since moving back to this city I love 22 years ago.
One, when leaving the North Shore, always take Iron Workers.
Two, it's easier to predict the time and place of the next earthquake than predicting the Canucks' future.
We don't have the time or space to recount everything this team has been through over those 22 years. But if you were to chart their fortunes it would look like a polygraph test for a mob rat.
Article content
The Mike Keenan-Mark Messier travesty gave way to the West Coast Express teams which seemed poised for a long run.
Then their star, Todd Bertuzzi, was suspended for attacking Steve Moore. Then their general manager Brian Burke was fired. Then the sale of the team ended up in the courts.
So much for that version of the good, young Canucks.
Three years later, however, they were back with good young Canucks 2.0 under new GM Mike Gillis. In four seasons between 2009 and 2012, that team averaged 108 points a year, won two Presidents' Trophies and made it to Game 7 of the Stanley Cup Final.
It was the most successful run in franchise history. It also ended two years later with Gillis and head coach John Tortorella being fired.
Article content
We'll skip over the next five seasons; suffice to say from 2015 to 2019 the Canucks finished 28th, 29th, 26th and 23rd.
So add it all up and you don't need a media guide to cover the Canucks. You need dramamine to combat the motion sickness. This year, moreover, is perfectly in keeping with the history of the franchise. Yes, there were positive signs along the way, but if anyone saw this team one step away from the Western final back in October, they had the good sense to keep their opinion to themselves.
Now here's the big question: Can you trust what you're seeing this postseason?
You want to. You know what they have in Elias Pettersson and Bo Horvat at centre ice and Pettersson, in particular, has been a revelation. They finally have an elite defenceman in the making in Quinn Hughes. They have an upper-tier goalie in Jacob Markstrom. They have a good coach in Travis Green and a good young staff around him.
Article content
I have some questions about the front office and GM Jim Benning, and a lot of questions about ownership, but they seem trivial in comparison to the pieces the Canucks have in place.
We'll just leave you with this. You can remember thinking the same thing in 2003 and 2011, and we know what happened next. Come to think of it, there have been any number of good young teams over the years who looked to be on the verge of something special and never took the next step. It could have been injuries, maybe it was a contract beef or a bad trade or friction between the head coach and GM.
Or maybe those teams simply had a nice run and weren't as good as they appeared to be. The point is the development arc of any team isn't always smooth or predictable. The Canucks have had this moment amid unprecedented circumstances and it's been great.
Article content
Hell, after the Jayson Megna era, it's been fantastic. But that's all it's been: a moment. There are still so many things they have to get right and, beyond that, there's still an element of luck which is beyond the control of mere mortals.
In the end, it's a complicated equation with a number of variables, and it's so hard to get right. You believe what you're seeing in Pettersson, Horvat and Hughes. You believe in Markstrom. You believe in Green. And you hope it all works because, after all these years, the faithful could use a break.
• Had dinner with a group of veteran scribes in Edmonton a week ago which included Hall of Famer Jim Matheson, who's covered the Edmonton Oilers through the Gretzky era and beyond.
This is what Matheson said about Horvat: He might not be the best player on the Canucks but he's the perfect captain.
Article content
After seeing Horvat on and off the ice for the last month, it's hard to argue the point.
• We'll remember this postseason for a while but, from a hockey purists' point of view, it's hard to not get excited about the three young defencemen starring for their teams: Hughes with the Canucks, Miro Heiskanen for the Dallas Stars and Cale Makar for the Colorado Avalanche.
Of the three, Makar at 21 years, 10 months is the oldest. All three are going to figure in the Norris Trophy voting for the next decade and all are sublime talents.
But, my lord, Heiskanen is unbelievable. Relative to the rest of the league, Paul Coffey is the best skater I've ever seen, but he came along in a different era. Now everyone can skate, and Heiskanen still jumps off the TV screen.
You'd like any one of them, but if I'm picking, he'd be my first choice.
Article content
• And finally, I'll have more to say on this subject tomorrow, but this is the end of the line for me. It's been an unbelievable ride and I've been blessed to have this job, this city and the people I've worked with over the years.
They once asked the old umpire Bill Klem if he ever got a call wrong. He said: "I never missed one in here," and pointed to his heart.
This can be a difficult job. It involves making some tough calls and I might have missed some over the years. But I never missed one in my heart.
Thanks for the last 22 years and be safe.
Is there more to this story? We'd like to hear from you about this or any other stories you think we should know about. Email vantips@postmedia.com.
Share this article in your social network