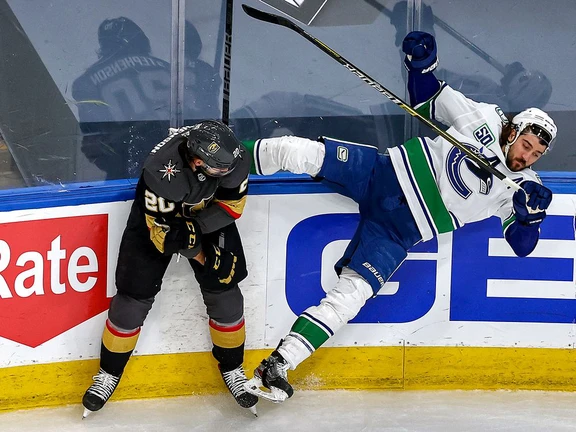 Article content
EDMONTON — At the core of every great hockey team is a confidence that borders on arrogance because, well, there has to be.
Article content
Winning starts with the conceit that you're better than the other guys and everything flows from there. You'll win the individual matchups because your players are better than their players. You'll win the strategic part of the game because your coach is better than theirs. You'll win special teams because your power play and penalty killing are better than theirs.
Whether any of that is true is beside the point.
Great teams believe they're better and, in their minds at least, that belief becomes a self-fulfilling prophecy. Think of the Oilers in the mid- to late-'80s; the Sakic-Forsberg Colorado teams of the late '90s and early aughts, and the Toews-Kane Blackhawks. They all had that quality even if some of those teams expressed it more loudly than others.
Article content
Then there's the Vegas Golden Knights.
The Golden Knights have that swagger, and given the charmed existence they've led in their three NHL years, you can understand why. They're good, very good, and that point needs no further amplification here. They also have that self-confidence which is reflected in the way they play and, if the first two games of their Western semifinal with the Vancouver Canucks is anything to go by, their demeanour.
What the Knights don't have, however, is the ring that proves they're champions, and it could be that exaggerated sense of entitlement reveals something about their team.
"I mean, we knew how it felt when they were winning, laughing and having a good time on the bench," Canucks captain Bo Horvat said after his team's 5-2 win on Tuesday. "We keep that in the back of our mind, for sure. We wanted to come out strong tonight and have a statement. I thought we did that. Obviously it was a lot quieter over there, and we want to keep it that way."
Article content
The Knights, in fact, have demonstrated a couple of character traits in the first two games of this series that aren't exactly consistent with Stanley Cup winners.
NEXT GAME
Thursday | Game 3
Vancouver Canucks vs. Vegas Golden Knights
(Best-of-seven series tied 1-1)
6:45 p.m., Rogers Place (Edmonton) , TV: Sportsnet; Radio: Sportsnet 650 AM
In Game 1 they demolished the Canucks 5-0 with a dominating performance, suggesting this series might be a mismatch. They certainly reinforced that message during the game, chirping from the bench, and it continued during their post-game Zoom session when Reilly Smith, Jonathan Marchessault and Alex Tuch were still yucking it up. True, a lot of the mocking was aimed at Antoine Roussel, but all the Canucks heard was the laughing and it left a mark.
Article content
Game 2, of course, was a different story, but it was the Golden Knights' reaction when they got down 4-1 early in the third period that was telling. On three different occasions they took undisciplined penalties that made the job of protecting the lead a lot easier for the Canucks.
Late in the third, Smith also missed Elias Pettersson with a late hit that came close to the Canucks centre's head. It's possible Smith pulled up at the last second. It's also possible he mistimed the hit. Either way the circumstances behind the play — late in the game, a late hit from the blind side that appeared to target Pettersson's head — were troubling.
"I think at that point there's just a little frustration with how the game's gone," Knights head coach Pete DeBoer said on Wednesday. "In my mind we've been the most disciplined team in the playoffs. Last night was a little uncharacteristic, but I don't view it as a long-term issue."
Article content
Fine, but if you were exploring this theme, Marchessault opened his Zoom session by apologizing for remarks he made on his Instagram account. It seems the Knights winger engaged with several Canucks fans and posted a series of profane responses when he was accused of diving.
Speaking from some experience, you never win in these exchanges, and Marchessault, a nine-year vet, should have known better. As it was, both he and DeBoer were fielding questions on this subject.
"It doesn't make my job difficult and, honestly, that's all it is: noise," said DeBoer. "For me, it's over with. It's a lot like the situation with (agent) Allan Walsh and (Knights goalie) Marc-Andre Fleury (another social media incident that erupted prior to start of the Canucks' series).
Article content
"That stuff doesn't enter our dressing room."
No, in that dressing room the Knights are still a supremely talented team that has grand ambitions in these playoffs. But that's exactly how the Canucks view themselves.
It's also interesting to note the way their series with the St. Louis Blues evolved. Like the Golden Knights, the defending Cup champs were thought to be too big, too deep and too experienced for the Canucks, and they seemed genuinely surprised when the upstarts came off the mat to win games 5 and 6. The Knights had a similar look in Game 2, but if they're dismissing their loss as a one-off, they're missing the point.
By now we all know the narrative around the Canucks when the postseason started — 10 players were making their first playoff appearance, their best players were too young and would be exposed against elite competition. We also know what's become of those storylines over the last month and a half at Rogers Place.
It could be the Knights' edge in depth and experience will prevail in this series. But, at the very least, the Canucks have earned some respect. If the Knights don't understand that by now, they'll never be the team they believe themselves to be.
Is there more to this story? We'd like to hear from you about this or any other stories you think we should know about. Email vantips@postmedia.com.
Share this article in your social network