January 2, 2015 TORI MASUCCI CUMMINS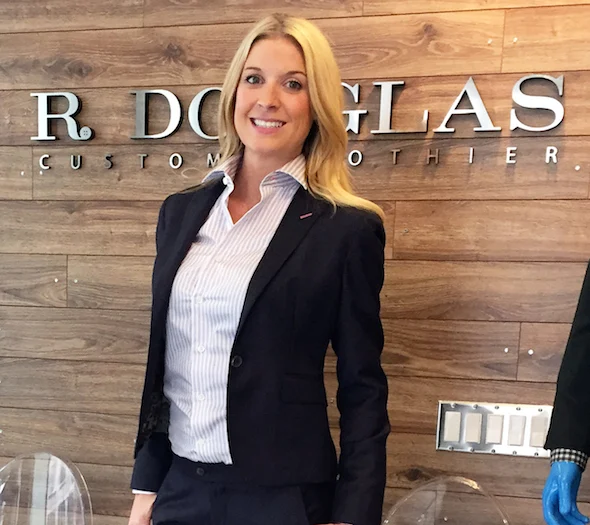 On Jan. 5, the dapper designers at R. Douglas Custom Clothier will introduce a women's clothing line offering custom tailored jackets, shirts, vests, coats, pants and skirts in styles that range from formal to casual.
Founder and owner Ryan Hammonds (Douglas is his middle name)—whose bespoke attire and accessories for men have graced local runways and been go-to couture for Kings stars like Jason Thompson, local political figures like West Sacramento Mayor Christopher Cabaldon and other Sacramento influencers—says he's been working on launching a women's line for the past few years.
"I want [R. Douglas] to become a destination for women looking for their own look or to improve upon their existing style and wardrobe pieces," Hammonds says. "I want the line to be equally suited for both casual and professional looks. You could wear pieces to work or pair pants with a jean jacket to dress down."
His recent sample designs for the line include a purple houndstooth two-piece suit, a gray and pink chalk-stripe suit and luxury cotton stripe shirts. Hammonds says that his women's line will mirror his men's line in terms of style and customization, from a selection of more than 50 types of buttons to the heavily personalized styling and tailoring.
"Our niche is that we can fine-tune every preference on fit, so we can actually define the shape of a pant leg or a shirt," he says. "But the added bonus is [that] the design aesthetic is very unique to the individual. The options are unlimited."
The line will be featured on the runway at Sacramento Fashion Week in February, followed by an official launch party at R. Douglas' downtown showroom. Hammonds says he plans to soon expand the showroom with a dedicated area for the women's line. In the meantime, a section of the existing showroom will be sectioned off with velvet curtains to have an area for private women's fittings and styling selections.
1020 12th St. 438-9455. rdouglas.net