By Deidre Montague / Journal Inquirer 6 hrs ago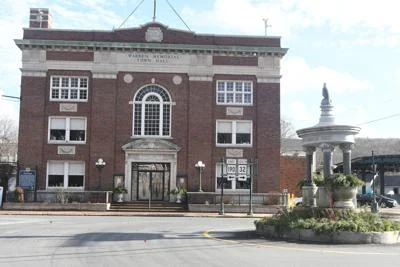 STAFFORD — About 20 to 25 voters, with more overflowing into the hallway, approved three separate fund transfers totaling nearly $500,000 in the small Veterans Room in Town Hall on Thursday.
The fund transfers will finance upgrades to Olympic Field, finish the Leonard Road Bridge project, and purchase body cameras for police officers.
While the $82,500 for Olympic Field and the $300,000 for the Leonard Road Bridge were both approved without public comment, some residents had questions and concerns about the $100,000 cost for body cameras.
"How many years would this anticipated funding be allocated for and cover?" resident James Madsen asked. "Is this a one-year project, multiple-year project? Are we going to have to come back again?"
Madsen said he was "pro-police" but noticed that a lot of those questions were being asked on Facebook, and he wanted to ensure they were answered.
VOTERS OK $500,000
In a special town meeting, more than 25 residents voted to approve some $500,000 in fund transfers, that include up to $82,500 for upgrades to Olympic Field, $300,000 for the Leonard Road Bridge, and $100,000 for police body cameras.
Police Lt. Thomas Duncan said the town has to fulfill a state mandate that all police departments must purchase body cameras for officers and vehicles. The town contacted four companies asking for quotes to provide the equipment and went with the lowest bid.
After the meeting, Duncan said that while the cameras are relatively inexpensive, it's the cloud data storage that is costly, as they are required to hold on to that digital video for at least one year. An individual camera costs about $700, he said. The remaining total cost of $94,725 includes storage, wires, docking stations, and batteries for each camera, along with licenses, software updates, and five-year warranties on all devices.
To outfit the nine officers and six vehicles requires a total of $37,734 for the body cameras and $56,991 for the vehicles, with two cameras in each cruiser, he said.
The purchase of body cameras was ultimately approved by a voice vote.
"I think the public should get involved and voice their opinions — it's taxpayers' money. We work with taxpayers. So, I'm happy they are involved. I'm happy that they asked questions," Duncan said after the meeting.
Now that all the major projects have been approved, the upgrades at Olympic Field can begin, officials said. These include the football field irrigation, new basketball hoops, repaving of the basketball courts, building a playground, and the completion of design work for the field house to make it accessible for all.
The fund transfer approval also gives the town the funds needed to finish the $3.4 million full replacement of the Leonard Road Bridge, which went over budget by about $800,000 from construction costs going up during the pandemic.
Deidre Montague covers the towns of Vernon and Stafford.