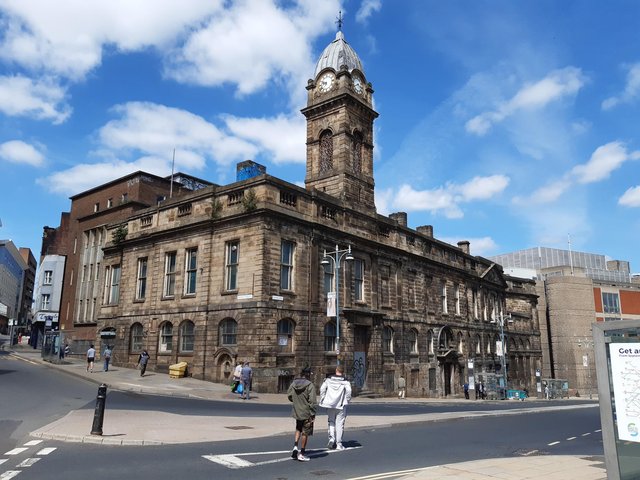 A developer has spoken of his anguish after being forced to abandon the restoration of the Old Town Hall in Sheffield.
Efe Omu said he was unable to meet deadlines due to lockdown, leading to the scheme being in default with lenders.
Hello, this is the first of your free articles for this week.
From just £1 per month you can get unlimited access and 70% fewer ads
He insisted he never saw it as a 'money grab or business' but a project he was passionate about.
Now he was paying a high price.
The Grade-II listed building on Castle Street is in the hands of receivers who have put it on the market for £1.35m.
It is a devastating blow for Mr Omu who has sunk thousands of pounds and thousands of hours into reopening the much-loved historic building.
And it is a big setback for the Friends of the Old Town Hall and Sheffield City Council who are desperate to see the restored structure play a central part in the redevelopment of historic Castlegate.
The Old Town Hall, which dates back to 1808, was also used as a court for years. It has been disused since 1996.
Mr Omu bought it in 2019 and received planning permission to convert it into apartments, a hotel and market.
He said: "Castlegate had a big chance. I was naive. I was told everyone was on the same side, working towards the same thing."
Sheffield's property sector first became aware of potential problems earlier this year when discreet enquiries were made about selling it.
But the project deterred many due to the high costs of restoration and renovation before it could bring in money.
Mr Omu was also behind the conversion of the former Cannon Hotel, also on Castle Street. It was close to completion as three three-bed luxury flats and two shops last summer before work ground to a halt.
It is also in the hands of receivers and up for sale.
Valerie Bayliss, chair of the Friends of the Old Town Hall, paid tribute to Mr Omu's bravery and said the failure of the project was of 'great regret'.
She added: "We welcomed the possibility of a commercial restoration. Mr Omu has been brave and it seemed to be well worked out. We knew better than anyone the scale and complexity of that project. It's a great shame it wasn't possible."
It meant another two years had passed with little progress, she added.
Last summer, the rambling structure was cleared of mountains of trash and weatherproofed. But it is understood the huge of task of restoring it had not started.
Ms Bayliss added: "I was a bit concerned it was dragging on. The group has stayed in existence because of that. In the back of our minds has been the possibility that if Mr Omu was unable to complete we would have to look at our own plans again."
Two years ago the Friends drew up a business plan to raise money by issuing shares and through the lottery. They wanted Sheffield City Council to use compulsory purchase powers to buy it from its then owner and sell it to them as part of a 10-15 year plan.
"All that work is still on the table," Ms Bayliss added.
Mr Omu, whose business is called Aestrom OTH, bought the premises from G1 London Properties in 2019.
Last year, he laid out plans for a phased restoration and reopening of the 2013-year-old building.
He said then that it was built in sections and would be restored in sections.
It has had five extensions, is a warren of corridors and stairs and has several entrances on three streets.
Plans showed Court One converted into a lounge within one of 12 apartments but Mr Omu said it might also be used for conferencing.
The cells, made of white brick, would be turned into a 12-room 'pod hotel'. The pillared ground floor area would become a 'souk' style market open to the public.
But it had been empty for 24 years, with rot accelerating after the theft of lead roof flashing let water in. There were several gaping holes in floorboards. The floor of one office had to be taken out altogether.
Everything of value had been stolen but oak benches, mahogany panelling and parquet flooring remained, as well as architectural features including classical ionic columns, 'egg and dart' coving, vaulted ceilings, light wells and lanterns, and ornate iron trusses.
Nalin Seneviratne, director of city centre development at Sheffield City Council, said he was sorry to hear of Mr Omu's situation and also paid tribute to his efforts.
But it did not mean the building was 'back at square one'.
He added: "The Old Town Hall is a key part of Castlegate and really important to move perceptions forward in the right way. The fact the previous owner was not able to realise their plans shows the difficulties and challenges in trying to deal with a listed building in that condition during a pandemic.
"Now we all have to put our thinking caps on to come up with how it should be secured in the future with the right people involved. Heritage buildings have inherent value but it takes a lot of thinking through how you can make them work.
"It's not going back to square one. These things evolve, people come and go, it's constantly moving forward."
Speaking to the Friends group would be 'top of the list' of priorities, he added.
"But equally, it's privately owned and on the market. Someone else might snap it up."
Get your team on the same page with a Corporate Subscription
Subscriptions for businesses
We see you have an ad blocker enabled
Ad revenue helps us keep you up to date on the stories that matter. Please consider disabling your ad blocker before reading this story. To browse the site with fewer ads, subscribe to the The Star from just £1 per month.
Already subscribed? Sign in here,
or continue with ad blocker