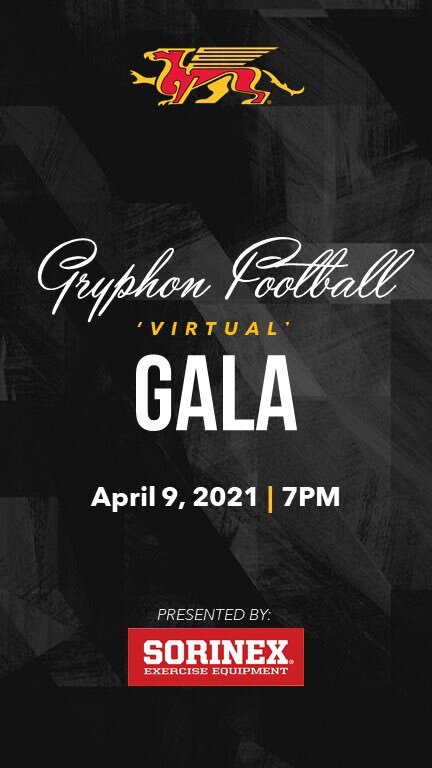 It seems like forever since the Gryphon Football community has had the opportunity to show its love. Saturday afternoons at Alumni Stadium have been painfully quiet, and the annual events that fill the calendar have been on hold.
But there's reason to celebrate. The Gryphon Football Gala is back for 2021. It may not be the black-tie version with an amazing meal from Creelman Hall, but this virtual edition of the program's most important night, scheduled for Friday, April 9 at 7 pm, will undoubtedly provide a much-needed boost to all of those wanting their Gryphon Football fix.
"We obviously weren't able to do it last year and we initially thought we would be good to do it in person, but we're not there yet," says Vanier Cup-winning alum Randy Dimitroff, who also leads the Friends of Gryphon Football program. "This virtual Gala is a great alternative given the circumstances.
"There's been a lot of work behind the scenes to put this together."
The evening's program is centred around the theme of Guelph's Yates Cup team from the 1996 season. It will all take place on the University of Guelph's internal communications platform hopin and the money raised from ticket purchases and a silent auction loaded with great items will go directly towards football scholarships.
The lineup for the night, hosted by Dimitroff and veteran D-line coach Brian Cluff, promises to entertain Gryphon Football supporters young and old. It includes:
· An address from Guelph mayor Cam Guthrie
· A speech from Bill Vastis, recipient of the Distinguished Alumni Award
· A speech from Kyle Walters, recipient of this year's Honour Jersey
· A speech from head coach Ryan Sheahan
· Recognition of the 1996 Yates Cup-winning team
· Discussion on the 2010 Team of the Decade
· Silent auction
Both Vastis and Walters, legendary Gryphon Football figures, were members of that 1996 team that defeated Waterloo 23-13 in the title game, just one year after finishing 1-5. Vastis, the Vice-President of RBC Dominion Securities and former defensive end terror, was humbled to be acknowledged by the program.
"I feel that the Guelph culture is the most precious heritage," says Vastis. "For it is in our support that we reveal to ourselves and to others the inner vision which guides us as a community."
Walters had one of the most memorable careers in Gryphon Football history. He enjoyed many great playing days before coming back to the program as defensive coordinator and eventually taking the reins as head coach. The St. Thomas, On native left Guelph for the CFL, where he coached the Winnipeg Blue Bombers. Walters was the General Manager and architect of Winnipeg's 2019 Grey Cup win, with
former Gryphon legend Mike O'Shea as head coach, and former Guelph stars Johnny Augustine and John Rush playing prominent roles.
Walters, like Vastis, was a fixture on the 1996 team. The players still have incredible memories of what those Gryphons accomplished 25 years ago. Vastis was a rookie when the team won the Yates in 1992 and after a few tough years, the rebuild towards the 1996 season was both difficult and gratifying. He says that he and his teammates felt they were a contending team in 1995 but simply could not close games, losing many by just a few points.
The heartbreaks would only galvanize them.
"The passion of this team through training, hard work, and bonding was an unbelievable journey," says Vastis, a First Team OUA All-Star in 1996, who maintains that championships are won at practice. "There were many starting players in 1995 who could've graduated and moved on in their lives, but most, if not all, stuck around for what they thought was going to be the year it came together."
After a brutal summer camp, the Gryphons were tested often, including a game against York that is remembered for turning the season around. Down 24-0, Guelph stormed back to win, inspired by their mantra of "the law of the jungle," and the words of then head coach Dan McNally, who was famous for saying, "You can't turn back the clock, but you can wind it up again."
That team would go on to eliminate rival Western on the London turf and then defeat Waterloo to secure the Yates Cup.
"It was much more personal than just a championship," Vastis says, noting he sees his fellow Gryphons as heroes. "Our brotherhood was so strong.
"Football is bigger than X's and O's and it is truly a bond amongst brothers that will never fade because we have invested so much into the game and our teammates."
While Gryphon Football supporters have undoubtedly missed the game this past year, the Virtual Gala will celebrate the joys of the past and look ahead to the future, with the welcome opportunity to see many familiar faces.
"Guests will be able to log in at 7 pm and chat with each other, with the program starting at about 8 pm," says Dimitroff.
"After that, there will be a couple of breakout rooms for people to continue chatting. It's going to be a lot of fun."
To access the silent auction, click here To purchase a ticket for the Gala, click here
Written By: David Dicenzo
Powered by Squarespace