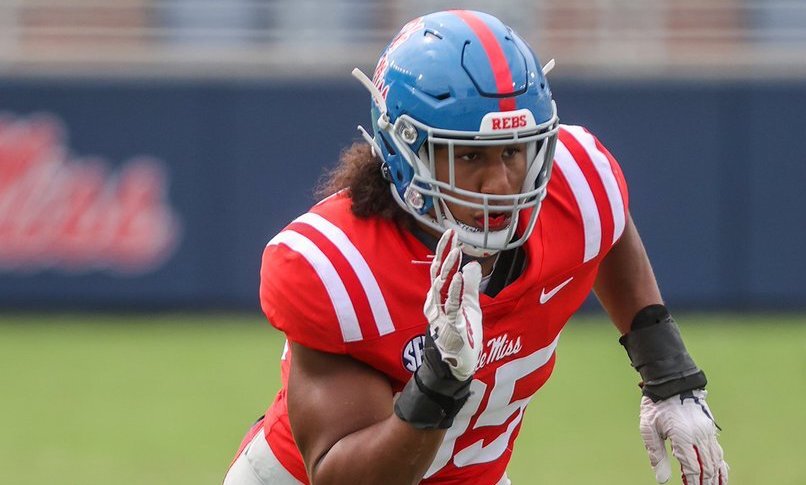 It's rare that a kid in his first year of high school gets a front-row seat to see what the next level in their sport looks like. Tavius Robinson had that chance. When the towering Guelph native was in grade 9 at Guelph Collegiate Vocational Institute, he saw his hometown Gryphons putting in the work at training camp. It gave Robinson a clear sense of what USPORTS football was all about and for a young, impressionable player at the beginning of his journey, the experience was invaluable.
That Gaels freshman would go on to be part of consecutive District 10 championships, enjoy two great seasons at the U of G helping anchor the D line, and then earn the rare opportunity to play NCAA Division 1 ball at SEC powerhouse Ole Miss. That makes Robinson one of the most prolific players to ever come out of GCVI – and he was groomed early on the Alumni Stadium turf.
"I was at all the Gryphon training camps until I was actually in my first year of university," says Robinson, who recorded a sack and 18 total tackles (including three against eventual national champion Alabama) in his debut SEC season. "Being in that environment early allowed me to get a feel for how things were at the university level."
Robinson had the benefit of learning the nuances of the defensive end position from numerous local coaches with Gryphon ties like Matt Nesbitt and Charlie Taggart. Pat Nield, a standout Gryphon in the late 1980s and former OUA All-Star, was another influential mentor. Nield coached the young Guelphite as a junior player and again at GCVI, playing a massive role in Robinson's ascent to D10 Most Valuable Player.
"The connection between GCVI and the University of Guelph made it an easy transition for me," he says.
Robinson was an imposing presence in his two years wearing the red, black, and gold, which D-line coach Brian Cluff had envisioned years prior. Cluff has a place in his heart for both schools – he has been a part of Gryphon Football for over 35 years, both as a Vanier Cup-winning player and a coach. He was also a Phys Ed and co-op teacher at the GCVI for the past 20 years and while he didn't actually coach the high school team, Cluff did recognize talent when he saw it.
"Tavius cut his teeth at Guelph," the coach says, referring to the future star's role as a training camp assistant helping set up equipment and drills. "I thought, 'Let's get this relationship started early.' You could see something special. Tavius wanted to come to the U of G because it was his hometown university.
"It didn't hurt that there was a teacher walking the GCVI halls who coached there."
The synergies between GCVI and Guelph go back a long way. And the list of excellent players who have been a part of both renowned football programs is as long as it is impressive. Andrew Oosterhuis, Jake and Job Reinhart, Spencer Swan, Brandon Ferigo, Chris McIntyre, Scott Hobson,
James Ingram, Ron Aimola, and Simon Chaves are just a few of the many that have starred at both the high school and collegiate level in front of hometown fans.
Frank Tersigni knew exactly what it was like to be a local kid admiring those talented university athletes. Before Tersigni took over as Gryphon Football equipment manager, he was a longtime teacher and head coach at GCVI. And before that, he was a GCVI student taking trips to Alumni Stadium to watch the Gryphons play back in the mid-1970s. Mark Brown was a local running back who became a fixture in the U of G backfield, and Tersigni took an interest in watching a Guelph kid make a name for himself at the next level.
"I've been watching Gryphon Football ever since," he says.
Tersigni played collegiate ball at the University of Waterloo but he returned to his high school in the mid-1980s as a special education teacher, guidance counselor, and in various coaching positions. He eventually took the reins as the head coach and helped guide the team to multiple championships, including a memorable 2006 season in which GCVI became the only D10 to ever make the Western Bowl.
"When we earned the right to play in that game, (then head coach) Kyle Walters really stepped up and helped us," says Tersigni, acknowledging yet another connection with GCVI and Guelph. "He gave us some time to practice in the Fieldhouse.
"That just strengthened the bond between the schools."
Tersigni has seen many players come through his program and move on to Guelph but one of his proudest moments occurred in the early 2000's when two of his GCVI alum, McIntyre and Oosterhuis, were both offensive and defensive Gryphon captains at the same time.
Tersigni retired from GCVI in 2019. He now gets to put his energies into prepping the Gryphons and enjoying games once the kickoff is complete. Tersigni's successor has his own ties to the U of G program. Dan Crabbe was an O-line fixture back in 1996 when the Gryphons won the Yates Cup, and just like Tersigni, he became an educator and landed at GCVI, the school where he did his placement in teacher's college.
Crabbe has been the head coach the past few years and he understands the many ties the Guelph high school and university share, be it through coaching staff, players, or community initiatives. He has competed on the Alumni Stadium turf as a player and led GCVI in games there, as well.
"It's just an incredible feeling walking on that field," says Crabbe, GCVI's media arts teacher, who takes pride in knowing he had five former Gaels on the Gryphon roster at one time a few years ago. "When I played on it, it was grass. It's great to be out there and hear the national anthem before a game. It stirs something in you. There is something special about Guelph, especially in the Fall.
"There is a high school game on a Friday night and then the Gryphons on Saturday."
There's a belief that players from GCVI have an internal grit. Maybe part of it comes from the strange logistics of the program. The Gaels don't have their own field, so the players put on their gear and walk the few blocks to Exhibition Park for practices, a characteristic that adds to the lore.
"It was definitely unique having to walk down the street in your equipment to get to practice," says Robinson. "Those five years flew by fast. I remember everyone talking about the upcoming game during the week. That was always exciting."
"There is something special about the GCVI athlete and it extends to other sports like rugby, track, and basketball," says Coach Cluff. "There's an element of toughness there. They are hard-working players and disciplined, without egos.
"It's gone a long way with many of them succeeding and excelling."
Continuity has been critical to this pipeline between GCVI and Gryphon Football.
"Frank was the life and blood of that program," says Cluff, who retired from GCVI at the same time as his respected colleague. "It was great that Dan came in and we were able to work together. Dan is passionate about football and working with athletes, just like Frank.
"That relationship with Gryphon Football will continue. They're not done."
Those are true words. Despite over a year away from the game, Crabbe has kept his players motivated and encouraged them to stay ready for when football resumes post-pandemic. More Gaels will inevitably end up in Gryphon uniforms, including a competitive athlete with a familiar surname – Anakin Guthrie.
Some, like Robinson, might move on to a new level, with pro football aspirations on the horizon. When Robinson started at Ole Miss, he arrived to sweltering temperatures less than two weeks before camp kicked off. But he relied on the hard work he put in last summer, as well as his experience gained as an elite player in Guelph. That trip from grade 9 training camp helper to high school/OUA star set the stage for a new life in Mississippi.
"It took me a couple weeks to get used to the differences of the game, but I began to fit in pretty fast," says the legendary Gael and Gryphon. "I knew I could compete in the SEC. I realized I was going against the best talent every day in practice and every weekend in games.
"You have to compete with the best to be the best."
Written By: David Dicenzo
Powered by Squarespace