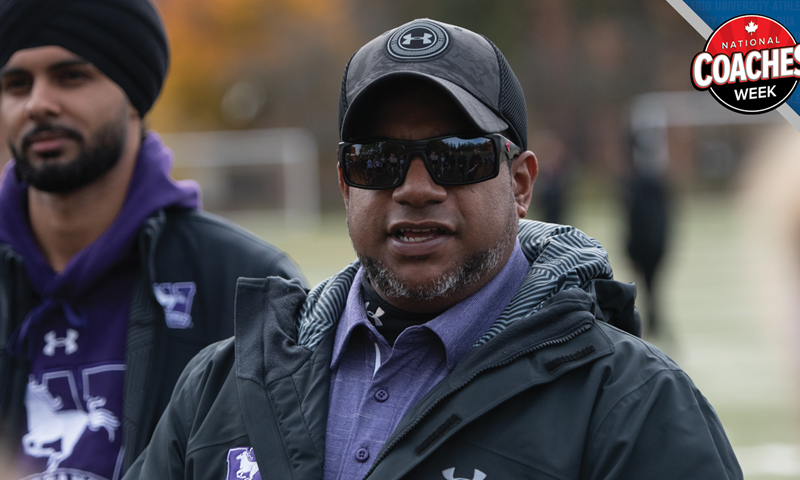 London, Ont. –When Jeff Pacheco is looking for some perspective, he leans on the sage words of an important world leader of the past. Pacheco, the veteran head coach of the Western University women's field hockey program, has used a quote from famed British Prime Minister Winston Churchill as a guiding principle – "Those that fail to learn from history are doomed to repeat it."
Though Churchill spoke these words almost 75 years ago, it's a mantra still relevant today, both in sport and life.
"In order for us to chase down a championship banner, I use that quote," says the coach. "That process is key to finding a results-oriented season."
Pacheco was born and raised in the city where he leads the Western women and has a full-time career managing a resort in nearby Grand Bend. He joined the university's field hockey program 20 years ago, spending time as an assistant coach before the opportunity to take the reins was presented to him back in 2009. Pacheco knew it was the right place to be, in a position that enabled him to help young student-athletes grow as human beings.
"To lead the brightest athletes in the country at Western is very appealing," he says. "They aren't just great athletes – they are academically gifted. Western attracts the cream of the crop."
Pacheco was fascinated by field hockey as a youth in London. The son of Roy and Thelma Pacheco, he understood quickly that there was lots of opportunity within the sport. Pacheco began playing at the age of 12, with a renowned local program, the G.O.A. Reds. The environment was competitive but also fun, which inspired Pacheco to move up the ladder at the provincial and national levels. By 14, he was playing for the Ontario junior team and a year later, Pacheco had the incredible opportunity to represent Canada. He travelled to places like Argentina for the Junior Pan Americans, Chile for World Cup qualifying, and Scotland for the Indoor World Cup, among other destinations.
"The ability to play for Canada at a young age allowed me to see the world," says Pacheco, who was known for his quickness, vision, defensive ability, and vocal leadership. "What I loved most about field hockey is how close-knit the community was. You show up at a pitch and get to see the many friends who have helped with the journey."
Pacheco played competitively until he was 23, but his coaching career began before those days were done. He spent some formative years in Adelaide, Australia, where he competed professionally, and also got his first taste of leading from the sidelines. Pacheco coached the U-13 boys and Premier Ladies at Adelaide's North East Club., earning his FIH coaching levels 1 and 2 along the way.
It was an important time in his life, an influential experience that formed the foundation of his coaching approach.
"Getting to see the emphasis on fundamentals in a country like Australia, where field hockey is a top sport played by women and men, taught me how to balance mental toughness with high performance," he says.
Those experiences as an elite player and coach have helped shape Western's strong field hockey program. In 2012, Western finished fourth in the country, a year that Pacheco won the conference and national Coach of the Year awards. He repeated that personal double last season, when the Mustangs finished 5-2-1 in a shortened season before missing out on a place in the OUA championship following a tight semifinal loss to the Guelph Gryphons.
Pacheco knows that elevating his program another step is contingent on adhering to Churchill's words, which essentially means that we all must learn valuable lessons from the past. He knew the game would lead to opportunity when he was young, and he wants to pay that forward at the varsity level. Pacheco says high school field hockey isn't necessarily rife with elite coaching, so he holds open tryouts. From there, he and his staff assess and identify who might fit with the program he has helped build.
Pacheco leads successfully because of the knowledge he has acquired over the course of his life in the sport. He often speaks with his G.O.A. Reds mentor Ed Fernandes, bouncing ideas off of one another. Pacheco also looks within his own Western community to see examples of success, admiring the athletic department's many great coaches and their habit of winning.
"Growth as a coach is learning through experience, reflection, and insight," says Pacheco. "You make choices and pursue them. I use these methods to develop and connect with student-athletes. Coaching has evolved and with the newer generation, I'm encouraged to be adaptive.
"Over time, my core values have changed. I have become more in tune with our players and work with the captains to cultivate an environment that allows the team to find success. Western field hockey philosophy is based on the understanding that they are supported as student-athletes. How do we build together to get results on the pitch? Most importantly, I want our players to become upstanding adults from the lessons learned in practice and games.
"The first year of the pandemic was interesting for so many reasons," he adds. "No competition was rough. Losing a year in these young ladies' lives to play at the varsity level changes their short-term development. But we have tried to do as much as possible to promote individual and team development."
Pacheco still loves to get out on the pitch to compete. An avid Masters player, he suggests that the attributes that got him places as a youngster are still intact – just in a slightly slower version of himself. Because his schedule packs in playing, coaching, and day-to-day work life, Pacheco has had to find balance, especially with a young family. His wife Sarah is his number one supporter, with kids Reece and Preston bringing utter joy. The two youngest Pachecos are popular members of the Western field hockey community, typically getting loads of attention from the team.
He understands that time is at a premium. It provides him with another teaching opportunity.
"Having time management skills is a huge asset," says Pacheco. "This is the same message that the players learn.
"If you have a full plate of school, sport, social life, and family, you can manage it all and transition well into adult life."