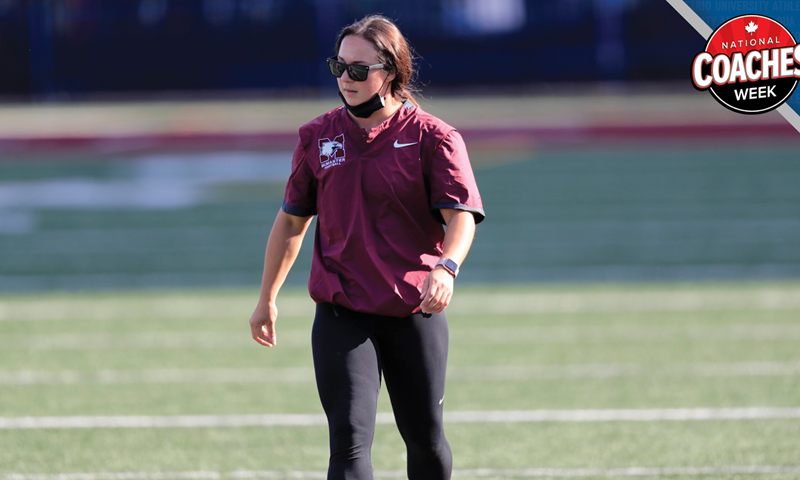 Hamilton, Ont. – The NFL Combine is the ultimate test for any aspiring professional football player with dreams to play at the highest level. The annual gathering enables representatives from the 32 NFL teams to grade players' athleticism and acumen in incredible detail.
The 2022 Combine was also a proving ground for Amanda Ruller. The Regina, Saskatchewan native and current running backs coach of the McMaster Marauders made her mind up to attend the event on her own. In addition to her wealth of gridiron experience, Ruller has a background in media, so she secured an invitation to the Combine in Indianapolis with the personal goal to network on top of press duties with Sports Illustrated.
"I met tons of GMs and coaches over 10 days," says Ruller, 34. "I listened, and I interacted with people, never asking for an opportunity but just showing that I'm a coach and I'm passionate.
"They got to hear that I knew a lot about football. When I asked questions, their responses were, 'Yeah, she knows what she's talking about.'"
The McMaster coach handed out her impressive resume, one going to a representative of the Seattle Seahawks. Ruller was attending a CFL camp a few months ago when a call came asking if she could get to Seattle immediately. The answer was obvious. She was offered the chance to be an assistant running backs coach at the Seahawks' camp through the Bill Walsh Diversity Fellowship Program, a pretty wild way to spend a summer on the field.
The entire experience encapsulates what Ruller is all about. We're conditioned to take advantage of opportunities. Ruller has a different take – go out and make opportunities happen. It's been that way since her childhood in Regina, where at an early age, she understood the meaning of "Rider Pride," the mantra of the feverish Saskatchewan Roughriders fanbase. Her older brother John, Mom Sheree, and especially her father Edward, instilled a clear message.
"We would go to CFL games as a family," says Ruller. "I never saw any representation of women, playing or coaching. I asked them, 'Can women play?' And my Dad said, 'Yes – you can do anything a boy can do.' I took it upon myself to play flag football and learn about the game.
"I'm five feet tall. It was difficult to do things, so I had to work harder than a lot of other athletes. My father encouraged me to never give up. That was huge for me. I would get discouraged sometimes, but he was always there to support me, driving me to every soccer game or track meet, and giving me feedback. He would take pictures and we would break down my form and technique. We used any resource available to help me become a great athlete.
"It instilled discipline and a drive that some people might not understand. My main motivation was to not give up, to not be average."
Edward was always his daughter's biggest supporter. In 2013, he passed away from brain cancer. Ruller was overwhelmed with grief, but she made a conscious decision to channel her feelings into a sense of purpose.
"I thought, 'How could I do this without him?'" says Ruller. "So I flipped it. I decided to do it for him and make him proud. If he couldn't be there to cheer me on, I would do it in his name."
Ruller evolved into the tenacious competitor Edward knew was in her. She played the sport she loved representing Canada, as well as carrying the ball for the Atlanta Steam of the Legends Football League. But her athletic experience extends well beyond football. Ruller, who completed a degree in kinesiology, also excelled on the soccer pitch and in track and field at the University of Regina, became a record-setting weightlifter, and even earned a spot on the Canadian skeleton team.
She started working as a sports performance coach, though a career in football was still the ultimate goal. Ruller is a communicator, an individual who builds trust in her relationships. And that was the key ingredient to succeeding in such a male-dominated space, one she executed brilliantly at the Combine.
When Ruller was a game-day host for her hometown Roughriders in 2017, she used the opportunity to internalize the information received from players and coaches. A few years later, she would be putting it to use at a legendary OUA football school, which was the first in Canada to implement a women's apprenticeship program.
"I was drawn to McMaster because this program was in place," says Ruller. "I applied for the position, and I remember during the interview, I was asked why I wanted to do this. I said bluntly that there weren't a lot of opportunities for women to be working in football.
"McMaster has a great football team, it's a sought-after program, with excellent facilities. I had been waiting my entire life for an opportunity like that."
Ruller was offered the job and in her natural decisive fashion, immediately accepted before picking up and moving from Saskatchewan to Hamilton. It's been a great setting for her to implement her specific coaching philosophies with athletes she finds so receptive to learning. Her initial message is simple – always compete and strive for greatness. She instills that in the members of her running backs unit every single day.
Technically speaking, Ruller emphasizes constantly improving the qualities that great running backs possess, like speed, quickness, vision, ball security, and awareness.
"We focus on these fundamentals, reading the linebackers, reading your gaps, slow to quick, footwork," says Ruller. "We work on them so they can be great going forward. I reassure every athlete and commit to working on whatever they specifically need to improve. I ask what their goal is for the day. It could be something small, like pass protection or vision.
"It gives them the opportunity to be more well-rounded. We work on weaknesses and capitalize on their strengths. That's how we grow as a team."
Ruller says that McMaster head coach Stefan Ptaszek has been a major influence in her time with the program. She has gained the confidence to be her best version of a coach.
"He didn't have to take a chance on me," Ruller says. "But he did."
Ptaszek is on a growing list of football icons that have helped Ruller hone her knowledge of the game. Her cell phone contacts include an extensive list of football royalty, like Roughriders head coach Craig Dickenson, who initially invited Ruller to be a guest coach with the team earlier this year. Don Yee, who happens to be Tom Brady's agent, asked Ruller to attend his 2021 HUB Football CAMP as a strength and conditioning coach to guide aspiring professional running backs and defensive backs.
At the Seahawks' camp, she worked with an incredible array of athletes, like first-string running back Rashaad Penny, talented rookie Kenneth Walker, and skilled depth players like Travis Homer and DeeJay Dallas. Ruller also engaged with Seattle's iconic head coach Pete Carroll, who has won both a Super Bowl and multiple NCAA national championships when leading the USC program.
"Coach Carroll's philosophy to always compete really aligned with my vision," says Ruller. "He's a great mentor, a top-down type of leader. Every meeting, everything he does is very strategic. It was amazing talking with him about the game and planning. I'll take everything I learned from him forward and be a better coach for it.
"I'll always thank him. He believes in me."
It's unsurprising that Ruller wants to build on what she's already accomplished in the game. That means a coaching job at the NFL level, with a role atop a team's coaching hierarchy within her sights. If that seems unlikely, keep in mind that Ruller once won a car on the famous game show Price is Right, the chances of which are microscopic.
Ruller tends to accomplish everything she sets out to do, which is a byproduct of the lessons Edward gave her many years ago. Grit has been a necessity to overcome obstacles. She has always understood that, especially in football.
"I always compete for what I want," Ruller says. "It's a recurring theme in my life. Nothing has come easy for me, not a single thing given. I didn't have any "ins" in this industry, not a friend or family member.
"I made it happen. That's where my confidence comes from."