After several high-profile defections from the tablet market last year, competitors to Apple's iPad continue with dogged determination to topple the market-defining device, but the latest figures suggest their efforts are just not working – and that the iPad is set to kill off a range of copycat business systems.There's no need to be stubborn about it: forcing users to use tablets they don't want isn't going to make anybody happy.
US firm ChangeWave Research found that over one in five companies is planning to buy tablets for their employees during this quarter – and 84% of them will be iPads.
That may come as little surprise to those already using iPads, but what is most surprising about the figures is that they represent a 7% jump since the last ChangeWave survey.
That's right: not only are iPad rivals failing to dent Apple's market share dominance, but they are actually losing ground as a resurgent 'new iPad' raises the bar for rivals that have already struggled to differentiate themselves. Devices from Samsung, in second place, accounted for just 8% of planned tablet sales – down 2% from the last survey.
This is a significant finding because it goes contrary to the fundamental tenets of competitive markets – which suggest that the more players in a market, the lower the market share even leaders will be able to secure. ChangeWave's figures suggest that despite a market that's filled with putative functional replacements, iPads are only getting more and more popular.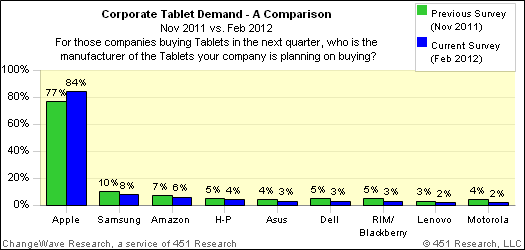 Part of their appeal, in the business mobility space at least, is a multi-purpose design that's outstripping the ability of even recent unified-computing (UC) systems to keep up. UC was sold heavily on its ability to deliver newfangled IP-based phones with fancy features like videoconferencing and a corporate phone book – but an iPad can do this and more out of the box.
Cisco Systems, which is big in the UC market, has tried to acknowledge this trend with the launch of its own tablet – the Cius – but the device remains irrelevant for most users, largely because it's only intended for business users.
But why buy it? If you can get the same functionality from an iPad that both meets business requirements and keeps employees happy – well, why not? Apple design guru Jonathon Ive addressed this in an interview this week by pointing out that the company's rivals are working so hard to make their solutions different that they're not paying enough attention to making them different.
Sure, there's value for many people in thinking differently – but there's no need to be stubborn or dogmatic about it. If the iPad is the best and most accepted solution out there, the latest figures show, companies are just going to buy them. As the BYO computing trend has confirmed, there's no point pushing unwanted mobile devices onto employees; go with the flow and the transition will be easier for everyone.
Has your company bought tablets other than iPads? Why?
[HY13] [Original here]