After the iPad appeared last year and defied critics' initial scepticism by selling in the squillions, it was inevitable that Apple's competitors would try to cash in on its success with tablets of their own. Yet I don't think even Apple could have known how spectacularly its competitors would end up failing – even without its involvement.
HP's TouchPad, anticipated both because it was a promising new product and the tablet incarnation of a mobile operating system that had by all reports been not bad at all, famously imploded within days of its Australian launch, forcing Harvey Norman to push its stock out the door at irresistible prices.
Recognising that large stocks of non-iPads represented a significant inventory risk, Harvey Norman later began a promotion in which it would give away a Toshiba tablet with the purchase of a Toshiba laptop. Not only does that kind of put a bullet in the head of that whole tablet-as-a-laptop-replacement thing, but it shows just how hard the iPad has made things for everyone else. Tablets have become the new fries, as in "would you like fries with that?"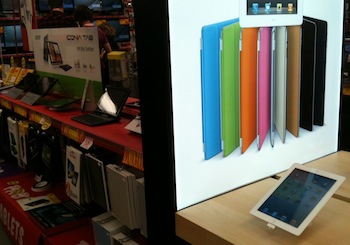 It has proved extremely hard for rival tablets to get out of the iPad's shadow; turns out that if you offer a rival that's only almost as good as an iPad, people just buy an iPad.
More recently, Telstra has killed off its T-Touch Tab, just a year after its launch. Apparently, consumers are more sophisticated than Telstra believes – and haven't really warmed to a stripped-down, underpowered tablet with terrible battery life and a touch screen so flaky it's likely to make you throw it off a bridge. I've already opined at ZDNet that our carriers are missing the boat with their lowest-common-denominator, and Telstra's concession to Apple hardly changes that.
Sony, thankfully, has aimed a bit higher, this week pushing its Tablet S into the shops and showing that the company still isn't afraid to toy with the prospect of unmitigated disaster.
The S tablet is like most other Android tablets out there, but with a slightly smaller screen. It runs Android 3.1 'Honeycomb', which by all accounts provides a great user experience but has stuff-all applications optimised for it. It costs the same as the iPad, which some have warned is not really a strategy to take if you're trying to compete with a powerful market incumbent.
So far, it sounds pretty much like a Motorola Xoom or Acer Iconia with a tier-1 badge on it. But, and this is the most important thing, this tablet is also basically a PlayStation you can carry around with you. Just like on a PSP, you can download PlayStation games and while away your time pretending the S tablet has real game controls rather than slapping pictures of controls on the clear glass screen.
...but if it can behave like something else altogether, could that make a difference?
Control issues aside, this is a great distinguishing feature and one that is exclusive to Sony, whose PlayStation franchise remains hugely popular. Sony is apparently also considering ways to bring its PlayStation environment to other devices, too, although if I were Sony – and, just for the record, I'm not – I wouldn't be rushing to give my competitors the one thing that makes my tablet truly unique.
Whether or not this approach will fly, I cannot yet say; it seems to me most people who are interested in playing PlayStation games while on the go already have a PSP. That said, I can imagine the ability to play good games on the tablet will appeal to many buyers who need a tablet anyway, don't want an iPad, would happily plug in their tablet to their TV for a good gaming experience, and will value the extra little things Sony has packed into its device. It's like getting a double-yolked egg: you're having eggs anyways but that nice little extra doesn't hurt at all.
That doesn't mean we won't see the S tablet pushed through Harvey Norman's clearance bins if it fails to take off in the season's Christmas season. But in a world filled with cheap Chinese knockoffs that suffer from terrible battery life and other nuisances, it's good to know at least one company is stuffing in extra goodness for consumers.
Research In Motion tried the opposite approach, taking features out and hobbling its otherwise respectable PlayBook with a BlackBerry umbilical and the inability to check normal email. Judging by RIM's recent disastrous results and a dismal outlook for the future, it could be the death of the company.
So much for thinking different.
Even the Samsung Galaxy Tab 10.1, which apparently offers little extra value-add except its ability to do an extremely convincing impression of the iPad, is now looking iffy here. Turns out consumers actually like this device; maybe "slavishly" copying the iPad, if done correctly, is the only way to get leverage in this market after all. Apple's attack on Samsung shows exactly who Apple considers its biggest problem at this point in time. If Apple gets stuck into Sony, that would be the best indication that it's on the right track after all.
What killer extra features would convince you to buy a tablet other than the iPad? Has Sony nailed it?
[HY02] [Original here]