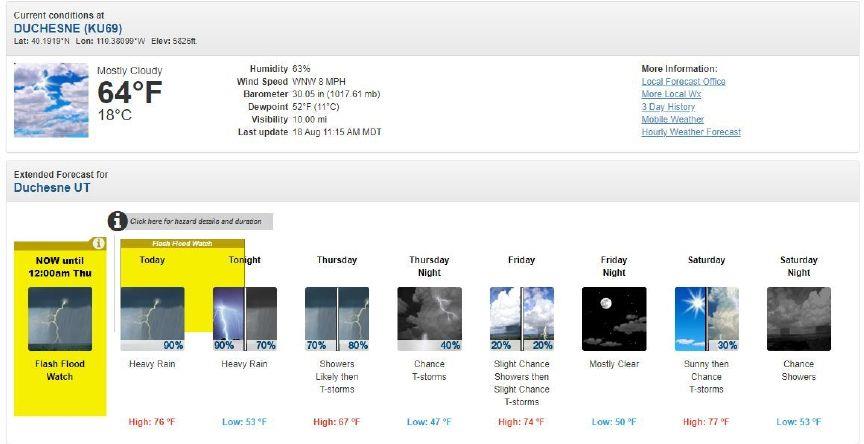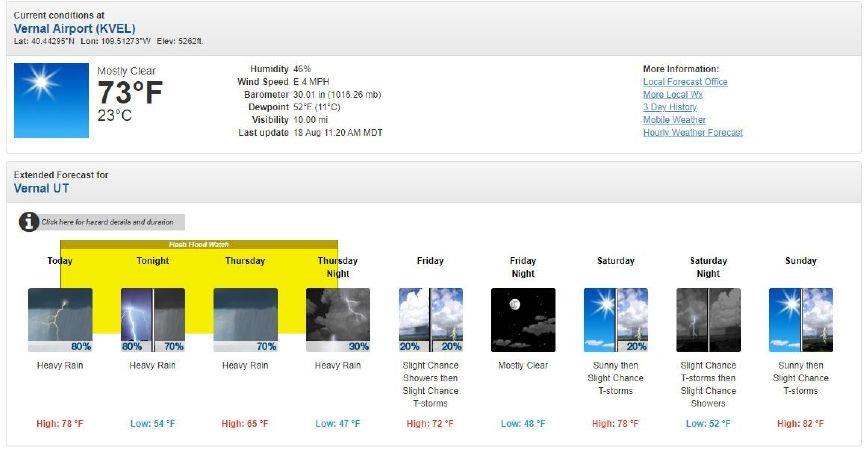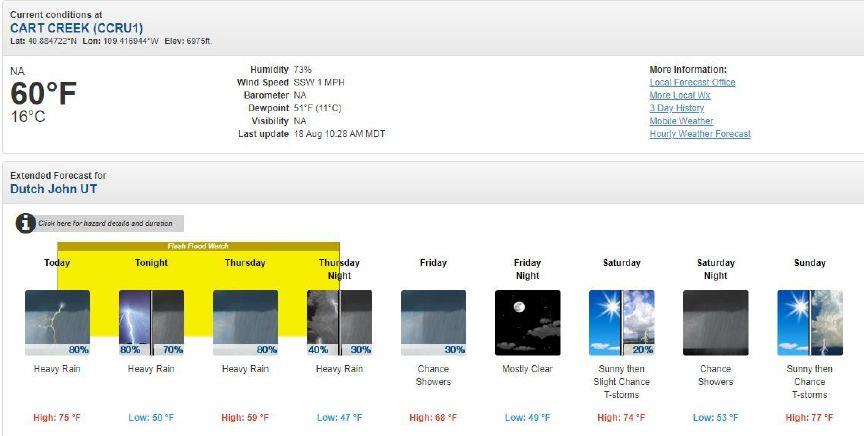 The National Weather Service has issued Flash Flood Watches and Hazardous Weather Outlooks for areas in Duchesne, Uintah and Daggett counties for the large thunderstorm moving through northern Utah and southern Wyoming.
Duchesne County
The National Weather Service has issued a Flash Flood Watch including the Western Uintah Basin and Western Uinta Mountains including Moon Lake, Duchesne, Mirror Lake Highway and Roosevelt. The watch will continue through the evening of Aug. 18.
"Thunderstorms will increase in intensity again and will be capable of producing torrential rainfall across the watch area through late this evening," the NWS alert states. "Heavy rainfall may result in flash flooding. Debris flows are also possible near recent burn scars."
From Thursday, Aug. 19 to Tuesday, Aug. 24, there is potential for localized heavy rain.
Uintah and Daggett counties
NWS has issued a Hazardous Weather Outlook for the Uinta Mountains, Wasatch Plateau/Books Cliffs, Western Uintah Basin, and more. The outlook covers two-thirds of Utah and southwest Wyoming.
The NWS issued a flash flood watch including the Eastern Uinta Mountains and Eastern Uintah Basin. This includes Dinosaur, Manila, Dutch John, Vernal, Jensen, Ballard, Fort Duchesne, and more.
This watch is in effect from noon Aug. 18 through Thursday evening.
"A system moving across the region in addition to monsoon moisture will support strong thunderstorms capable of producing heavy rainfall Wednesday afternoon through Thursday evening," the second Watch states. "This watch includes the Pack Creek and Pine Gulch Fire Burn Scars."
The second weather outlook is for eastern Utah and western Colorado.
According to NWS, thunderstorms will increase with rainfall and gusty winds on the 18th. Hail the size of quarters may develop.
Prolonged precipitation could cause runoff issues for burn scars including the Grizzly Creek burn scar.
Be aware of flash flooding.
From Aug. 19-24, heavy rainfall will continue.
"There is low probability that a few storms could produce large hail over eastern Utah Thursday (Aug 19) afternoon as well," NWS states. "Burn scars and steep terrain will remain under the highest threat for flooding and debris flows into Thursday evening. These threats decrease on Friday as the storm lifts eastward."
For information from NOAA and NWS, visit http://weather.gov/saltlakecity.
To see if roads are impacted, visit http://www.udottraffic.utah.gov/roadweatherforecast.aspx.