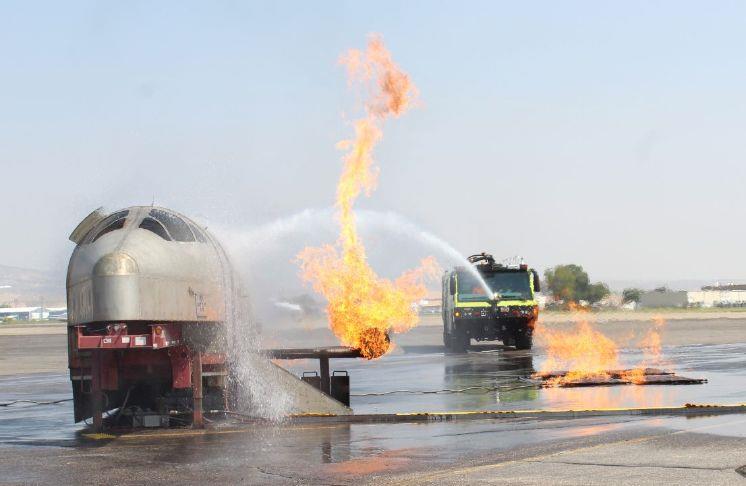 Firefighters and crew prepared for emergencies at the Vernal Regional Airport on Sept. 8-10 with Innovative Mobile Live Fire Drills.
According to 139Fire Live Fire trainer Keith Blackburn, the Federal Aviation Administration requires airports to have a live burn yearly. He and another trainer are one of several teams that bring a fire simulator to airports around the country.
The ARFF Training helps teams focus on using drill solutions on vehicles at local facilities.
According to Ken Campbell, Vernal Regional Airport manager, bringing the simulator to Vernal saves money and helps train not only Vernal people but fire teams from Cedar City, Moab and St. George.
Teams from the four groups work together and share the resources and costs of the simulator. This consolidated training is efficient for the other departments too – it's easier to send someone from Moab to Vernal than to another state and reduces costs.
Campbell said bringing the simulator to Utah is more affordable than having staff travel to another state, such as Texas, and have additional costs like travel, hotel and other expenses.
According to Blackburn, in an emergency scenario, all hands are on deck.
The simulator can mimic several types of emergencies including fuel spills, engine fires, a side fire, or a fuel truck on fire next to the airplane.
Vernal's green Airport Fire Fighting Vehicle, affectionately known as ARFF, is a huge green hulk of a vehicle.
Blackburn said having teams using their equipment is key because it is the same PPE and equipment they would use in a real scenario.
Campbell said he was grateful for the team he has and the support of volunteers and firefighters who help cover the airport during weekends and holidays.
While the ARFF has four types of fire suppression technology, to save costs, the simulation used water.
According to Campbell, the truck holds 1,500 gallons of water and 300 gallons of foam. While the crews train for small airplane scenarios, Campbell is confident that the airport can also handle a larger emergency.
The scenario he offered was a plane heading from Denver to Salt Lake City and having an emergency. He said the airport could help.
The firefighting crews worked in teams, first in the truck, and then on the ground in heavy turnout gear, to extinguish fires in the simulator. Through smoke and haze, the flicker of fire met streams of water that helped the men and woman train for a live scenario.
Blackburn offered tips such as making sure balance was appropriate in the heavy gear while navigating steps and how to move in a tight space such as an airplane.
Between Blackburn, Campbell, and Uintah County Fire Suppression SSD executive director Jeremy Raymond, the teams ran through drills and scenarios in a real group effort.
According to Raymond, 30 firefighters and crew went through the training over the week.