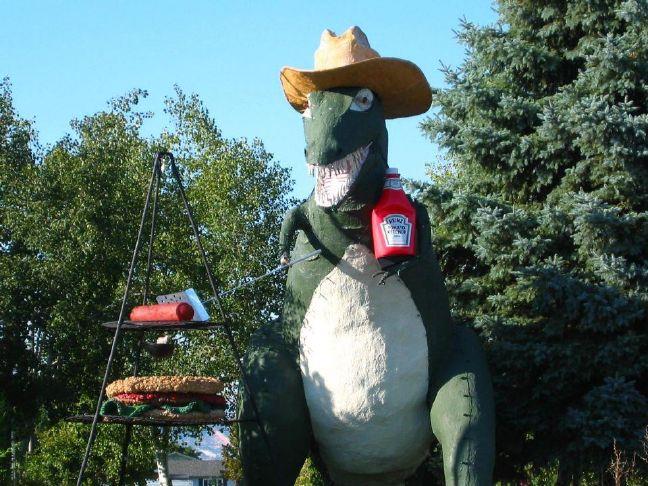 Thanks to community generosity, Vernal City has reached the fundraising amount it needs to restore the large green T-Rex in Vernal. The city wants to have him repaired this summer.
The GoFundMe account set up through Charitable Friends of Ashley Valley will be taken down on May 25. That page will show the funding incomplete, having raised $17,872 instead of the goal of $30,000, but donations came in through other channels.
Paid donations totaling $3,485 went directly to Charitable Friends, and an anonymous local donor gave $10,000.
"The T-Rex is funded, it's awesome news," Vernal City manager Quinn Bennion said with a smile. "All local funds."
The city still has $10,000 budgeted for repairs. Thanks to the many donations, that money can go toward island safety and upgrades for the island T-Rex lives on.
Previously, Quest Crypto chief marking officer Michael Waters approached the council about a potential contract to see if non-fungible tokens were a possibility for fundraising. Vernal City decided on May 24 not to go forward with the contract because the fundraising goal was met. The council thanked Waters for his proposal. The council spoke about leaving the option open for future fundraising for other projects if it is needed in the future.
"Mayor (Doug Hammond) and I felt like where the council made the motion to go forward with it, we needed to meet again and see if that was still of interest or if we're looking at a future date or something," Bennion said.
Councilmember Ted Munford said that he didn't feel the need to move forward with looking into a contract. Councilmember Robin O'Driscoll agreed.
"This was a community effort, a very positive community effort, and I'm proud to be part of that, as I'm sure everyone else is," Councilmember Dave Everett said.
"That's the biggest thing we have in Vernal, that's the best thing we have in Vernal, is our people," Councilmember Corey Foley said.
"I wish him (Waters) well, but I think at this point, I'm satisfied with the amount that's been raised and very appreciative of the people who've been willing to donate," Foley said. "When money's tight and inflation's high and people don't have a lot of extra, that's when the people of Vernal really shines, when there's a time of need or a crisis, people step up in this community."
Typically, a motion would be made either for or against the idea, in this case looking into the contract regarding the NFT. However, when no motion is made, a topic drops. Per City Recorder Roxanne Behuhin there was a consensus.
"Our community has been so supportive of this rebuild proposal that we have raised enough funds to take care of it and everybody can say they were a part of it," Vernal City Mayor Hammond said.