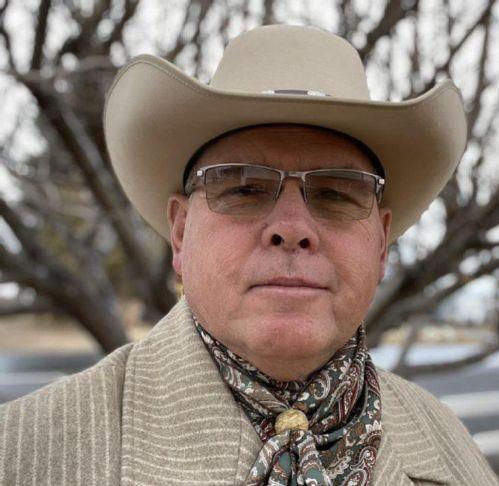 (Editor's note: this is one in a series of articles introducing the Uintah County Commission candidates.)
Willis LeFevre feels he was inspired to run for Uintah County Commission Seat B.
"I've never dreamt of being a county commissioner, I've never dreamt of being a politician," LeFevre said. In mid-December 2021, he was on his tractor, feeding the bulls, and he stood to open the door of the tractor."
"As I stood up, I had a very strong impression, just spoke right to my heart, it said, 'run for county commissioner," LeFevre said. "I looked straight up, and I said there's no way in hell, I am not interested, I don't want any part of it, I'd rather be swallowed by a large fish than be involved with it, and I left it at that. I couldn't get peace, I couldn't sleep, I couldn't get it off my mind, to run for county commissioner, I just couldn't get rid of it."
Three weeks later, after discussing it with his family and praying about it, he signed his intent to run and immediately felt peace.
LeFevre grew up in Garfield County, where his family raised cattle and sheep. His family also operated the Bryce Valley Drive-In where he pressed hamburgers and peeled potatoes. He graduated from Bear River High School in Garland, Utah, and then served a missing for the Church of Jesus Christ of Latter-day Saints in Alabama.
His father sent him articles from the Vernal Express about fishing and hunting in the Uintah Basin. A summer job at Halliburton turned into a 35-year career where LeFevre worked, first spending 15 years in the field, and then becoming a procurement manager, materials manager, and logistics manager.
LeFevre worked on special projects for Halliburton, including working on global processes for material procurement and logistics.
"I was able to put a team of people, employees, some of my employees from the Basin to work together on those global projects," LeFevre said. "These Basin boys are smart and they're bright and they have a different perspective, we have a different perspective than a lot of different areas do, and it served well. We were able to do our work, writing business processes for rail, for pneumatic freight, and work methods for a global basis."
LeFevre said a way forward through planning is to be open-minded to new ideas, collect all of the ideas, and be respectful.
"I know that the way I operate in my business for so many years there, and I realize that my people were my power and if I could support my people, I could be successful and that's what I really needed to do."
LeFevre said that the Basin has an "untapped gold mine" in the natural resources and outdoor opportunities. LeFevre suggested a charter service to Last Vegas would allow corporate trips for Paddle Fest and Vernal's Dinosaur Roundup Rodeo.
One solution LeFevre proposed for affordable housing is tiny homes, similar to what Vernal City and Ballard City are looking at.
Communication and finding diverse sources of income are two of the biggest issues facing Uintah County, according to LeFevre.
"It's not going to happen soon, but it's inevitable where we rely so heavily on our mineral lease money, and the way the world, just not the US, but the world is pushing green, and I don't have a problem with it, but we just have to be responsible," LeFevre said. "We can't break everyone and destroy society in the process, but we will get there one day. We have to find other sources of revenue besides mineral gas money, mineral lease money."
LeFevre suggested one path forward could be similar to the cost-effective trail systems that St. George has for mountain biking. He also suggested importing items through the Uinta Basin Railway such as chicken feed and soybeans.
"I don't want to see any hay exported out of here, I don't want us to ship our cattle," LeFevre said. "I would like to see us be able to put in an infrastructure to keep our cattle local, to use our own stuff and import some of those cheap beans on the rail spurs everywhere, it's a matter of buying up some resource shipping it here and putting in our own packing plants, and there is some of that going on, and fill our own stores and restaurants with Basin beef and become a little more self-reliant in so many other ways that way."
The top priorities moving forward for LeFevre are unifying the departments and maintaining infrastructure.
"I still think there are holes in the procurement end of things, and the last few days I've been reading the procurement process, but obviously I think there are ways to shore that up, that's part of my background," LeFevre said.
"Water is always a big one," he said. "I think we need to focus more on the core things that a government needs to do – clean water, clean air, sewer, fire, police protection, those kinds of things are so core to what governments do and I think when we can entertain our people and have recreation opportunities, that's a bonus, but I don't see that as a core to what the county government needs to be. Anywhere we can privatize those and create private opportunities for private enterprise, it's an absolute must."
LeFevre said that his 35 years in the oil and gas industry and ranching since he was a child make him a strong competitor for the commission seat.
Willis thinks that people would be surprised that he can't sing, but he secretly loves to.
He said that all of his family sings or plays instruments.
"I can't sing, but I do, I really, really love to sing, I enjoy singing, but it's probably one thing that no one likes to know that I do it," LeFevre said. "I drive back and forth to the ranch every day and change going over Farm Creek and I sing."
LeFevre said that many tasks of the commission job relate to people in the departments.
"Supporting and working together as a cohesive unit, you don't have to handle the tasks yourself, but you have to ask the questions, you have to have courage and then you have to trust them," LeFevre said.
"I have had a very rich and blessed life here," LeFevre said. "I had so many opportunities to move and go on, they tried to get me to go to Angola, they tried to get me to go and be the country manager for Canada, that's a hard job to turn down, but we wanted our family in the Basin. We love the Basin. We love the lifestyle. We love the people here, they're different, and I just want to express gratitude for the county, for all those who have served in any way."