Dear Writers,
It's a tough time right now for all of us. My heart goes out to the people who are hurting right now and the many brave caregivers and front-line workers who are doing their best to help those who need assistance.
I know it's kind of crazy out there right now. Who saw this coming? Probably Michael Crichton, but since he's not here to give advice, I thought I'd help out in my own weird way.
One of my favorite characters, Julia, likens our current situation to the first few stages of a zombie apocalypse and has had ample fun telling me exactly how to survive the months ahead.
We may struggle as writers and artists right now, but there is a brighter, lighter side.
The good news is we are inspiring people and helping them through a dark time in humanity's history. Since the first storytellers gathered around campfires, writers have inspired others. Our legacy is long. Let's keep it going.
You are an essential part of this puzzle of life.
Your words are important.
Your visions are essential for getting us through this crisis and the ones ahead.
Keep that idea in your heart as you create and as you share your visions with the world.
You are supposed to be right here, right now, working on your work. So says the universe.
This is a free book I created to inspire you and help you in times of trouble.
The Writer's Pocket Book of Inspiration: Pandemic Edition.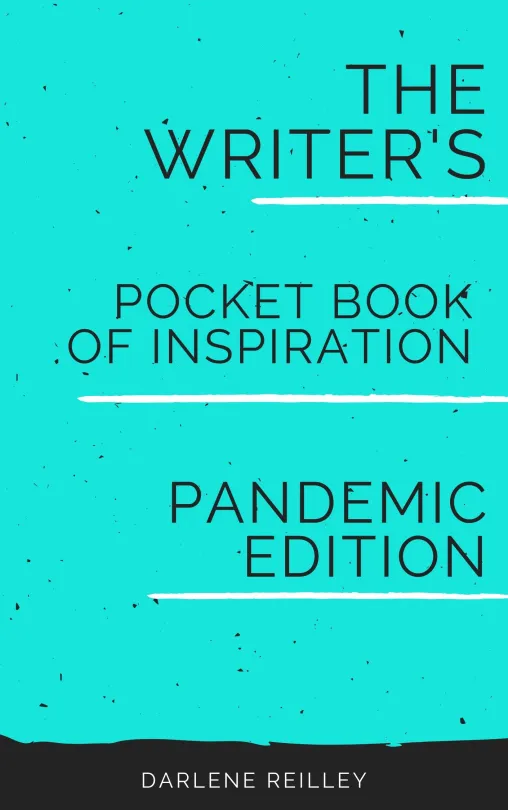 I hope it helps.
Write on,
Darlene
And if you are lonely and want to email me pictures of puppies or a plot twist, go for it – I'm here for you! dreilley7@gmail.com
Enjoyed this? Buy my books.