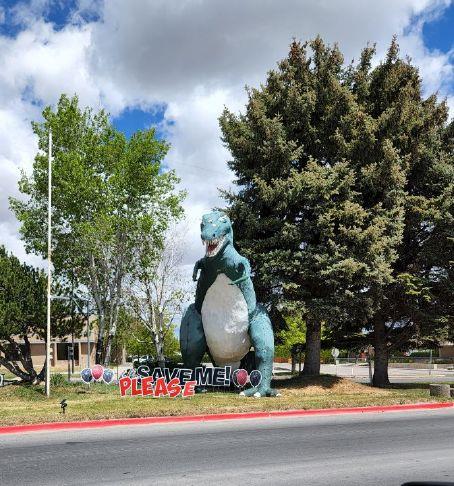 The public is responding to Vernal City's request to "Help save T-Rex." As of May 14, the GoFundMe account shows $15,727 donated by 195 people. The GoFundMe goal is $30,000.
According to Darlene Burns, with Charitable Friends of Ashley Valley, a local 501c3 non-profit, approximately $1,500 additionally has been donated through the Vernal Area Chamber of Commerce.
Some companies have donated including L&L Motor Company, Pickett Pest Control, Kook Company, and Dinosaur River Expeditions.
The uniqueness of the project has garnered attention from people including the staff of GoFundMe.
"I came across this delightful fundraiser that brought me some joy today, and I thought your team might love to see it, too," said Kelsi Lynn from GoFundMe. "Over the (first) weekend, supporters contributed nearly $10,000 – about 33% of the goal. As a friendly reminder, donations to registered charities, such as this one, are typically 100% tax-deductible in the U.S."
"He has fallen into disrepair and needs to be resurfaced and painted. Thousands responded to the community online survey to save T-Rex," Burns said. "Vernal City Council supports the majority views of the survey to repair the green dino and keep him at the current location."
Burns said that Charitable Friends of Ashley Valley was happy to help with the project.
The dinosaur theme in Vernal is based on Dinosaur National Monument, which is next door to the city. When George Millecam constructed the dinosaur, along with Dinah and others, he did so as an attraction for the Dine-A-Ville Motel.
Even now, the dinosaur theme is a reason people come to eastern Utah.
"If donations exceed the goal ($30,000), the funds will be used for landscaping on T-Rex's island and safety measures," stated the city.
Vernal City set aside $10,000 to help with repairs for the dinosaur, which was estimated at $30,000.