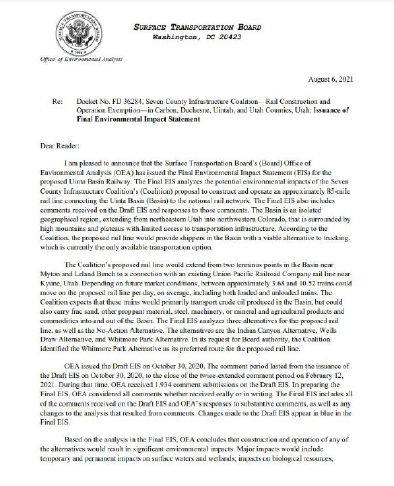 The Surface Transportation Board Office of Environmental Analysis released its final Environmental Impact Statement about the proposed Seven County Infrastructure Coalition's Uinta Basin Railway on Aug. 6.
The 637-page statement starts with a letter from the Office of Environmental Analysis acting director Danielle Gosselin.
The proposed UBR would connect Myton/Leland Bench to an existing line at Kyune, Utah. The rail would be constructed to carry Basin oil and may later carry other products.
The Office of Environmental Analysis received 1,934 comment submissions on the Draft EIS between Oct. 30, 2020, and Feb 12.
"Based on the analysis in the Final EIS, Office of Environmental Analysis concludes that construction and operation of any of the alternatives would result in significant environmental impacts," Gosselin said in the EIS. "Major impacts would include temporary and permanent impacts on surface waters and wetlands; impacts on biological resources, including federally listed threatened and endangered species and other protected species; permanent changes to land uses on public and private lands; and noise impacts on residences near the proposed rail line during rail operations."
"In the Final EIS, Office of Environmental Analysis identifies the Whitmore Park Alternative as the environmentally preferred alternative because it would avoid or minimize major environmental impacts compared to the Indian Canyon Alternative and the Wells Draw Alternative," Gosselin said.
In a press release, the UBR stated that the release of the EIS was a "major milestone."
"The release of the Final EIS is the culmination of years of hard work and collaboration between the Seven County Infrastructure Coalition, our private partners, our Tribal partners, as well as stakeholder and public agency input," Mike McKee, Seven County Infrastructure Coalition executive director, said. "I am pleased with the current pace of the project and look forward to the future positive impacts of the railway in our rural communities."
There will be a 30-day cooling off period.
The Surface Transportation Board will review the EIS and issue a final decision about the rail line who can approve or deny a license.
"It's our hope that all the permits will be put in place before the end of the year," McKee said.
The UBR timeline has an estimated design timeline of 2022 and the construction to take approximately two years.
There are still hurdles to overcome for the project including permits that need to be sought and there is ongoing litigation regarding the Petition for Extraordinary Relief brought by the Living Rivers and Center for Biological Diversity v. Utah Permanent Community Impact Fund Board, Utah Department of Workforce Services, Housing and Community Development Division and the Seven County Infrastructure Coalition.
To see the final EIS, visit file:///C:/Users/Editor/Downloads/Uinta%20Basin%20Railway%20Final%20EIS.pdf.