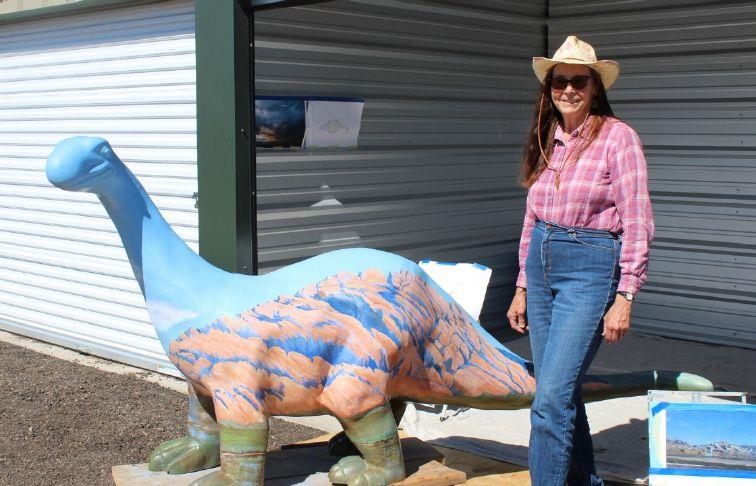 A six-foot-tall dinosaur was revealed when local artist Jeannie Newman opened the rolled door of her storage unit one hot July day.
"This is Cretaceous Clyde," Newman said with a smile.
Newman, an artist with mixed media experience, was delighted to be one of two artists from the Uintah Basin Visual Arts group to win grants to paint two aluminum dinosaurs for display in downtown Vernal.
The funding, coordinated by UBVA, is from the Rural Economic Development Community Arts Grant, which encourages local artists and aims to increase the impact of the arts.
Newman's inspirations for the project were Split Mountain and Steamboat Rock where the Green River meets the Yampa River.
"How time and how light progress across the surface of these massive monolithic rock structures is what intrigues me," she said.
Clouds sweep across the 130 miles of the Uintah Basin and create interesting forms on the rock surface just before sunset.
Newman said that for her, Split Mountain is "emblematic of Vernal."
"When I take the time to really see what I'm experiencing in order to express it, I get to live in that moment where I sat at the foot of Split Mountain or where I sat at the confluence of the two rivers," Newman said. "I took a moment to reflect when I was there and then I took about 40 hours to reflect on painting this dinosaur, so that whole time, I'm living in this place of appreciation and gratitude for where we live. That's what I want to pass on to other people, give them just a minute to look at something that reflects where we live and the gifts that are all around us."
There were a few challenges due to the drying speed of the paint and the logistics of working on a metal dinosaur.
"The hardest part was either to be on my hands and knees or in a squatting position for long enough to do this and to move around quickly enough in that position as the paint was drying, it dries faster depending on the temperature," Newman said. "I got to do a lot of yoga while I was painting this dinosaur."
Even though she worked outside, she had to wear an activated charcoal respirator and limit exposure time because the paint fumes are toxic.
Newman said that she liked the challenge of creating the reflection of the rock in the river because it was the hardest part to paint. She also enjoyed incorporating the shape of the dinosaur with the shape of the rock.
"I think it's about sharing what we love with other people, and we love Vernal, we love our dinosaurs, we love our paleontological heritage, and we love our beautiful skies and landmarks," Newman said. "It's about sharing the love."
Newman retired from the Bureau of Land Management after 14 years and went full-time as an artist. She encourages young artists to experiment with multiple mediums.
"Anything worth doing is worth doing poorly so that you can learn to do it well," she said. "It builds momentum to wherever you're going to end up, to try things on the way that are of interest to you and allow yourself the breathing room to experiment and to be enriched by other people along the way, inspired by other people on the way too."
She has been inspired by Maynard Dixon and Edgar Payne. Payne's book, "Composition of Outdoor Painting," is a fundamental resource. Locally, Newman connects with painters through UBVA, Plein Air, and visiting artists through Lori Burchinal's studio.
"Even though I've probably painted Split Mountain at least a dozen times now, it still remains the ruler of my creative force," Newman said. "I want to try and see if I can look behind it, maybe from the north and looking south and just get all of the different points of view of that."
She enjoys seeing the different perspectives of the rock and how light plays on the rock.
"In the community, it's important because it puts us on the map too, we have such unique and diverse talent here and such beauty…we want to share that with other people."
"What I'm trying to say with my artwork is here is our earth, I love our earth, I want to show you that I love our earth," Newman said. "It's important that we respect our earth and that we respect each other enough to respect our place on earth together."
Isaiah Hoppe also created a dinosaur. His work and inspiration will be focused on in another article coming soon.