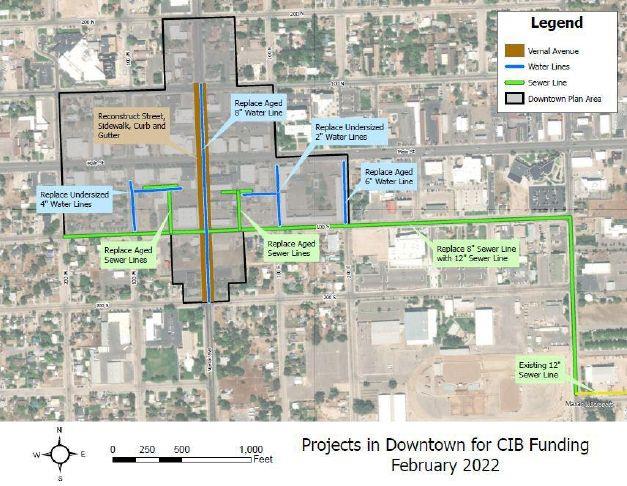 Vernal City will replace aged water and sewer lines in the heart of the city. Some of the pipes under the city are orange cast iron and at least 50 years old.
"These are some of the oldest lines in the city," Vernal City manager Quinn Bennion said.
The Vernal City Downtown Street and Utility Project is a part of the Vernal Downtown Plan. It impacts approximately 10,300 residents and all visitors through the area because Main Street is the main artery of the town.
Vernal City was approved for a combination grant-loan from CIB totaling $4,992,000 ($2,992,000 grant, $2,000,000 loan at 0.5% for 30 years).
According to the city, the sewer line under Main Street is eight inches and will be replaced with twelve inches. The larger sewer line will go from approximately 200 west to 500 east and then follow 500 east, attaching to the sewer trunk line that services the area.
On some cross-streets, including Vernal Avenue, smaller water lines will be replaced as well. This should improve the pressure and accommodate more capacity.
The street, sidewalk, curb and gutter will be replaced on Vernal Avenue from approximately 100 north to 200 south.
"This project will improve safety in the downtown area for pedestrians and motorists," Vernal City's application to CIB states. "It alleviates impacts due to mineral extraction activities by providing needed upgrades to water and sewer facilities in downtown and improving Vernal Avenue, the principle north-south route in town."
"With the real possibility of the Uinta Basin Railway, the city is planning for potential impacts and growth, particularly in the historic downtown area," the application states. "The plan also responds to the housing needs, particularly affordable housing."
The Utah Department of Transportation has also granted $1.5 million for the Vernal Avenue project.
According to Bennion, these necessary upgrades will also help attract potential investors.
"For people to invest, you need to have solid water and sewer systems," Bennion said.