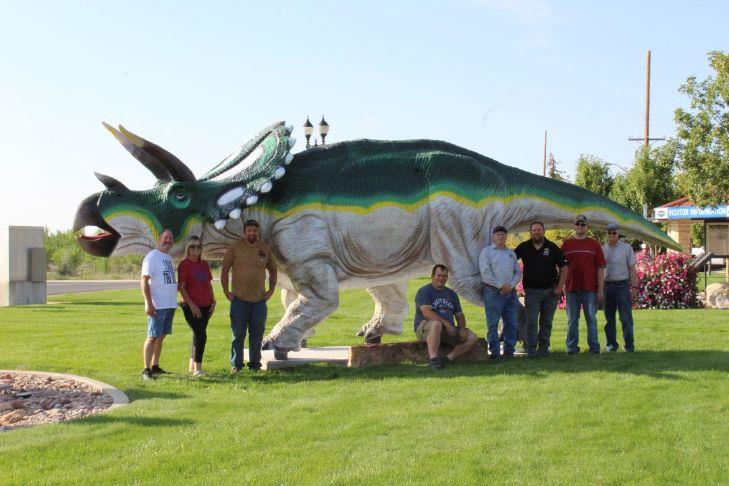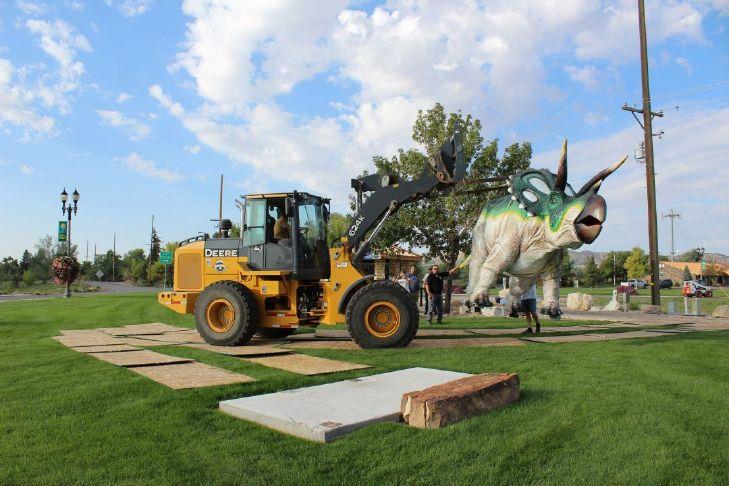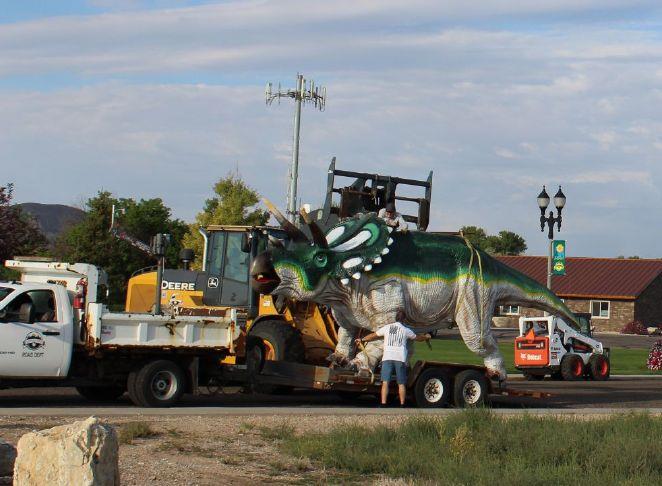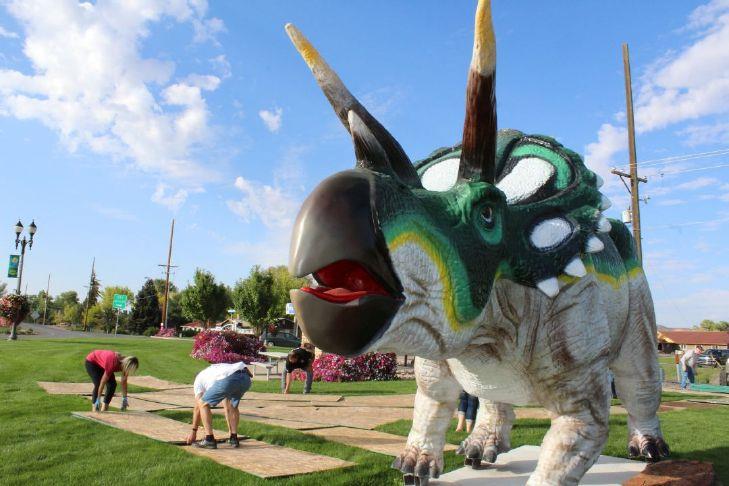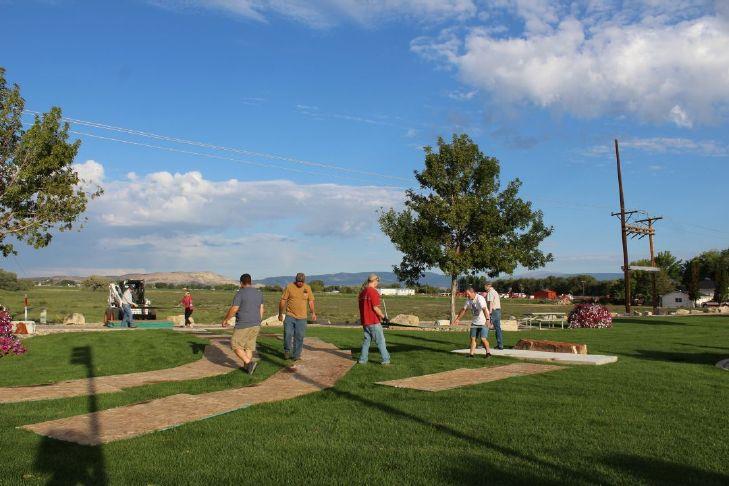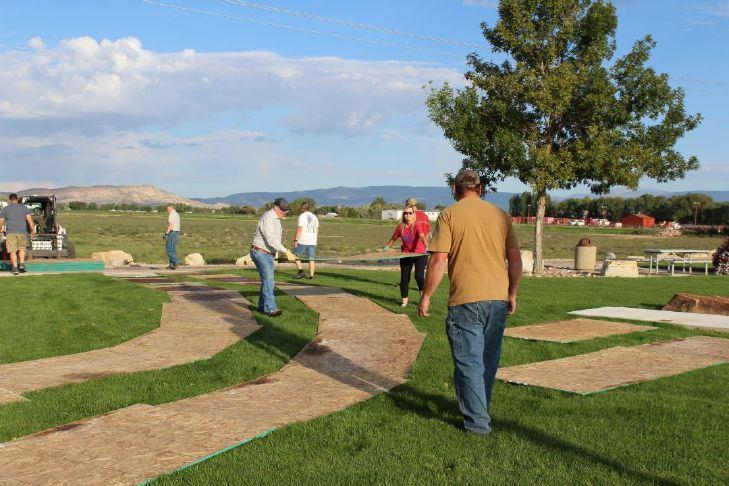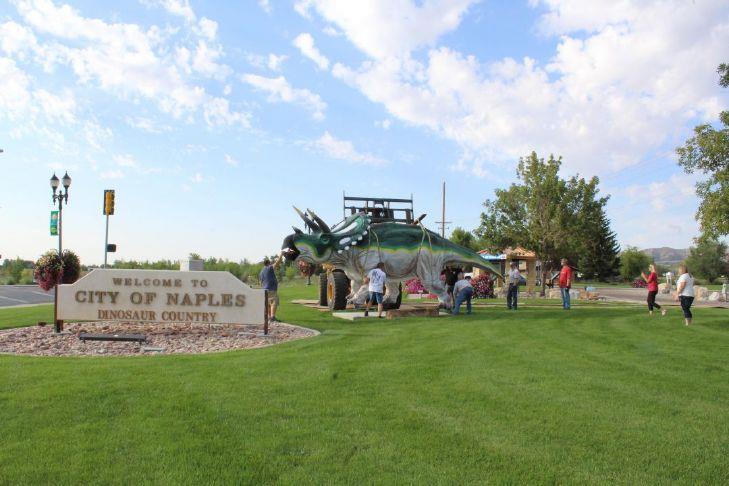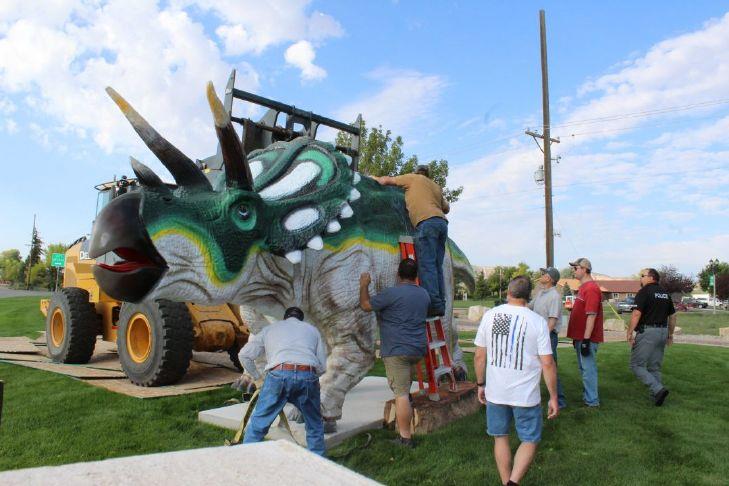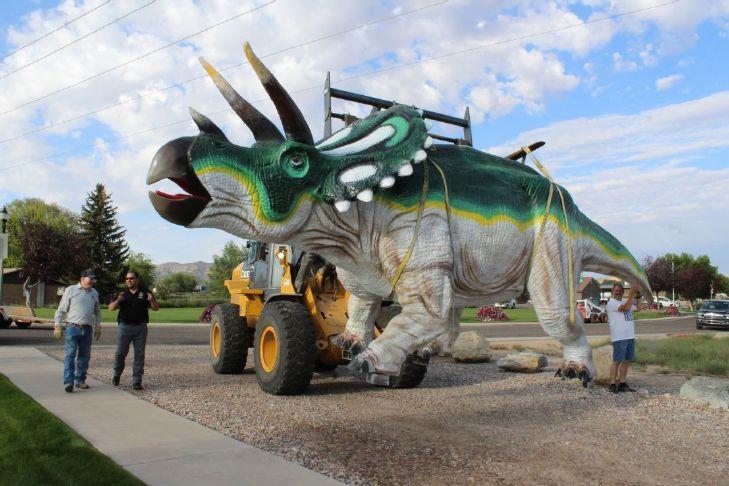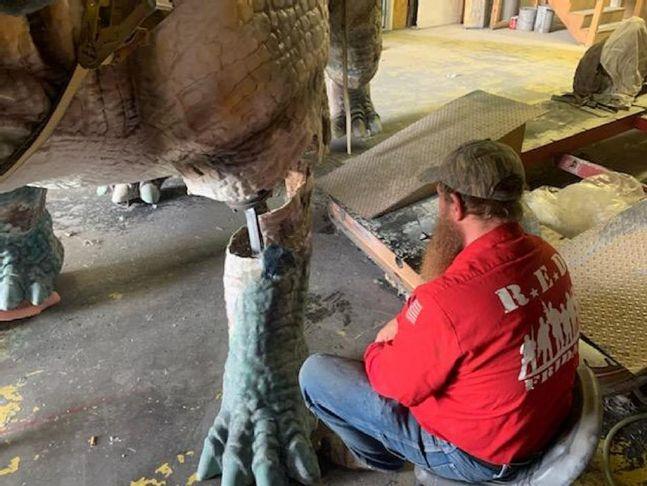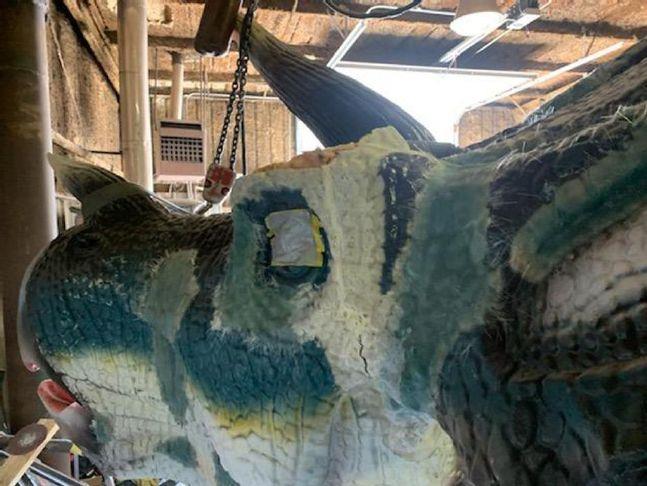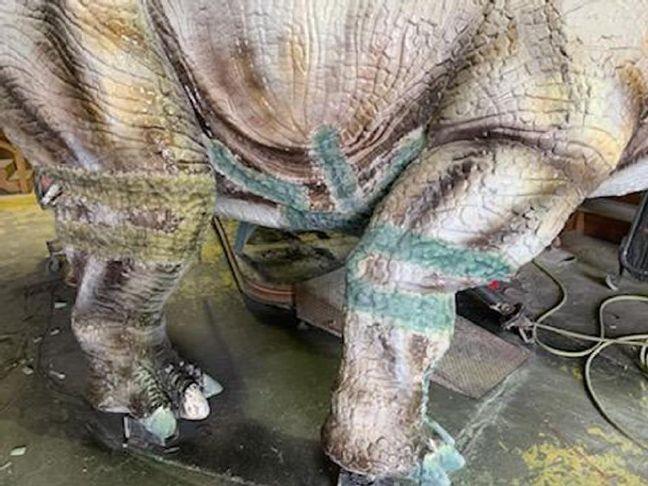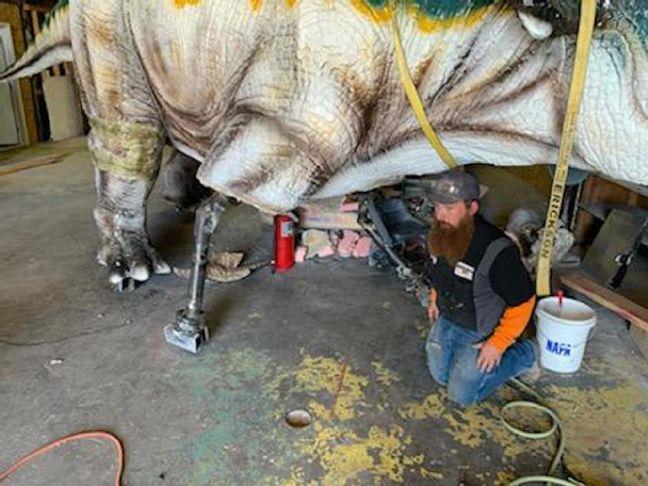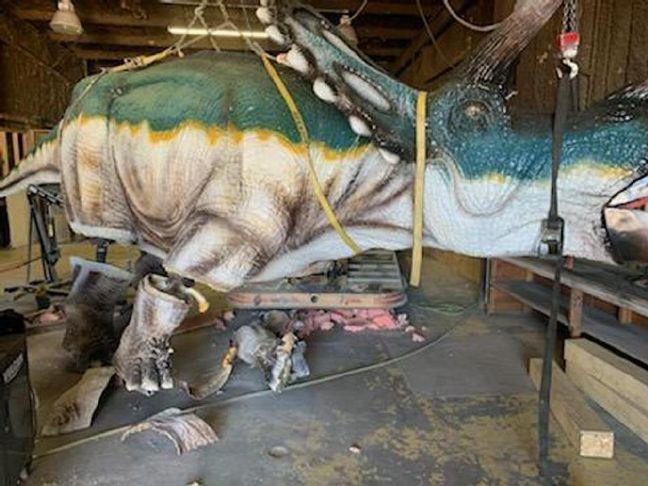 Anyone driving through Naples should take a moment to appreciate a local spot, Lanny the Triceratops is back near the Naples City sign after an interesting summer.
Everyone remembers the dinoslaughter incident.
A driver suspected of driving under the influence and traveling at a high rate of speed hit Lanny the Triceratops in Naples on April 1.
Former Naples City manager Josh Bake spoke with UBMedia in April about the incident. At the time, the city was unsure of how the dinosaur could be repaired, but the team looked locally and overseas for bids.
The answer came from a local source.
Joe Davis and the team at Bad Boys Auto in Naples, Utah, spent the whole summer working on the dinosaur in a bay at the auto shop.
"Every once in a while, we get a job that's a little out of the ordinary," B.A.D. Boys Auto Body posted on its Facebook page. "This one was actually quite fun, putting this big guy back together! He had a lot of bumps and bruises and was even missing a few limbs. Our kids were pretty excited that our shop got to help him out!"
Raymond White is a fiberglass specialist and Ed Moritzky works on custom painting. The team's skills transferred to fixing the dinosaur.
"It went through a lot of work," Davis said.
The dinosaur was impacted with multiple leg injuries and other bumps and bruises.
"I thought that it was a fun and exciting job," White said. "I think it is neat to have done something like that for everyone to enjoy for years and years."
"It was definitely different, but we actually quite enjoyed doing something different, to be honest," Davis said. "It's made out of fiberglass, there are a lot of vehicles with fiberglass on them. We're used to working on fiberglass, just not dinosaurs."
Davis said people have been coming to the shop all summer with their children to visit the dinosaur and see the progress the team made.
"It was pretty fun that way," Davis said. "It definitely drew some attention."
"I had somebody visit the shop the other day and said they didn't know we were veterinarians," Davis said. "I was definitely glad we were able to do it."
Naples City created a humorous video for the League of Cities.
"Naples City fulfilled a once-in-a-lifetime hunting pass when our Triceratops was bagged by a local hunter," Baker said. "Sadly though, the hunter had to forfeit it because it was illegally obtained when he used his vehicle instead of a legally accepted weapon."
On the National Day of Service, Sept. 11, a group of individuals from Naples City, JustServe and locals helped place Lanny back near the city's welcome sign.
The volunteers were directed by Baker and Szeth Simmons from Naples City Building and Grounds.
According to Simmons, the dinosaur weighs 3,500 pounds and has a massive rebar frame. The dinosaur's legs were impacted and its tail was injured.
The volunteers took extra care by placing sheets of plywood down so the front loader that lifted the dinosaur from the truck could successfully move it to its site without harming the landscaping.
"It's awesome," Karyn Laris, a volunteer working with JustServe, said. "He's freshly painted, looks brand new."
As people drive past the dinosaur over the years, this generation will tell the story to their children. The story will be remembered and passed along.