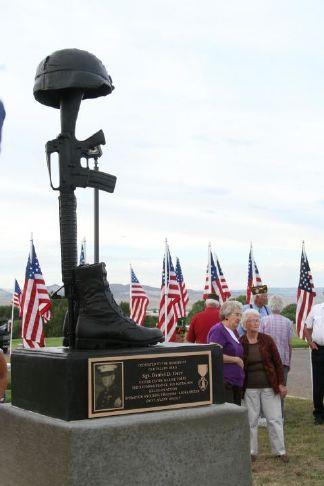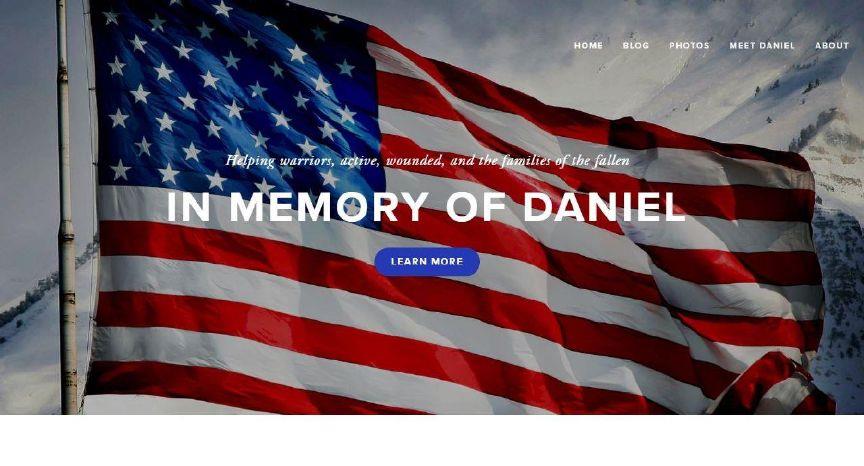 Each May, Americans honor the memories of those who made the ultimate sacrifice so that we can live in freedom.
Here in Vernal, we remember the many by understanding the legacy of one.
U.S. Marine Sgt. Daniel Gurr died in the line of duty on Aug. 5, 2011, in Helmand province, Afghanistan while conducting combat operations.
"When he decided to be Force Recon Marine, it was like okay, it's not that shocking," Tracy Beede, Daniel's mother, said. "Anything adventurous, anything outgoing, anything that pushes his limits, is what Daniel did."
"His whole life was 'pay it back, pay it forward'," Beede said. "That's why he decided to do the military. So, we just basically are keeping on what he would have done if he was here, always just paying back.
When he was 17 years old, with his mother and father's permission, he fulfilled his lifelong dream of becoming a U.S. Marine.
Daniel was 21 years old when he was assigned to the 3rd Reconnaissance Battalion, Marine Expeditionary Force in Okinawa, Japan.
"We don't think about what they've dealt with over there," Tracy said of Daniel's experience in the desert of Afghanistan.
Daniel, like many soldiers stationed overseas, didn't always have access to a shower or conveniences, especially in the field.
"David asked for baby wipes and chew," Daniel's father David Gurr said.
For a soldier on a 10-day hike, far away from camp let alone the nearest Marine Corps Exchange retail store, items like baby wipes, deodorant, candy and other treats sent from home in care packages can make life a little easier.
That need led the Gurr family to the first part of the Daniel Gurr Foundation, sending care packages to Afghanistan for active-duty troops.
"When Daniel first passed away, that's what me and the kids did, was put a bunch of boxes together to send them to his battalion that was still over there," Tracy said. "When they came home, it continued to grow, and that was nice to see."
"Even since then, we've watched little fundraisers from kids put stuff together to send overseas and we've always had offers to help put all those Christmas wreaths out," Tracy said.
Daniel, like most people who grew up in the Uintah Basin, enjoyed hunting and fishing. That love of the outdoors led to the second part of the foundation: hunting trips for veterans that come home. The Daniel Gurr Foundation also sends donations to the Fisher House in Dover, Delaware.
But like Daniel, who liked to keep going, the foundation has expanded to include helping with the local memorials, bricks, service dogs for veterans, and placing Christmas wreaths on the graves of fallen soldiers.
"When me and the kids do Christmas wreaths, we clean up a lot of the old headstones," Tracy said. "A lot of these guys' families are no longer here, either. So we need to remember them in passing, keep their resting place cleaned up, and we also need to remember their families."
"Remember your vets," Tracy said. "Remember why we have the privilege that we have. No matter how chaotic the world is getting right now and remember who you are."
"We're in a crazy world right now as it is, there's a lot of chaos and dividing," Tracy said. "We need to step back and remember we are one country and if we're not united, we're going to be sending over somewhere or fighting in our back yard, the same concept. The rest of the world wants us quiet and we're doing that to ourselves by not being united. We don't have to agree on everything, but we are Americans, and we are one country."
Tracy appreciated the way the community came to support Daniel when he returned by plane.
"When Daniel came home on the plane, we had flags and the whole area was just filled with people and flags and welcome home," Tracy said. "When that plane landed, I have never even contemplated that number one, we had this many people in this town, and they just lined where Daniel was going to be for his last resting place the entire time. There wasn't one fight, everybody was just a community. To say thank you and it was absolutely amazing to me."
Tracy said people often call to ask how they can help.
"The community is still there," Tracy said. "We are very, very privileged to live in this small town."
"One thing that we found out, there's not anyone who really takes records of our veterans that pass. We have to go to multiple different places and find that out, which is really shocking," Tracy said. "So, when people go up to the Vernal Cemetery, we try to put a paper up there, so if we don't have your family member on a plaque, or if you've had a veteran pass away, we do the bricks that are all up there."
"We would like people to get ahold of us, where we can keep going with that, because we don't know until someone calls us and says, hey, my grandpa, or my dad, or brother, or sister passed away and we'd like a brick or their name is not on a memorial plaque for vets."
"That up there for Memorial weekend is very important to us," Tracy said. "Make sure we have all the flags flying up at the Vernal Cemetery because we have that big thing up there. It's remembering. Not the death of your loved one, but the memory. That's what we do, we tell stories, and we laugh and joke because Daniel was a prankster. We do, we honor his life very much so."
"He had no fear, so I'd get phone calls from either neighbors or law enforcement, 'Daniel's on the roof again trying to jump from the roof to the tramp', and I'd tell him to get off," Tracy said. "He was adventurous. He absolutely lived life."
"When he was little, he would trip over his own feet," Tracy Beede, Daniel's mother, said. "That was Daniels' thing, he couldn't run. He was so bad at running. He would trip over his own two feet. He wanted to play soccer so bad, that kid was out there every day, running and doing skills and he became one of the fastest, and even in the military, they would say you couldn't keep up with Daniel on dry ground. He would take his pack and your pack, and he would just go. Anybody who was falling behind, he would grab your pack and say let's go."
"He was always looking out for almost everybody around him," Tracy said. "That was him from the get-go. Always happy."
Daniel was the captain of the Uintah High School soccer team. He often looked out for the freshmen and brought them home for spaghetti dinners.
Some people remember Daniel as captain of the Uintah High School soccer team, a football player, and a good student. Churchgoers remember him as the boy who helped carry books.
Daniel's adventurous spirit inspired his siblings.
"Even his memory pushes them out of their comfort zones," Tracy said. It kind of pushes all of us to better ourselves, knowing he's watching us and telling us to get off our butts and basically do something. He's with us all the time."
Daniel's sister Ashley is a paramedic. Daniel's other sister, Caitlyn, became a law enforcement officer, first with Uintah County Sheriff's Office and then with Adult Parole and Probation. Daniel's brother, Austin became an Emergency Medical Technician.
Tracy said people often call asking what they can do to help. This Memorial Day, she encourages people to remember the fallen and remember their families.
"You're not alone," she tells other family members with loved ones who have passed. "The problem is, out in a small area, you almost feel that way, because there's not a lot out here."
"The reason we have the privileges we have today is our military passing or the ones that did come home," Tracy said.