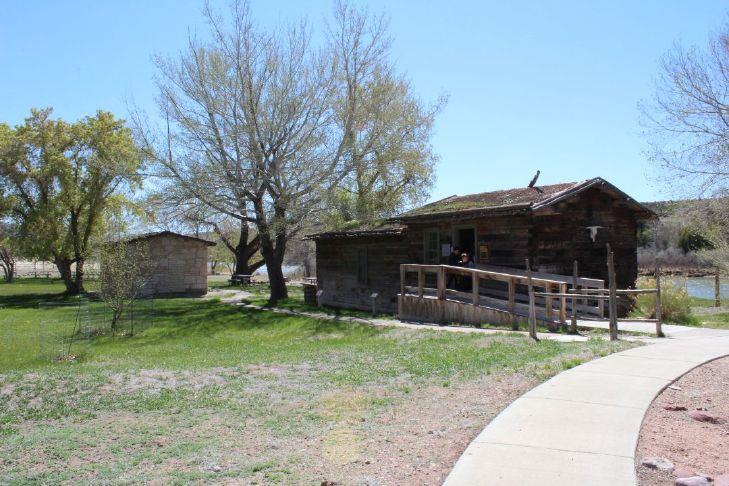 Step off the beaten path and take a fun day trip or overnight in Brown's Park. When they say remote living, this is it.
The wild west is a land of adventure and legend, and the Uintah Basin was home to many outlaws. Including Butch Cassidy and the Wild Bunch, Matt Warner, Kid Curry and Harry Trace.
Brown's Park
There are two campgrounds for overnight visits, Indian Crossing and Bridge Hollow. This distant hideaway is on the Green River and offers nice views and a calm atmosphere.
The Bureau of Land Management offers tours of Jarvie Ranch in the summer. Several people called Brown's Park home including Ann Bassett, "Queen of the Cattle Rustlers."
Ann was a "strong-willed woman who ran her own ranch." She also socialized with outlaws.
"In the early 1900s, Ann defended her cattle operation against the Two Bar Ranch, a large company that tried to control Browns Park," a sign marker states. "Though charged twice for rustling Two Bar cattle, Ann was never convicted."
You can still visit remnants of Two Bar, the Lodore School and the spot where John Jarie is buried in the park.
John Jarvie's Ranch
Jarvie's house and store are a glimpse into the past – what life was like in Brown's Park from 1881-to 1909. This remote area was once a thriving ranch operation, store, post office, river ferry and cemetery.
Original structures that still exist include the stone house, the two-room dugout, the blacksmith shop and the corral.
The stone house was built by outlaw Jack Bennett using masonry skills he learned while in the Wyoming State Penitentiary. The stone was locally quarried. Inside the house are important artifacts such as the 1916 deed to the ranch, period clothing worn by Bassett,
The two-room dugout was the first home of John and Nellie Jarvie. Later, after they constructed their home, outlaws were reported to have used the dugout as a hiding spot.
Visit the blacksmith shop and corral which were constructed of railroad ties that drifted down the river from Wyoming.
The general store is a replica of the original which was built in 1881. According to archaeologist William Reitz, there is a combination of artifacts, donated items, and source items in the store which represent what may have been sold at that time and needed by pioneers including tack and gear, canned goods, fabric and bottles full of medicine, alcohol and soda.
The original safe, the center topic of Jarvie's murder, still stands in front of the counter.
His obituary ran on the front page of the Vernal Express on July 30, 1909. It read: "It is hard to imagine John Jarvie dead. Harder still to think of him murdered. He was the sage of the Uintahs, the genius of Brown's Park. He could almost be called the wizard of the hills and river. He was not only a man among men but he was a friend among men...."
On July 6, 1909, George Hood and Bill McKinley arrived at the Jarvie Ranch. John Jarvie was alone. He invited them to dinner, but instead, they took him by force and made him open the safe.
The safe was empty except for $100 and a pearl-handled revolver.
Jarvie broke away and ran for his life. He died near the small bridge in the center of his property, shot twice from behind.
Before you go
If you're going overnight and want to tell a few tales around the campfire, here are a few resources for information:
Stop in at the Uintah County Heritage Museum in Vernal and see the artifacts from the period and Josie Basset, who was a rambunctious woman rancher. If you want to read a few books or see pictures of outlaws, visit the Uintah County Regional History Center.
The BLM Vernal Field Office is located at 170 S. 500 East in Vernal. You can also pick up "Day Trip 6" Outlaw Country by Uintah County Travel & Tourism.
Two books that can help with research are "One Hundred Years of Brown's Park and Diamond Mountain" by Dick and Daun DeJournette and "The Romantic and Notorious History of Brown's Park" by Diana Allen Kouris.
Other sources of information can be found here:
https://www.nps.gov/parkhistory/online_books/blm/ut/7/chap3.htm
https://www.utah.com/destinations/natural-areas/jarvie-property/
If you enjoyed this, check out other places to visit including Crouse Canyon, Jessie Ewing Canyon and Josie Bassett's cabin. Another trip you may enjoy is visiting Nine Mile Canyon.