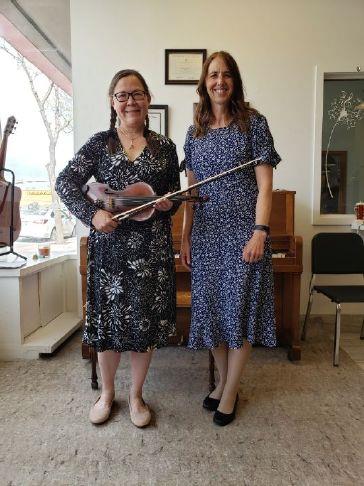 The German-made violin Erica Olsen plays is one that anyone could have purchased ... if they were in Europe during the 1850s.
But the ordinary violin is important to Olsen because it is a connection to her great-great-grandfather Tellef Severin Olsen who immigrated to America from Norway. A cabinetmaker by trade, he would play the violin every day for one hour after getting home from a hard day's work.
"I love it (playing violin) more than I would have thought," Olsen said.
She remembers playing the violin from the age of 7 through high school. Like many people, the music stopped for a while because other passions took precedent.
About 20 years ago, Olsen had her great-grandfather's violin repaired. Just a few years ago, she returned to it as an adult.
"I feel lucky to have that violin," Olsen said.
For her, the journey back to the violin took a rocky start and she knew she needed a teacher. Luckily, she remembered running into Dr. Merietta Oviatt Shearer of the Uintah Basin Arts Academy at the Ashley Valley Farmer's Market one summer and began to take private lessons.
She had to re-teach herself how to read music, and she appreciated the constructive feedback Shearer gave her.
Besides private lessons at UBAA, she also participates in a group fiddle class where people of all ages play together. She enjoys listening to all students and has found a community in Vernal.
The gift of time to explore her passion is exciting for her. Right now, she is working on a very technical piece in Suzuki book 5, Vivaldi Violin Concerto, in G minor.
Last month, Olsen won the Student of the Year award from the Uintah Basin Arts Academy.
"I was truly surprised about the award," Olsen said.
She remarked that when she was a child, awards were not given out for anything other than sports. She thinks it shows her dedication to her craft and she wants to continue to work hard at her skills.
For Olsen, the time she spends with the violin is a gift. When playing with others, like Kiersten Anderson on the piano, she learns to listen and adapt. When she listens to Shearer, she learns to listen and adapt. But when she plays for herself, she has to listen to herself. At that moment, she can change and adapt and play with the music.
"You listen to yourself," Olsen said. "We don't get to do that a lot as adults."
Olsen has a message for adults who may be thinking about returning to music:
"You may as well give it a shot," she said. "If not today, you can always do it tomorrow. You don't have to play like a professional for people to enjoy listening to you."
Olsen is a writer and editor by trade. She enjoys playing the violin because the instrument gives her time away from the computers using a physical skill that gives her an outlet for creativity.