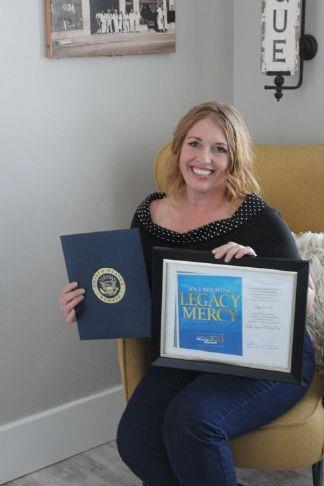 Megan Carrol is a surgery and post-anesthesia care unit nurse at Ashley Regional Medical Center in Vernal. She is also a dedicated member of the community.
For four years, Carrol has been nominated by the staff of ARMC for the Mercy Award, given to people in LifePoint Health facilities, who exemplify the spirit and value set forth by founding chairman and CEO, Scott Mercy.
This year, Carrol won the 2022 Mercy Award.
Carrol says in both venues, she thrives because of the people she surrounds herself with.
"At Ashley Regional, we share LifePoint's commitment to making communities healthier, and we recognize this is supported by the good work and service of our employees on and off the job," said Wes Taylor, CEO of Ashley Regional Medical Center. "We are extremely proud to recognize Megan for her efforts on behalf of our patients and our community. She goes above and beyond each and every day to ensure that every person she encounters receives the highest level of care and compassion."
"High-quality patient care is Megan's first priority – always," ARMC said. "She is known to hold her co-workers to a high standard, but she expects even more from herself. She will advocate for patients to ensure they receive the best care and experience possible. Even in times when she is on-call and tired, she is known to provide the compassionate type of care you would give to a beloved family member or friend, all with a smile."
"Her compassionate care extends not just to her patients, but she goes above and beyond for her co-workers too," ARMC said. "She is enthusiastically willing to pitch in to help in any way she can, whether it is an education project or anything else. She has been the driving force behind utilizing LPNs in the surgery department. Megan is an outstanding leader. Her efforts have led to a successful outcome with two new nurses ready to graduate and excited about a career in surgery/PACU."
At work, Carrol is known as the mental health nurse.
"I get down on whatever level the patient is and help to coax them to understand what we're doing and why we're doing it," Carrol said. "I would have surgery in our department a hundred times over just because of the team we have now."
Carrol volunteers for many different things in the community, but is best known for the beloved Hotel Vernal Haunt.
"We create magic in the Haunt and our community with everything each one of those individuals does," Carrol said.
Her favorite thing about the Haunt is that they have given a place for people in the community.
Her eyes lit up when she talked about the people she volunteers with, including many of the youth who learn they too can share their talents through art.
"I've been able to bring a community together," Carrol said. "We've given a space for everyone in the community."
From the first year of asking for volunteers, the Haunt has taken off. Many people wait in lines on cold October nights to visit the Haunt and celebrate the season with the volunteers. Proceeds from the Haunt go to local charities.
Carrol said that she learned she had more skills and a variety of talents because of the Haunt.
"Megan has a great passion for Vernal, a great passion for community, helping people, and the Haunt sort of collects all that together and adds in her love for Halloween," Vernal City manager Quinn Bennion said. "So, you add all those things together and it's a great combination of who she is."
Bennion said the Haunt wouldn't be what it is without Megan including the many lives touched by the charity.
"She has, I don't know where she gets it from, but Megan has this incredible ability to take pieces of things you don't find value or don't think that would work and put them together in a fashion that fits into a theme or into a room or fits into the Haunt somewhere," Bennion said.
On May 25, Joel Brown presented Carrol with a letter of congratulations from Sen. Mike Lee at a party.
"Congratulations as the recipient of Ashley Regional Medical Center's 2022 Mercy Award," the letter said. "This award is given to individuals who go above and beyond in demonstrating their capacity to care for others. Your dedication and commitment to your patients and to your local community are well known and your example is worthy of recognition. Utah is blessed to have individuals like you who strengthen our communities and demonstrate compassionate service. You have an immeasurable impact on people throughout the Uintah Basin."
Congratulations, Carrol! Thank you for all you do in our community.