Reflexology is just made up mythology. There is no known physiological link between parts of the foot and organ systems in the body, let alone any involvement in these disease processes. Every single meta-analysis and systematic review of all the clinical trials of it have concluded the same thing: it does not work. It is no better than a placebo. The only clinical trials that show it works are in low quality, low or no impact factor journals and have serious methodological flaws. The most common methodological flaw is the lack of a control group. Most of those studies were not even on reflexology, but were on nothing more than a damn good foot massage. Everyone, regardless of what medical condition they have is probably going to feel better after a damn good foot massage!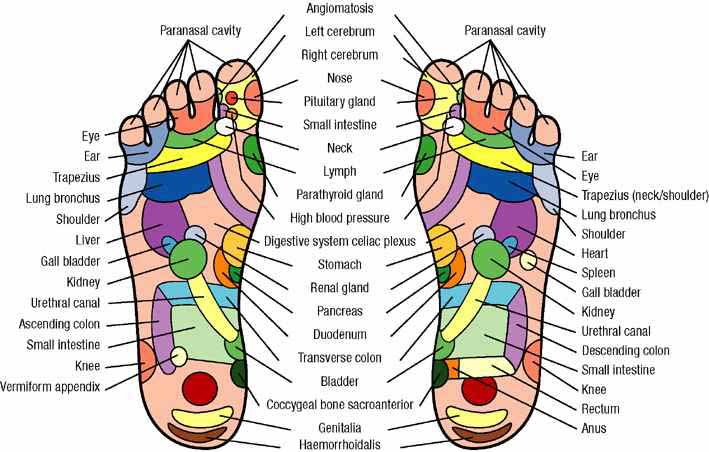 Over on Podiatry Arena, there is a thread: Reflexology is not an effective treatment for any medical condition that started over 7 years ago and continues to be added to with more research and reading it you can see the obvious issues with the overall poor quality of research on reflexology that claims it works. None of the studies that are of high quality show that it works. That pattern is so typical and so familiar to anyone who follows the pseudosciences.
One thing that i did start to notice in that thread and commented on several times is that the number of times that a clinical trial on reflexology (and you see the same pattern in other alternative and complementary medicine studies) is the authors claim that they used randomization of the subjects to the different groups, yet they end up with the exact same number in each group. Randomization is the cornerstone of the randomized controlled trial as it is how you ensure that the subjects in each group are nearly identical in characteristics.
When you randomize subjects to different groups, you almost never get the same number in each group. Very occasionally you do (by random chance). Just pick up any selection of high quality journals and look at the randomized trials in them and you will almost never see one in which the numbers in each group are the same.
Now have a look at that thread on Podiatry Arena (all 6 pages of it). Its is amazing how many clinical trials that claimed that they used randomization end up with the exact same number in each group. You see the same pattern in a lot of clinical trials on alternative medicine topics. One can only conclude that the researchers did not do what they claim they did. They did not randomize them and used some other method of allocation to the groups, which further undermines the credibility of clinical trials on reflexology. Fail.
Please sign up for my newsletter when a new content is posted: