Housing is central to meeting the aim of the COP26 agreement
UK prime minister Boris Johnson said the world "is at one minute to midnight" to combat climate change (picture: Alamy)
The Glasgow Climate Pact – the result of two weeks of intense negotiations at COP26 – presents something of a paradox for those working in social housing.
On the one hand, there is no explicit mention of housing within its 20 pages.
On the other, it is clear that social landlords will be central to reaching the aim at its heart: to keep global warming to 1.5°C and to secure net zero emissions by 2050.
That is because the UK built environment generally, and housing specifically, is a significant factor in the country's carbon footprint. According to the UK Green Building Council, roughly 40% of the UK's emissions come from the built environment. About half of this is from energy used in buildings or from related infrastructure such as roads.
A particular challenge in the UK is that many buildings are old. Around 36% of homes were built before 1944. Only 17% were constructed from 1990 onwards. And, notably, around 80% of the homes that will be around in 2050 – the UK's net zero target – have already been built.
All this means that prime minister Boris Johnson's contention that the world "is at one minute to midnight" to combat climate change feels particularly relevant in the context of housing.
Indeed, COP26 had a day dedicated to the theme of the built environment.
So even if housing was not central to the agreement, it was definitely on the agenda. The announcements made in the run-up to COP26 highlight this.
In mid-October, the UK government published its Heat and Buildings Strategy at the same time as announcing £3.9bn of funding to support social housing decarbonisation.
Separately, the Welsh government published its net zero carbon plan and promised funds to support retrofitting of homes.
Scotland had already published such a plan in early October, and pressure is growing on the Northern Ireland government to do the same.
Important, too, is the more general shift COP26 may have hastened. Public awareness of climate issues has been growing for some time, with customer choices increasingly affected by sustainability issues.
This provides impetus for social landlords to take action, both in terms of their housing stock and within their own organisations.
New means of heating homes: the UK strategy announcement
The government's Heat and Buildings Strategy – like COP26 itself – was delayed, with the coronavirus pandemic initially cited as the main reason. It eventually arrived around two weeks before the Glasgow conference, setting out how the government intends to cut carbon emissions from homes and workplaces. The strategy is UK-wide, although some aspects of heat and buildings policy are devolved (and, somewhat confusingly, different aspects in different UK nations).
Perhaps the most headline-grabbing announcement was around gas boilers, present in around 85% of UK homes. The strategy signals the government's intention "to phase out the installation of new natural gas boilers from 2035". The plan is to make carbon-free alternatives cheaper to install so that once a homeowner or landlord needs to replace a boiler – something that should happen roughly every 15 years – it makes sense to go with the greener alternative.
Quite what that alternative will be is still open to discussion. The strategy favours heat pumps ("We need to build a market for them now," it suggests). So too are heat networks, by which heat is transported to buildings via one central source. The government envisages these being particularly important in high-density areas such as cities.
While last year's 10-Point Plan for a Green Industrial Revolution commits the government to "driving the growth of low-carbon hydrogen", the strategy reflects the unanswered questions about how viable hydrogen is as a fuel source. It commits the government to "developing the evidence base" such that, in 2026, it will be possible to take "strategic decisions on the role of hydrogen for heating buildings".
Boosts to the decarbonisation fund, upgrade schemes and heat network development: the England funding announcement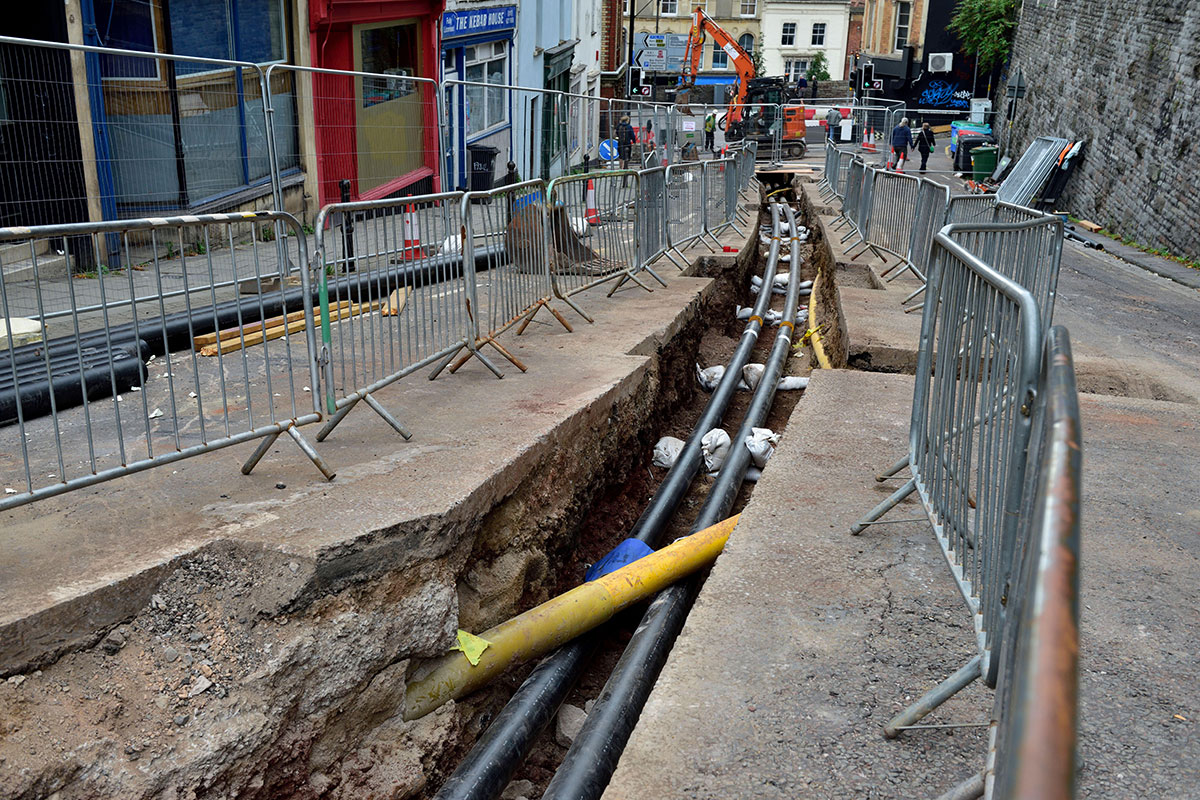 The UK government envisages heat networks, like this one being installed in Bristol, being particularly important in high-density areas such as cities (picture: Alamy)
In the run-up to COP26, UK ministers also announced £3.9bn of funding to support the delivery of the Heat and Buildings Strategy in England.
The package includes £800m for the Social Housing Decarbonisation Fund, which can be accessed by social landlords to carry out upgrades in their homes.
A further £950m will go towards the Home Upgrade Grant scheme, which local authorities can use to support low-income households with retrofit work.
The government also announced a new £450m Boiler Upgrade Scheme, which will provide homeowners with grants of £5,000 from April next year to replace their gas boilers with heat pumps.
To support the development of heat networks, £338m will be spent on the Heat Network Transformation Programme, while the remaining £1.425bn will be allocated to the Public Sector Decarbonisation Scheme, for public sector buildings such as schools and hospitals.
While this all constitutes welcome investment, it is notable that the Conservative Party's 2019 election manifesto pledged £3.8bn over 10 years for the Social Housing Decarbonisation Fund. When, how and whether the remainder of such funds will be released remains to be seen.
New standard and extra funds: the Welsh plan and funding announcement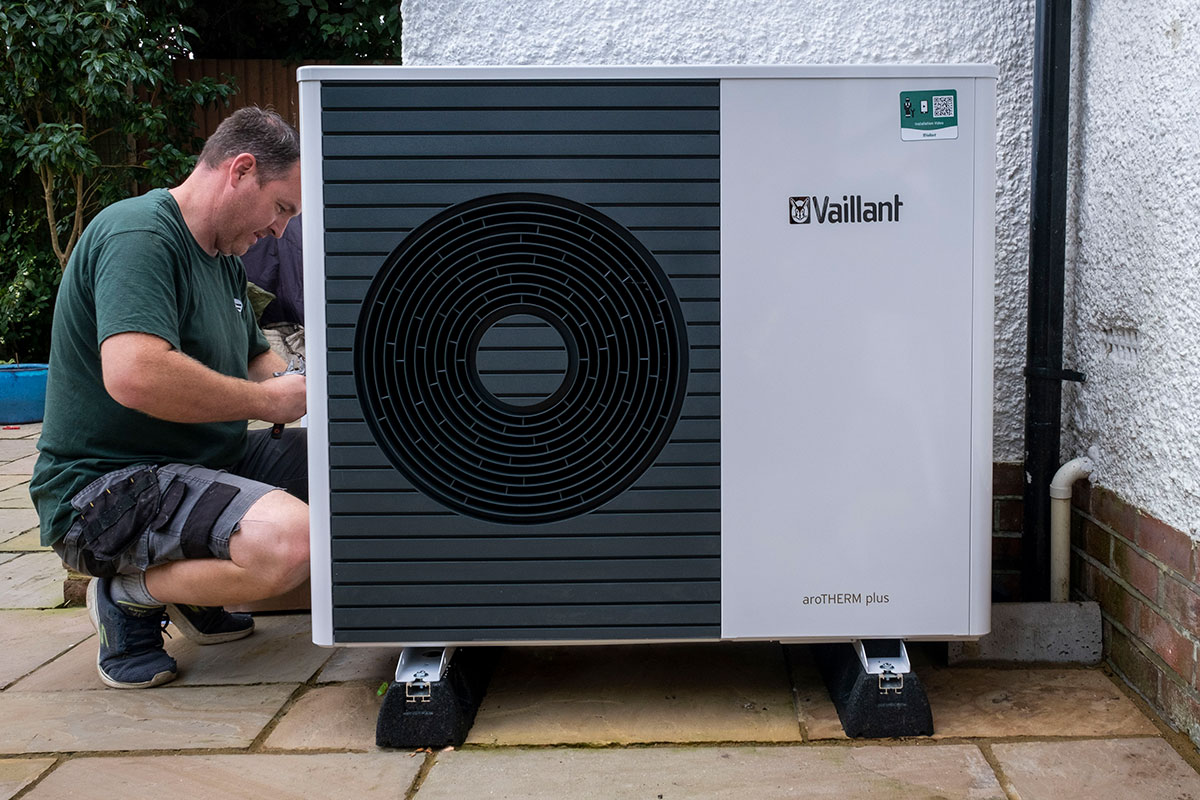 Wales' Optimised Retrofit Programme supports insulation upgrades alongside the installation of technologies such as heat pumps (picture: Getty)
On 1 October, coinciding with the second day of COP26, the Welsh government launched its Net Zero Wales plan. The plan confirmed a new standard will be set for social housing that "will focus on fabric-first principles and seek to bring all social housing as close as feasible to [Energy Performance Certificate Band] A or equivalent within a decade".
The Welsh Housing Quality Standard 2022 will "require the achievement of both affordable warmth and decarbonisation of homes, with a target date of 2033".
The Welsh government said it is "accepted that not all existing homes may be able to reach EPC [Band] A", but said each home "should reach the highest possible rating through bespoke targeted interventions".
The main funding stream for social housing decarbonisation in Wales comes from the Optimised Retrofit Programme, to which an additional £150m was allocated following the plan's publication. The programme is currently funding the creation of bespoke 'home passports' for almost 2,000 social housing units, which set out the work needed to make each property energy efficient.
The additional funding would, the government said, support insulation upgrades alongside the installation of technologies such as heat pumps, solar panels and battery storage. Smart technologies which enable tenants to better control their energy use will also be installed in homes that receive money via the fund.
From October 2021, all new social homes going through the approval process in Wales have to meet design-quality requirements that prevent them from using fossil fuel-fired boilers, such as natural gas boilers, for heating and hot water.
Energy efficiency and a green-heat finance taskforce: the Scottish plan and funding announcement
The Scottish government rather beat the rush on social housing-related sustainability plans, publishing its Heat in Buildings Strategy in early October, a month before COP26.
The overarching aim is that, by 2030, greenhouse gas emissions from homes and buildings will be 68% lower. This means "we must rapidly scale up deployment of zero emissions heating systems so that by 2030, over one million homes and the equivalent of 50,000 non-domestic buildings are converted to zero emissions heat", the ministerial foreword to the strategy states.
Ensuring good levels of energy efficiency will be crucial in paving the way for such an achievement, it is argued. That means a target for "a large majority of homes" to achieve a level equivalent to EPC Band C by 2030.
About £1.8bn of funding over the course of the next parliament was announced to support the achievement of the strategy goals, "building upon, expanding and improving existing programmes". That includes doubling the country's Social Housing Net Zero Heat Fund – used to support decarbonisation of social housing – to at least £200m.
The document does make very clear, however, that the cost of transforming homes and other buildings cannot be borne by government alone. To that end, a new green-heat finance taskforce has been established to "identify innovative solutions to maximise private sector investment and find new ways to help to spread the upfront cost of making properties warmer, greener and more energy efficient".
The rise of green bonds
COP26 did not only coincide with a public policy focus on social housing energy efficiency. The same has happened in financing.
In the first week of the conference alone, for-profit provider Sage, Stoke-based landlord Aspire and large London landlord Peabody all signed bond deals, worth hundreds of millions of pounds, linked to environmental performance.
The journey to green social housing is long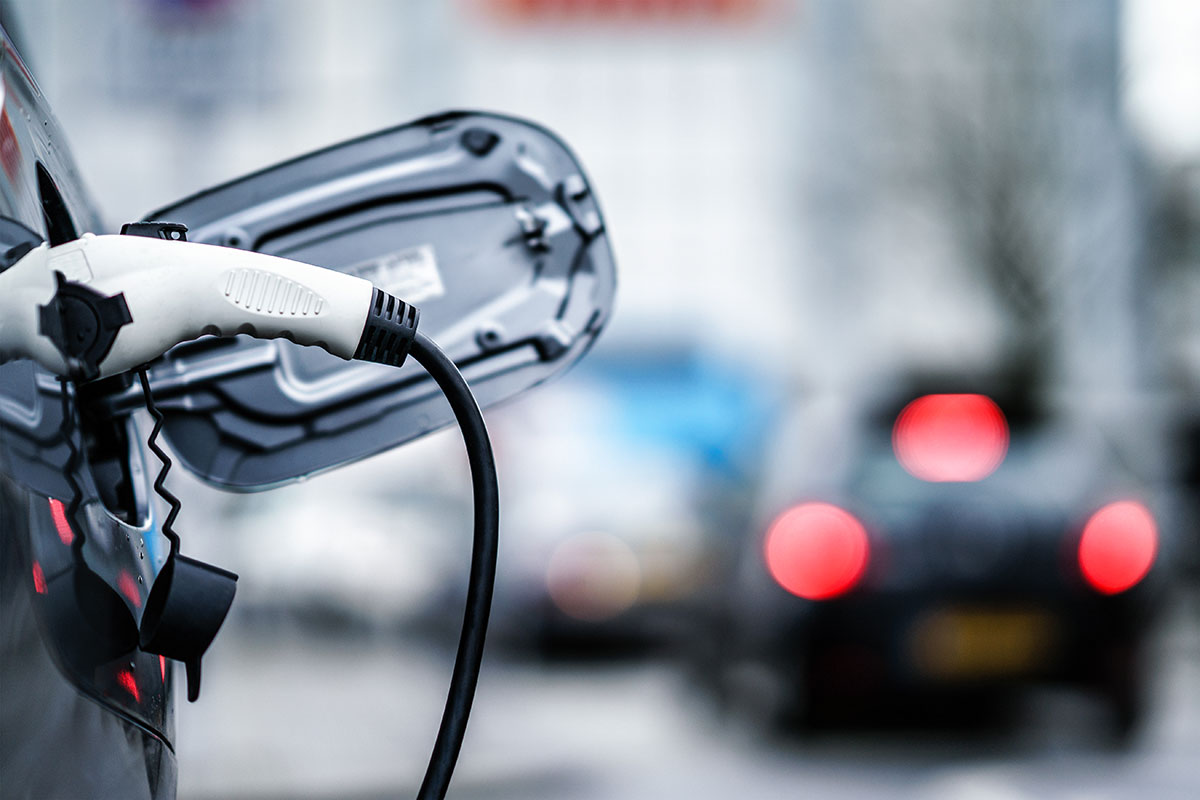 At the moment, social housing organisations tend to report on things like transport for maintenance fleets (picture: Getty)
The priorities identified during COP26 are not new but the conference served to increase the pressure to make progress. For social housing, that includes addressing sustainability, says Inenco's Dan Pardesi
How has COP26 changed what's expected of social housing organisations on environmental sustainability, and on carbon emissions specifically?
Decarbonisation, energy efficiency and cost efficiency have always been important to the sector. We've always had challenging targets around improving energy performance and an expectation that social housing organisations were going to take a lead in the domestic decarbonisation of the UK.
What has changed is the focus on environmental sustainability. COP26 received enormous coverage and emphasised the scale of the climate emergency.
The government announcing the Social Housing Decarbonisation Fund and funding for heat networks is really positive. But there's also pressure on organisations to demonstrate to their customers and stakeholders that they are organisationally sustainable.
There's quite a degree of polarisation in the social housing sector. Some organisations have made great strides in reducing their carbon emissions and increasing their sustainability. Some have acknowledged that decarbonisation of their stock and decarbonisation of their own operations will happen on different timelines and have looked to set net-zero targets with different dates for those two elements.
From where should social landlords expect pressure to increase their own sustainability?
With environment and social governance [ESG] becoming more and more important from a funding perspective, social landlords are going to have to begin to measure and manage their sustainability impact in a more defined and reportable way to gain investment.
We've seen larger housing associations being successful in achieving significant investment from things like green bonds and that's going to continue. There's going to be a lot of pressure from banks, funds and investors to make sure any investments they make into social housing provide the right level of ESG credentials.
There's also going to be the need to demonstrate sustainability to tenants. COP26 has shown us how important sustainability is to the younger demographic in particular. Organisations are going to see demand from customers for energy-efficient homes that are fit for the future. Ultimately, if one social landlord has a very good sustainability record, they're likely to be more attractive to prospective customers than another social housing organisation that's not as advanced in the sustainability and carbon-reduction field.
From a government perspective, there's going to be pressure for the social housing sector to take a lead in domestic energy efficiency and carbon reduction, and rightly so. We're already seeing organisations like the Regulator of Social Housing and the National Housing Federation starting to champion this area.
What's your sense of how landlords are evaluating their carbon footprints? How can they do so more effectively?
Some organisations are further ahead than others. If we look at the larger housing associations, they've already been reporting carbon emissions for a number of years. The particular challenge around this is always what you report and from where you can get accurate data.
At the moment, organisations tend to report on their scope-one emissions – direct emissions from things like burning gas to provide heating that's recharged to tenants and residents – and on scope-two emissions, which are indirect emissions from things like transport for maintenance fleets.
I think we'll see more and more people adopt the streamlined energy and carbon reporting guidance. This is widely used in the private sector by large businesses and it involves looking not only at an organisation's direct and indirect emissions, but also up and down the value chain at what's known as scope-three emissions – emissions from suppliers and from end users as well.
Social housing organisations should start with reporting emissions where the data's available and where improvement is within their control. Generally, that will be around scope one and scope two.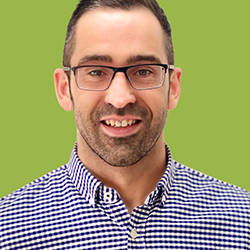 Dan Pardesi is head of social housing at Inenco. A chartered energy manager at the Energy Institute, he has over a decade's experience in building the business case for sustainability and supports organisations to define and achieve their environmental ambitions.
What actions can landlords take that will give the biggest 'bang for their buck' on reducing carbon emissions and increasing sustainability?
Organisations should start with making sure they've got the right data and systems in place to be able to report and manage their scope one and scope two emissions. Systems should be set up for them to be able to review their use of electricity, gas, transport fuel and so on.
Once that data is available, it's often possible to find the low-hanging fruit – the relatively quick and simple improvements that can be made to drive efficiency and reduce carbon emissions.
How can social landlords best develop a longer-term plan which gets to net zero but also accelerates progress in the short term?
You really need to have an aligned organisational strategy which considers all the drivers for change – not just the environmental ones, but those linked to the success of the organisation, identifying the risks and opportunities.
That strategy needs to focus on people, processes and technologies. Within people, I'd be thinking about how we make sure everybody's engaged with carbon reduction. How do we give people the right tools for their job? That might be driver training, that might be engaging heating engineers to make sure that what they do drives efficiency in all aspects of their work.
With processes, that's looking at the energy efficiency of any building over which you have control – so depots, offices and the like. That might involve looking at energy management systems.
Then you can look at technology upgrades. There's a lot of focus, particularly at the moment, around the rise in the use of heat pumps and the phasing-out of gas boilers. That's certainly something which is going to be a significant part of the next 20 or 30 years. However, there are also other aspects which are going to be important – things like the rise of electric vehicles.
How can landlords best communicate with tenants about the actions being taken?
What we're seeing is that more and more people actually are engaged with carbon reduction. More and more people take note of organisations' emissions and emissions-reduction programmes in considering the organisations that they choose to do business with.
Social housing providers shouldn't shy away from reporting on the work they've done to reduce carbon emissions relating to their organisations. Explaining what a carbon reduction is equivalent to – "one flight from here to New York" or "driving around the world five times" or whatever it may be – does help people visualise the impact of a project.
But, I think that, particularly following COP26, what people are really going to want to see is progress to that net-zero target – how close you're getting, how much progress you've made in terms of percentages and what you're going to do about it next – because this is not going to be a short journey.