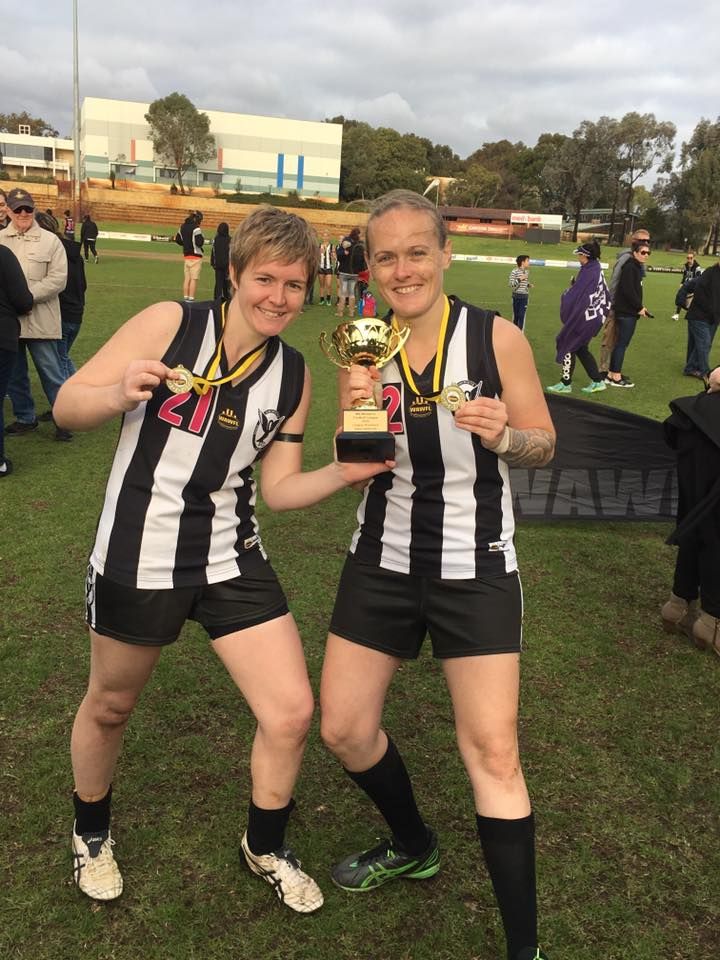 Lauren Osborne will forever be proud of spending her entire career with Swan Districts as she now moves into the next phase of her life while reflecting on a 212-game, four-time premiership winning career in black-and-white.
Not only has Osborne spent the last 15 years of her life playing football at Swan Districts, but she's been playing since she was six years old. To say female football has come a long way in that nearly 25 years when she was the odd one out would be the greatest of understatements.
Along the way, Osborne put together a career that will have her go down in history as not only a trailblazer at Swan Districts, but also one of the club's finest player in a career that included playing 212 games, taking part in four premierships and winning a McSherry Medal.
However, what Osborne has required to give to Swan Districts over the last 15 years has been an enormous part of her life and huge commitment.
To continue to play in the WAFLW at the level where she remained one of the strongest and most consistent players in the competition in 2022 would take the same commitment, but Osborne just can't do it anymore.
With a physiotherapist business to run, a family to build and the rest of her life to lead, this felt like the right time to retire with the 2022 season being her swan song.
"It was a hard decision but I think you kind of sit there as a young player and listen to people make their retirement speeches or you watch the AFL guys do it, and you think that when the time is right you'll know," Osborne said.
"Then when it comes, you actually do know and that's how I feel now. I just think that I'm at a point in my life where footy has been such a big part of my life. There's the 15 years that I've been playing at Swans, but this is the first year that I haven't played footy since I was six years old.
"I just got to the point where I've got a husband now and he has goals, we want to have a family and you can't do both as a woman playing footy.
"I've got a business that I'm starting to build up and I just don't have the time and the capacity to train to the level that I need to train at to compete to the talent coming through now.
"I just got to the point where I didn't know I could keep doing this without pushing it too far to the point where I might have played past my use by date. I'd rather go out still being in my prime or a good player rather than someone who's pushed it one year too long."
Osborne achieved just about everything she could have imagined throughout her career as a 200-game player for Swans, winning the premierships, being a fairest and best player, and representing Western Australia.
The one thing that did elude her was having a chance to play in the formative years of the AFLW competition, but she recognises at the same time if she did it might have curtailed what she achieved back at Swan Districts.
"I'm a little bit disappointed to didn't make it to the big time where I probably thought at some point in my career and how well I played that I could have, should have or would have played AFLW," she said.
"But you don't have control over what those clubs want to do, but at the same time if I did play AFLW I probably wouldn't have played 200 games for Swans so I'm quite content that I've given the club 15 years of service and we've got four premierships out of it.
"I've had a few accolades I've won along the way too so I'm not leaving without anything to show for my career, and I'm just at a time in my life where unfortunately you have to make tough decisions and I have to turn my focus to other things."
While Osborne didn't get the chance to play AFLW, at the same time that was only a faraway dream of even being a thing when she was starting her career.
Osborne still recalls growing up playing junior football as the only girl on her teams. Things have now changed so much where there's female junior competitions and then there's a WAFLW competition and then the top level of AFLW for all females to aspire to play for.
"I was in the minority when I was playing junior footy. There was no other girls in our district at all and I was a bit of a novelty being the only girl on the team and that kind of thing," Osborne said.
"Now you have junior girl competitions and it's come a long way. I think Coops has been one of the biggest ones to push that and we were hearing for a long time that AFLW would be a thing, and it has come on and it's good that the girls now have that pathway to aspire to and go past.
"A lot of people never even knew we had the old WAWFL competition and that's where I played most of my career. The rebranding of WAFLW has helped build that recognition of it and that's on the back of AFLW too, but WAWFL had a 30-odd year history so it's been a thing for a long time.
"It's definitely good to see how far it has come and I'm glad that all the young girls, and maybe one day my daughter will have that opportunity that I didn't have when I was younger to aspire to."
Every player during their career says they aren't willing to reflect on what they've accomplished while it's still going, but Osborne has had some chance to now look back and rightfully she is proud of everything she accomplished.
Whether it's the team success, personal accolades or the fact that she amassed more than 200 games in black-and-white, there's so much for Osborne to look back on fondly of but the 2017 season where the club won all three grades will always be the standout.
"I've had a bit of time to reflect now since making the decision and I think from a team aspect you can't go past the three premierships that we won in 2017," Osborne said.
"Gravesy was coaching and we won all three grades which I don't think had been done before so that was probably the biggest one and we had a massive party for the club that day.
"But from a personal point of view, I've got the 2012 McSherry Medal so I did win the Swans fairest and best, and ended up coming third a couple of years ago in the WAFLW award.
"I've got quite a few runner-up awards but when I'm competing with the likes of Chelsea Randall and Kara Donellan in their prime, so to come second to them is always pretty good.
"I think they would be the things I'm most proud of and you play to win premierships, and I was lucky to get four but that year when we won all three grades would have to be standout."
As such a standout leader throughout her career at Swan Districts and with her experience and football brain, it's a natural that Osborne will move into a coaching role, at some point.
That won't be quite just yet at WAFLW level with Swan Districts in 2023 because other aspects of her life need and deserve her more immediate attention. But she would think it's a shame if she didn't end up back at Steel Blue Oval down the road.
"I'm hoping to get back involved at the club at some point but I do think I need to step away at least for this year," she said.
"I know the club do want me to come in and help out on the coaching staff and to be honest I've got too much knowledge where it'd be a bit of a waste not to impart that in some degree at some point.
"But at the moment I do need to step away a little bit and focus on my business, I need to get that up and running so I can afford to do what else I need to do. I just don't have time to commit to training two nights a week plus the coaches meetings and all the other conversations that go on during the week.
"I have to spend time with the other half as well, he's been really patient over the years and has been ready for my footy commitments to lessen off. Then when I got to the 200-game milestone last year I think that was the signal for him that it might be time to be done. Hopefully one day I'll be back at Swans though, but we'll see."
Having played over 200 games, won four premierships, a fairest and best award and spent 15 years at the club clearly means that Swan Districts means the world to Osborne.
It's been such a huge part of her life and means so much to her, and she wouldn't change a thing about the whole journey now that she can look back on it.
"From a Swans point of view, I couldn't see myself ever playing anywhere else," Osborne said.
"There was times where certain members of the commission wanted us to go play somewhere else to even the competition a bit more or to help them get noticed and drafted, but I just couldn't do that.
"The loyalty's there and Swans have given us literally the same opportunities that they give to the blokes and it's been like that since we pretty much started. I don't think that you can say that any other WAFL club has done that.
"We have our own change rooms, we have access to the gym and we train on Steel Blue Oval. A lot of other clubs might play some of their games there, but don't usually get to train there and just don't get access to everything that the men do.
"Swans have always given us everything that they could from the get go and I didn't want to have that disloyalty and change over to any other club. I couldn't imagine playing for any other club and I'm grateful that I got 15 years out of playing there."