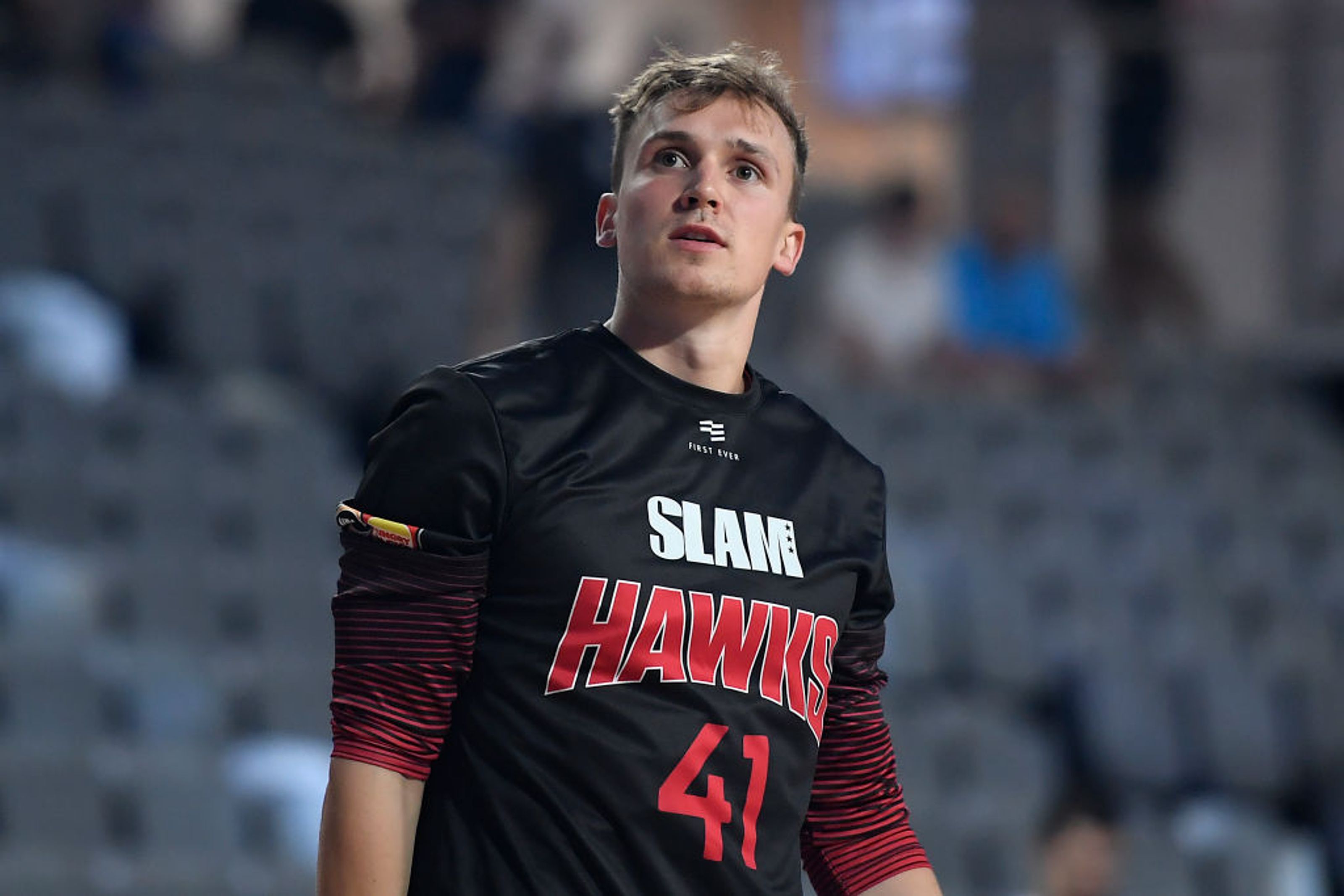 Written for nbl.com.au by Chris Pike
Nobody could deny the impact LaMelo Ball has had on the Illawarra Hawks, the NBL and Australian basketball, and there was nothing wrong with the role he had as point guard, but his absence has again allowed Emmett Naar to show the potential he has.
Naar came into his rookie season at the Hawks in 2018/19 a renowned playmaker and passer, and the then 24-year-old showed some exciting signs with 4.2 points and 3.1 assists a game with coach Rob Beveridge backing him in to play a significant role entrusting him to run the point.
His passing game was outstanding and his scoring game was improving, but the arrival of Next Star and near consensus 2020 NBA Draft pick Ball meant that the role as point guard mostly went to him.
And considering the way he played and the fact that he turned himself into the likely No. 1 draft selection based on his NBL form including two stunning triple-doubles before a foot injury sidelined him means that there's little question the Hawks did the right thing in that use of him.
But what it meant for Naar was that he did have to take a backseat in his role behind Ball, but now the silver lining out of the injury is that he's now been able to play a significant role again and not only send a reminder of what he's capable of, but that he's a greatly improved player too.
Naar hasn't lost any of his ability to make passes and run a team's offence, but his shooting touch and offensive arsenal has also expanded as he continues to thrive in the more court time he's receiving in Ball's absence.
Before Ball went out injured, he had remarkable triple-doubles in games against Cairns and New Zealand, but in those matches Naar played a total of 10 minutes for one assist.
The difference in the absence of Ball has been remarkable with Naar averaging 12.5 points and 6.7 assists including 16 points and five assists against Melbourne United, 17 points and eight assists last up against the Breakers, and 16 points and eight assists against Sydney.
That performance in the upset victory over the Kings in Wollongong on New Year's Eve was so impressive that Naar was named Bunnings Player of the Game.
Naar is making no secret of the fact that he's enjoying the chance to play a bigger role and extended minutes, and he plans on continuing to make the most of it.
"Personally I'm excited to be getting to play again and this has been a big confidence booster for me," Naar said.
"But every game is different and I have to try to replicate the mindset that I've been going into these last couple of games with. I'm probably not going to keep scoring that much each game, but as long as I play with that attitude then it should give me a chance."
Naar's numbers of 12.5 points and 6.7 assists over the past five games are way up on last season's averages of 4.2 points and 3.1 assists, and his season over #NBL20 of 4.8 points and 3.1 assists.
He appears a much more willing and confident shooter as well, and what he knows like other young players with the Hawks including Sunday Dech, Hyrum Harris and Daniel Grida is that they just have to keep playing with confidence.
"The goal is still the same and that's to win as many games as we can, and all we can focus on is the next game," Naar said.
"We want to win every game from now on, that's our goal but at the same time we have to keep getting better as a team and individually you need to keep working. Obviously there will be more opportunity now so we just have to play confidence."
Hawks veteran Tim Coenraad, who celebrated NBL game 300 on New Year's Eve in that win over the Kings, has seen plenty of stars come and go at Illawarra the past decade, and has no doubt the future ahead for Naar especially considering the work he's putting in.
"I think Emmett has such a bright future. He works exceptionally hard and he's the one that stays after practice, he watches tape and that tries to find ways to get better all the time," Coenraad said.
"His reading of the game particularly offensively coming off on-ball screens makes him one of the best players making decisions out of that situation, which is where the game's going. For him in my mind, he just has to stay aggressive.
"I know in some games he won't shoot certain shots or he'll try and set other players up rather than look for himself first, but he is getting to the stage where he needs to start being aggressive, and I think when he plays aggressive he plays better."
LEAVING MARK ON ILLAWARRA KEY FOR 300-GAMER COENRAAD
In many ways, Coenraad understands the position Naar is in perfectly where he doesn't always have the confidence to back himself to take shots that are there for him, which at times early in his career was something Coenraad dealt with.
Watch Coenraad play now and there's certainly no hesitation on jacking up shots, but also defensively it's something he's had to work hard on and that's an area Naar will have to keep getting improving at, which he feels he is.
"He is also in a similar situation to where I was too where he is learning that the defensive end is just as important," Coenraad said.
"He's really working hard to be able to guard those point guards on the other side. It's great that you can come off on-balls all you like, but you have to defend Casper Ware, Bryce Cotton or those kind of guys and you have to lock down on them.
"That's an area he's really trying to make improvements in and you can see it every game that he tries his best to follow the scout and stay in front of guys."
Hawks coach Matt Flinn knows it's far from ideal to have already lost Aaron Brooks for the season, to have had veteran bigs Josh Boone and David Andersen miss time, to now have Ball unavailable and to have already had to bring in replacement import Billy Preston and send home.
But what is becoming clear is the best thing for this Hawks team is to continue to back in the youth and Naar has proven he can take advantage of that, as has Dech and Flinn is looking for Harris, Grida and when healthy, Sam Froling to do the same.
"With our youth, we have to learn how to close out games. You have to go through that to be able to do it," Flinn said.
"Part of this year for me and for the group, and for what we're trying to build here, is to give those guys experience and extended minutes in closing out games.
"They're not there yet and we are 4-12 and really trying to build something. I'm lucky that I have great support around me and we know the team is playing hard, but there are times we are getting beaten by better teams at the moment."
Given Ball was dominating the ball-handling and playmaking duties before he got hurt with the Hawks, the change in the way Illawarra is now playing has been significant but Flinn will continue to back in the likes of Naar to now get the job done the rest of the season to enhance their development.
"I'm really buoyed by the way Emmett has been able to step up," Flinn said.
"Anyone who has been willing to listen this year will know that I've said this season won't be without its challenges even when we had Aaron Brooks along with LaMelo and Josh up and going.
"But it's going to be great for these guys to step up and get some serious minutes carrying the can. We are building that for the future.
"It's (losing Ball) certainly changed the way we have to play. He certainly had the ball in his hands a lot and he's a dynamic player with great quickness so he can get into spaces and positions on the floor that other guys can't get into.
"So that's certainly been an adjustment learning to play without him but with that said, I'm not one for excuses and we need to find out what our new identity is going to be, and we need to find it out quickly."
While he is looking forward to continue to make the most of the increase role and responsibility he'll likely have for the Hawks the rest of the season, Naar's focus is certainly on doing what he can to help Illawarra win as many games as possible still.
"It's been a bit chaotic at the moment. Obviously we've brought two new guys in and unfortunately we've had a bit of a string of injuries to some of our guys," Naar said.
"But that just means we have to communicate a bit more as a team to get these new guys feeling good about themselves and understanding where they fit in. It's obviously a challenge but one we're up for.
"It's not so much a first half against second half things, but you see how close it is in this league and one team can beat a team on any given night, but the best teams at the top are the ones who can do it for 40 minutes. They just grind you down and that's not where we've got to yet.
"We have put together a good 20 or 30 minutes in games, and we've had a couple of good 40-minute games, but it's just not consistent right now. That's where we have to get there because we have proven we can play at that level in stretches."