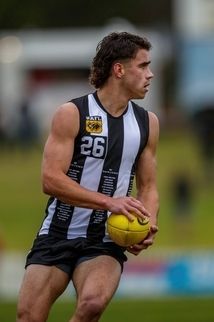 Elijah Hewett has loved the West Coast Eagles his whole life, he still has Chris Judd's poster on his bedroom wall and with his family all diehard fans, he couldn't be happier to now be getting to live out his dream.
Hewett was selected by the Eagles at pick No. 14 at the AFL Draft and it's the realisation of a dream for the 18-year-old who has imagined playing for West Coast just about his whole life.
Having built his reputation as one of the brightest rising stars in the country with his football at both colts and league level with Swan Districts, Hewett has now joined the Eagles and it's still sinking in.
"It's really hard to explain. It's a feeling I will never forget. I got the call from Simmo before I heard my name called out and he told me I was going to be an Eagle," Hewett said.
"My heart just really did sink and I reckon I would have lost all the colour in my face. My parents were looking at me from both sides wondering what he was saying, but then I put my phone down and gave them the nod.
"They still kept their cool because they knew we were about to be on television and they wanted to go along with it. Then when my name got called out I was over the mood.
"It's an incredible day for me really and for my family. I just feel so honoured to represent the club that my club has loved for so many years."
On the back of a standout 2021 season in the colts for Swan Districts, Hewett's stocks rose further throughout 2022. It included a stint training at the Eagles, starring for the WA State 18s team and playing nine league matches with the black-and-whites.
He more than held his own at league ranks as well offering a glimpse into what he will be capable of moving forward averaging 13.6 possessions a game and kicking five goals.
Getting those chances to play at league level with Swan Districts is something Hewett will always treasure and he has no doubt it's helped him now be ready to take the leap to AFL level.
"It was invaluable having that senior experience at Swans. It's really incredible when I look back in hindsight all the lessons I learned," Hewett said.
"I really did learn an incredible amount from the pre-season and what to expect, and how to go about your business. I probably made the mistake of being too internal and being focused on my end, and not embracing the team at Swans as much as I could have.
"So now I'm really excited of the prospect to walking in at the Eagles and getting to know the boys, and being open armed and embracing everything about the club. That's just one of the things I've learned throughout the year and there was a lot of lessons I took from playing senior football and playing at a WAFL level.
"That will put me on the front foot I believe walking into this pre-season and if the opportunity arises to play AFL next year I'll just be incredibly excited. I know it won't come easy, though, hence all the work that is to come in the pre-season."
Not only has Hewett supported the Eagles his whole life, but he also got to spend some time training with them earlier this season and now he can't wait to officially call himself a West Coast player.
"I met a lot of them at the start of the year when I did a training stint with them, and they all reached out to me pretty quickly," he said.
"A lot of the players called me or messaged me, and the same with all the coaches and even the board. They've been so open armed and it's been a great feeling just to know the people around you support you and want the best for you.
"It's such a professional environment so to get that kind of support is great. It's all hands on deck from this point and I can't wait to get to know the boys more, see what drives them and we'll all be working towards a common goal."
Hewett will forever treasure sharing draft night with his family and friends as well. While he might have got the heads up just before the announcement of his selection from West Coast coach Adam Simpson, the rest of those in the room had no idea.
But after a bit of a nervous and stressful build up to the draft, Hewett will always be thankful for the support he received and to now be joining the Eagles.
"Something that probably gets overlooked a little bit is some of the stress that it can put on families leading up to the draft," Hewett said.
"My family was pretty good about it and I made it pretty plain and clear that I thought it would be best if they disengaged from social media and didn't read too much into any of the speculation.
"I think it can be pretty unreliable all those rankings and everything. I kind of knew the clubs who were interested so I was just waiting eagerly for those picks.
"It was a huge build up especially a couple of days before hand I started to get quite nervous more about the prospect of not knowing where I was about to living. That was one of the things I was really just waiting on, but as it turned out it was an amazing night and one I'll cherish for the rest of my life for sure."