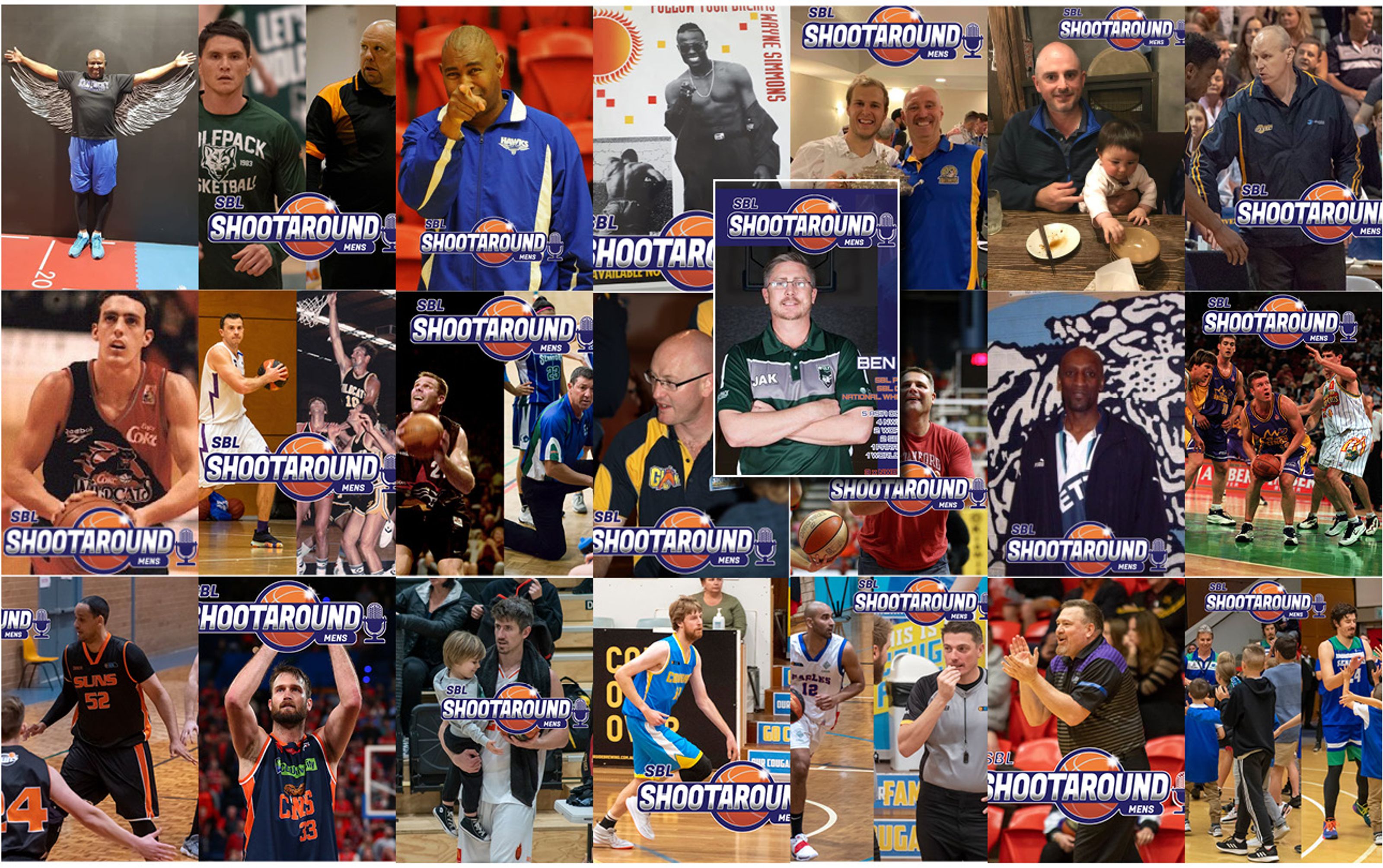 WITH a host having had a lifelong bond with the game and having coached his team to the last five SBL championships and guests ranging from legends like Andrew Vlahov, Jeff Anderson and Mark Worthington, and current greats Gavin Field and Seb Salinas, and you can see why SBL Shootaround took off.
Co-hosts Chris Pike and Ben Ettridge came together ahead of the SBL season in 2020 and decided to start up the Men's SBL Shootaround podcast with a vision to promote basketball in WA and to provide a platform for those involved in the game, both past and present, a platform to share their stories and lifetimes in basketball.
A significant spanner was thrown in the works thanks to COVID-19 and the SBL season was initially postponed and then cancelled altogether.
However, the two co-hosts came together to decide to begin SBL Shootaround anyway and with Chris Pike having covered the SBL extensively since 2013 and been involved in basketball since 2005, and with Ettridge a 200-plus game player and now a dual championship winning coach, their passion for the game in WA was always going to mean there were no shortage of things to cover.
Early on with no guarantee of any basketball happening, discussion turned to the greatest basketball movies ever made and then transformed into starting up a tremendous popular NCAA type tournament to crown the Ultimate SBL Championship team.
That saw a bracket set up to put the last 32 championship winners against one another and in knockout format just like the NCAA tournament, it ran over the next several weeks with the winners decided by a combination of Ettridge, another long-time SBL servant Mark Utley and our listeners.
In the end it came down to the stunning Perth Redbacks team of 1990 up against the superstar filled Swan City Mustangs team of 1991.
On the last show heading into the vote to determine the winner, we were joined by Andrew Vlahov from that Redbacks side and Glenn Ellis from the Mustangs to make the case, and in the end it was the Redbacks of 1990 named the SBL's Ultimate Championship Team.
To coincide with the conclusion of the NCAA Tournament, the SBL replacement West Coast Classic was ready to get up and going for a nine-week season concluding with a finals weekend giving SBL Shootaround plenty of exciting basketball action to cover for the rest of the season in 2020.
Each week we would breakdown the action from the weekend just gone and preview the action to come for the following weekend while bringing the best calibre guests you could ever ask for on a WA basketball podcast.
Our first ever guest was four-time championship winner and triple Grand Final MVP James Fitch and we only continued on with the big names from there. We spoke with fellow SBL legends along the way like Wayne Simmons, CJ Jackson, Stephen Charlton and Jeff Anderson.
We weren't shy on current coaches either with Mark Utley, CJ Jackson, Wayne Creek, Aaron Trahair, Mike Ellis, Dave Daniels and Mark Worthington giving up their time generously.
There were also current players including those who've already had all-time great careers like Seb Salinas, Jarrad Prue, Corey Easley and Shaquille Maharaj while we were joined by others building their legacy like Shaquille Maharaj.
Australian Basketball Hall of Famer Andrew Vlahov blessed us with his presence across two episodes as well and there were times we couldn't even fit shows into one episode, and provided bonus shows along the way featuring Ryan Gardiner and Michael Farrell.
When you consider those who have been greats of WA basketball and then with Cody Ellis, Mike Ellis, Greg Hire, Mark Worthington, Aaron Trahair, Andrew Vlahov and Bryn Jones having accomplished huge things nationally and internationally, we couldn't have been more blessed with our calibre of guests.
We also heard from five-time SBL Referee of the Year Steve Diconza along the way for a different perspective and each and every week we had a tremendous time providing the platform for our guests to share their stories about a lifetime in basketball.
The two father-son shows we had firstly with Liam and Dan Hunt from the Geraldton Buccaneers, and then Mike and Cody Ellis from the Warwick Senators were among the highlights as well.
But the two co-hosts Chris Pike and Ben Ettridge put their reputations on the line throughout the show by offering their opinions and predictions to help create for an entertaining and talk-provoking show throughout 2020
That even included both co-hosts selecting their virtual All-Star Teams for the West Coast Classic with Chris Pike taking charge of a South team and Ben Ettridge in charge of the North team.
The starters for the South team were Jackson Hussey, Damien Scott, Gavin Field, Majier Garang and Mayo Malek. They were then joined by Ryan Godfrey, Fletcher Klasztorny, Travis Durnin, Luke Travers, Mitch Keller, Andrew Ferguson and Tom Atkinson.
The North team starters were Lochlan Cummings, Justin King, Shaquille Maharaj, Caleb Davis and Lee Roberts. They were backed up by Brendan Dinardo, Marshall Nelson, Ben Purser, Caleb White, Corey Easley, Kieran Berry and Brayden Inger.
There was even an on-going discussion throughout the year on the show about the SBL Shootaround Personality of the Year.
That began with Mark Utley nominating Ben Ettridge before Kalamunda Eastern Suns super fan Luke Franklin took over the charge and even was spotted sporting a shirt at games proclaiming himself the Personality of the Year.
But it was Ben Ettridge who made the surprise announcement on the final show of his nominee which left his co-host Chris Pike lost for words for the first time during SBL Shootaround.
When it was all said and done, what we started SBL Shootaround for was to promote basketball in WA and the people involved in it. We wanted to provide some exposure but also give those involved a chance to speak in a relaxed environment to get their stories out there.
We hope we achieved those goals and we had a terrific time doing it. The show turned out to be a much more popular hit than we could have hoped and we were blown away by the audience we picked up along the way.
Not only was the podcast available on all the usual platforms, but it was a significant boost to us to be played live on 91.3 SportFM every Thursday night and we can't thank the station enough for that support.
This was a new venture for both co-hosts Chris Pike and Ben Ettridge. Both of them are passionate about promoting basketball in this state and have long histories involved in the sport, but podcasting was something new.
We did our best to provide the best quality product we could given we were learning on the job and we look to be back bigger and better in 2021 with another season of SBL Shootaround whether we are talking about the SBL, NBL1 West or who knows, another West Coast Classic!
CLICK BELOW TO GO BACK AND LISTEN TO EACH SBL SHOOTAROUND EPISODE
EPISODE 1 – Introduction episode with a discussion about Ben Ettridge lifetime involved in the SBL and basketball
EPISODE 2 – Special guest James Fitch to talk about his four championships and three Grand Final MVP awards
EPISODE 3 – We are joined by two very special guests with a special connection to Ben Ettridge, Joondalup Wolves captain Seb Salinas and Kalamunda Eastern Suns coach Mark Utley
EPISODE 4 – The legend himself CJ Jackson joined us to talk about his 30-year journey in WA basketball and return to coach at the Perth Redbacks
EPISODE 5 – Former SBL import and music sensation Wayne Simmons drops by as our discussion over the Ultimate SBL Championship Team heats up
EPISODE 6 – This is a show we'll always remember fondly as we are joined by Geraldton Buccaneers father-son championship winning duo of Liam and Dan Hunt
BONUS EPISODE – The first of our special bonus shows sees us have a tremendous chat from China with Cockburn Cougars SBL championship winner Michael Farrell
EPISODE 7 – The race for the Ultimate SBL Championship Team continues as we have a terrific chat with the SBL's all-time leading shot blocker and Goldfields Giants coach Wayne Creek
EPISODE 8 – The big names continued to join SBL Shootaround and this week it was Lakeside Lightning legend Jarrad Prue and Perth Wildcats inaugural big man Bryn Jones who gave up their time to join us
BONUS EPISODE – The next of our special bonus shows saw us catch up with dual Perry Lakes Hawks championship winner, Perth Wildcats champion and long-time basketball administrator Ryan Gardiner
EPISODE 9 – This show was an especially insightful and informative one as Goldfields Giants and Cockburn Cougars championship coach Stephen Charlton dropped by while we are down to the last four in the Ultimate SBL Championship Team tournament
EPISODE 10 – With us down to the Grand Final match up in the Ultimate SBL Championship Team Tournament, we have Andrew Vlahov stating the case for his Perth Redbacks and Glenn Ellis for his Swan City Mustangs
EPISODE 11 – We wrap up our tournament to crown the Ultimate SBL Championship team while continuing our discussion with Hall of Famer Andrew Vlahov, and preview the start of the West Coast Classic
EPISODE 12 – We look at the opening weekend of the West Coast Classic while joined by four-time MVP winner and Willetton Tigers great Jeff Anderson
EPISODE 13 – This week's guest is 422-game NBL veteran and current Mandurah Magic coach Aaron Trahair in what turns out to be a fascinating and entertaining discussion
EPISODE 14 – He came out as an import and has settled into life in WA and current Kalamunda Eastern Suns big man Corey Easley joins us as our latest special guest on SBL Shootaround
EPISODE 15 – The big name guests continue as we are joined by NBL champion, Australian Olympian and current South West Slammers coach Mark Worthington for yet another tremendous discussion
EPISODE 16 – You couldn't do an SBL show in 2020 without speaking to Perth Wildcats four-time championship winner, Wolfpack SBL Grand Final MVP and A Stitch in Time founder Greg Hire
EPISODE 17 – Cockburn Cougars superstar captain Gavin Field joins us on this week's SBL Shootaround to talk about a lifetime in basketball and plenty more as he opens up in a wide-ranging discussion in a show that includes the All-Star Team selections
EPISODE 18 – As the West Coast Classic finals race heats up, we are joined by rising East Perth Eagles superstar Shaquille Maharaj and five-time SBL Referee of the Year Steve Diconza
EPISODE 19 – We look ahead to the finals weekend in the West Coast Classic and breakdown the teams that missed out while chatting with Lakeside Lightning coach Dave Daniels
EPISODE 20 – We wrap up the year on SBL Shootaround by talking with Warwick Senators championship winning coach and captain, father-son greats Mike and Cody Ellis