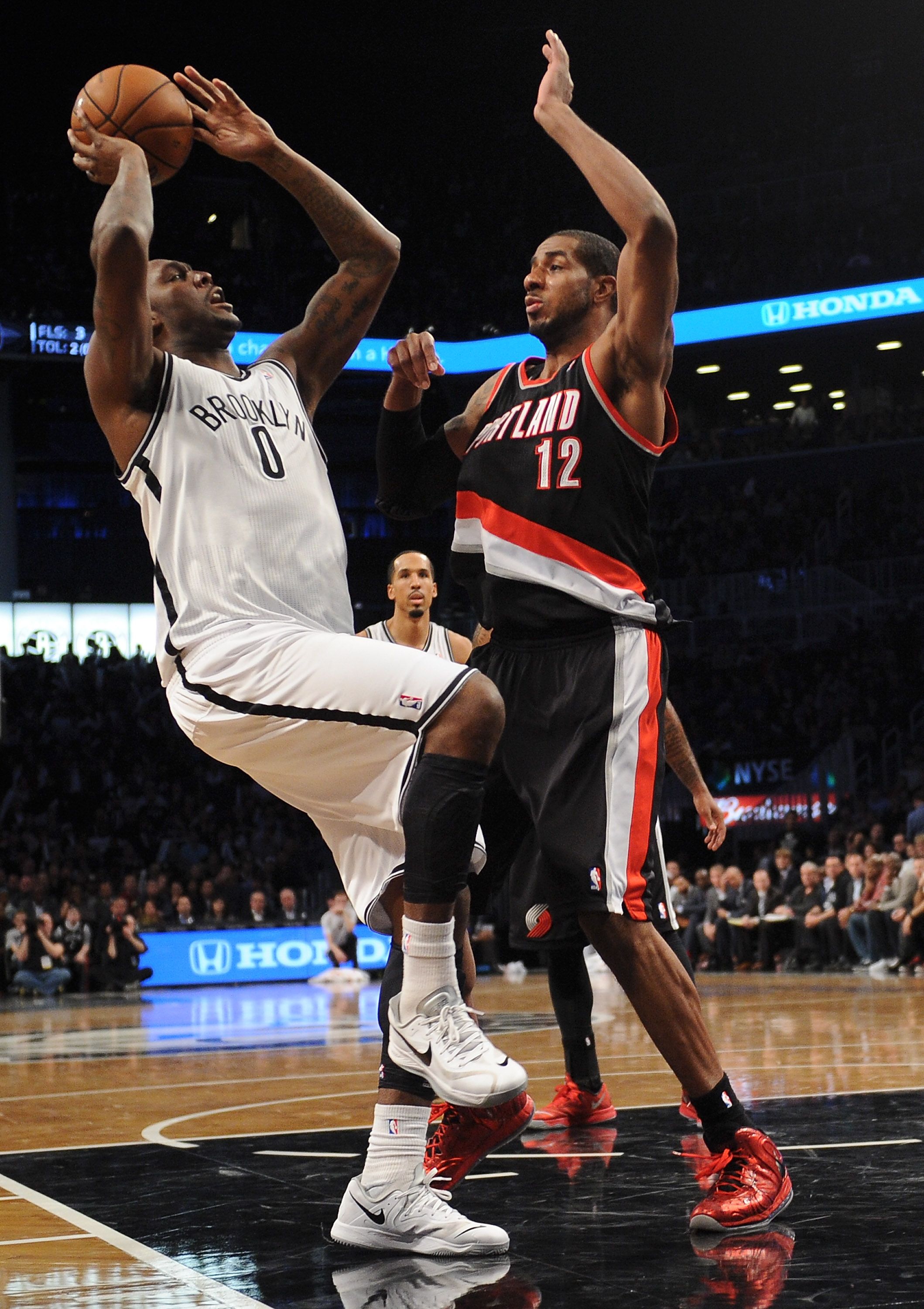 PORTLAND continued its surprisingly hot start to the NBA season downing the struggling Brooklyn on Monday with Chicago, Oklahoma City, Dallas, Golden State and Memphis also winning.
The six NBA matches that took place on Monday saw the now 9-2 Portland beat the struggling Brooklyn 108-98, Chicago down Charlotte 86-81, Oklahoma City beat Denver 115-113, Dallas beat Philadelphia 97-94, Golden State beat Utah 98-87 and Memphis prevail over the Clippers 106-102.
Portland then travelled to Brooklyn and continued the Nets' miserable start to the season under new coach Jason Kidd with a bunch of established stars with a comfortable 10-point win thanks to a dominant second half.
LaMarcus Aldridge top-scored for the Blazers with 27 points and eight rebounds and Wesley Matthews added 24 points and six boards.
Damian Lillard finished with 19 points and nine assists with Mo Williams chipping in with 12 points, six assists, five rebounds and three steals.
The Nets were still without Deron Williams, Brook Lopez and Andrei Kirilenko, and struggled again to fall to a 3-7 record despite 23 points from Shaun Livingston, 16 from Kevin Garnett, 13 from Joe Johnson, 11 from Paul Pierce and 11 from Alan Anderson.
Chicago continued its winning ways with a solid enough five-point win at the United Centre over the Bobcats with Luol Deng again top-scoring with 21 points to go with eight rebounds.
Jimmy Butler added 14 points with Carlos Boozer scoring 12 and picking up 17 rebounds while Derrick Rose again shot just 4-of-13 from the field and 1-of-5 from downtown in his 12 points and five assists.
Jeff Taylor top-scored for the Bobcats off the bench with 20 points and five rebounds with Gerald Henderson scoring 16 points and Josh McRoberts 11.
Kevin Durant and Russell Westbrook put Oklahoma City on their backs and carried them to a two-point win over the Nuggets at home on Monday night.
Durant shot just 11-of-27 from the field and 3-of-9 from three-point territory, but still finished with 38 points, eight rebounds and six assists while Westbrook also shot just 10-of-25 from the field but had 30 points, 12 rebounds and seven assists.
Reggie Jackson was the only other Thunder player to score in double-figures in the two-point win hitting 14 points and pulling in seven rebounds off the bench.
Ty Lawson led the way for the Nuggets with 29 points and eight assists with JJ Hickson adding 18 points and 19 rebounds.
Dallas held on to win a tight contest at home to Philadelphia with the three-point result improving the Mavericks to a 7-4 record on the season while the Brett Brown-coached 76ers slipped to 5-7.
Monta Ellis led the way for the Mavs with 24 points and 10 assists with veterans Shawn Marion and Dirk Nowitzki both adding 20 points apiece.
Evan Turner did all he could for the 76ers with 26 points, nine rebounds and seven assists with Tony Wroten also adding 19 points. Thaddeus Young also had 12 points and 11 rebounds, and Spencer Hawes 10 points, 11 boards, four assists and three blocked shots.
The Warriors continued their hot start to the season to improve to an 8-3 record scoring a comfortable 11-point win in Utah over the 1-11 Jazz.
Stephen Curry top-scored for Golden State with 22 points, eight assists, six rebounds and three steals with Klay Thompson adding 17 points, Harrison Barnes 17 and David Lee 14 to go with 14 rebounds.
Australian centre Andrew Bogut also had eight points, 13 rebounds and four blocked shots.
Gordon Hayward finished with 18 points for the Jazz with Marvin Williams adding 16 points and eight rebounds off the bench.
The Grizzlies have had a somewhat lacklustre opening to the season coming off making the western conference finals last season, and despite having Tony Allen ejected for kicking Chris Paul, Memphis scored an impressive four-point win over the Clippers at the Staples Centre on Monday night.
Zach Randolph led the way for the Grizzlies with 26 points and 15 rebounds with fellow big man Marc Gasol adding 23 points, nine boards and eight assists.
Mike Conley also had 15 points and five assists, and Kosla Koufos 10 points and nine rebounds off the bench.
Blake Griffin finished with 23 points and 11 rebounds for the Clippers with Paul adding 18 points and 11 assists while centre DeAndre Jordan racked up 16 rebounds and three blocked shots to go with his eight points.
NBA Results Monday November 18
Portland Trail Blazers 108 defeated Brooklyn Nets 98
Charlotte Bobcats 81 lost to Chicago Bulls 86
Denver Nuggets 113 lost to Oklahoma City Thunder 115
Philadelphia 76ers 94 lost to Dallas Mavericks 97
Golden State Warriors 98 defeated Utah Jazz 87
Memphis Grizzlies 106 defeated LA Clippers 102